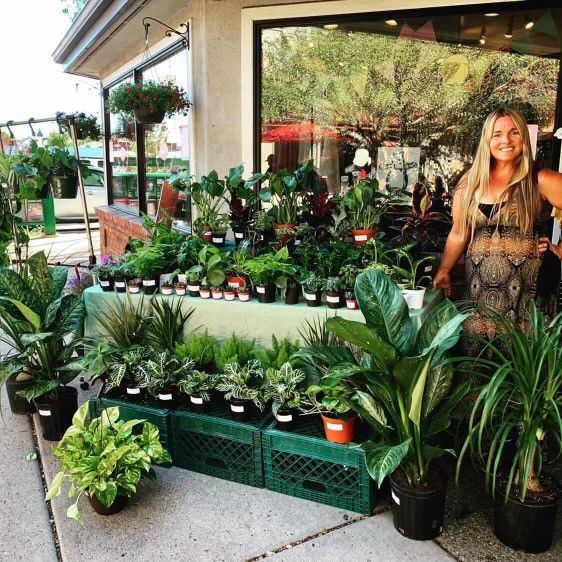 For some, houseplants are a breeze, those green thumb types who spend a small pocket of time each day tending to their crops: sunlight, water, encouraging words, repeat. Seamless. But for the rest of us, arguably a larger percentage of the population, houseplants—leafy and beautiful as they may be—fall more into the love/hate dynamic. You know the trope, the one about never being able to keep houseplants alive?
Enter Plantae Flagstaff, the local spot for seasoned houseplant tenders and newbies alike, the answer to your, "What's eating my Monstera?" or, "How do I repot this succulent?" or, "What can I buy that's unkillable?" questions.
Plantae, the brainchild of green thumbs-possessing Chelsea Thomas, was born, like many ventures that have popped up lately, out of trying times. The pandemic saw the longtime Grand Canyon guide suddenly out of work; she'd been guiding for more than 15 years. As has been the case for others in the past year, hardships and unexpected shifts in the day-to-day, impossible as they may seem, have allowed creativity and innovation to flourish like weeds in the cracks.
"When quarantine hit I was unemployed for solid three months," Thomas says. "I've always had a love of house plants—I have a couple hundred—and I started thinking about [starting Plantae] then. I went back to work, but I kept thinking about it."
Plantae began as a temporary venture, with Thomas hosting the occasional pop-up shop outside local clothing boutique Rainbow's End. But as demand kept growing, she switched gears.
Thomas now runs the shop by appointment out of her home, a place she describes as a tiny jungle—an oasis tucked away in dry Flagstaff. Plantae has become so popular that she restocks typically every week, posting her availability to those hoping for a consultation throughout. Through Plantae, Thomas also offers free advice and tips. So, those wondering why their leafy baby is looking under the weather can send her a message and she'll diagnose and offer counsel. Thomas will also drill a drainage hole—a very important, if small, feature crucial to the plant growing world—in any pot at no cost. And, anyone who buys Plantae goods can get them planted and potted by Thomas herself.
All these services make up something she says didn't totally exist in Flagstaff before, a gap she wanted to step in and fill and help cultivate.
"I am not new to the plant world, I always wanted to own my own business and it was just a matter of recognizing what the need was in Flagstaff and what I was good at and know," Thomas says. "It ended up being kind of a no-brainer."
Thomas is now in the process of opening a brick-and-mortar space, replacing her home with a storefront in downtown Flagstaff. Located near MartAnne's Burrito Palace, the new Plantae will be the perfect spot for all those waiting in the long MartAnne's lines, or anyone who might just be passing by.
"They can stop in, grab some coffee and look at plants while they wait," Thomas says.
In the meantime, all Plantae info can be found on Instagram, with any questions for Thomas sent via direct message. And for all those struggling to keep the errant house plant from the clutches of certain death, it's OK, we're all learning to become better parents.
"I have killed my fair share of plants," Thomas says. "It's OK; you will kill plants, that's how you learn."
Find Plantae Flagstaff on Instagram at @plantaeflagstaff or on Facebook at www.facebook.com/PlantaeFlagstaff. The shop is scheduled to open next to MartAnne's in the next week. Check back here for a photo gallery of the space after its opening.