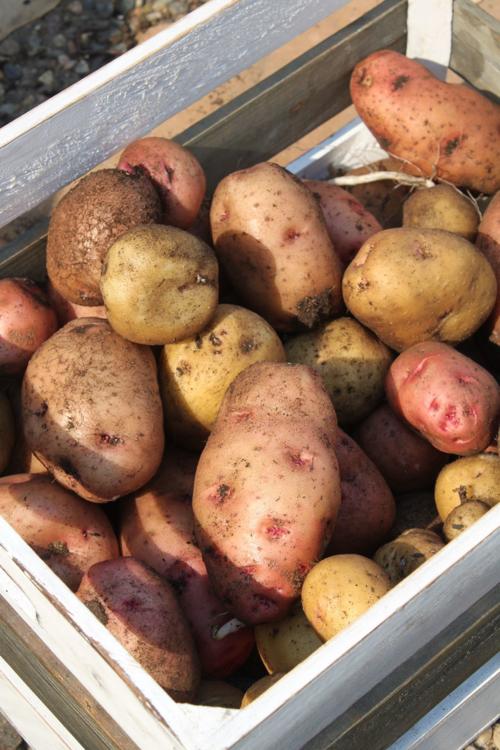 Can't wait to plunge your winter-weary, gardening-deprived hands into some moist, well-composted, friable soil? Despair not! The time for planting potatoes is near at hand.
The nutritive value of the potato tuber is remarkable, depending upon the method of cooking and the variety. One medium spud with skin, without additives, is fat-free, and low in sodium and calories. It provides 45% Daily Value of Vitamin C, acting as an antioxidant, which may aid in heart health, blood pressure, and perhaps cancer prevention.
This vitamin also boosts the immune system. The fiber content of a potato may lower cholesterol in the blood, while its potassium content beats that of a banana. Additionally, it's a good source of vitamin B6, manganese, phosphorus, niacin, and pantothenic acid. Besides all this, who doesn't savor a steaming-hot potato?
My husband and I grow our potatoes in sacks for a number of reasons. Foremost, if we were to grow them underground, my husband would have difficulty finding and digging up each and every spud at harvesting. By growing them in sacks, my grandchildren can take charge of the harvesting by merely dumping out the entire contents of the sack into our wheel barrow.
By the same token, potato bags take up less space than growing them in the ground. Setting them on the patio works ideally for us. We purchase our growing bags from gardening catalogs, although, you could use a burlap sack or an old compost bag, being aware you may need to water your spuds more frequently.
Our local nurseries begin receiving seed potatoes — those specifically grown and treated to be replanted to produce a crop — in early to late March.
You have free articles remaining.
Do not use potatoes bought from a grocery store, as they may be treated with an anti-sprouting agent. We plant our seed potatoes from mid-March to early April and keep a close eye on them until about June, because frost may cause damage.
When cold nights are forecast, we secure a blanket over the whole bag; a frost cloth would also do the trick. This lengthens the growing season, thereby giving us the freedom to choose from a variety of spuds, not just the ones labeled "early season". Red Pontiac and Yukon Gold have produced well for us.
Here are some steps to successful potato growing:
If your seed potatoes aren't bearing short robust buds called "chits" at the time of purchase, put them in a bright, cool area for a few weeks. This is also a good time to prepare your soil by mixing some muriate of potash or 10-10-10 fertilizer into potting or compost-rich soil. Avoid high-nitrogen fertilizers.
Cut each potato into several large chunks, each bearing at least one chit and let them dry overnight to discourage fungal growth. If your seed potatoes are small, plant the entire potato. Fill the bottom of the sack with about four to six inches of prepared, moistened soil, and place the potato chunks or whole potatoes, well-spaced, onto it with the "eyes to the sky."
Now completely cover the seed potatoes with more of your soil and roll down the sack to a few inches above soil level. Place in a sunny spot and keep the soil moist, but not saturated. Because tubers grow from specialized stems called stolons beneath ground, you'll be adding soil and unrolling the growing bag as the plants gain height. Allow some stems and leaves to remain above ground to photosynthesize but be sure to cover any tubers that make their way to the surface.
If you love the sweet, tender attributes of "new" potatoes, start harvesting the potatoes along the edges of your bags when the plants flower. My potato bag has flaps on the sides that open up specifically for early harvesting. For your main harvest, water one last time when most of the foliage has died back and wait a week or two.
Now gather the entire family to join in on the fun of dumping out the sack and rifling through the soft, rich soil in search of your marvelously fresh and tasty spuds!
Cindy Murray is a biologist, elementary tutor and Coconino Master Gardener, and co-editor of Gardening Etc. Gardening questions can be sent to CoconinoMasterGardeners@gmail.com or submitted to the Master Gardener Hotline: 928-773-6115