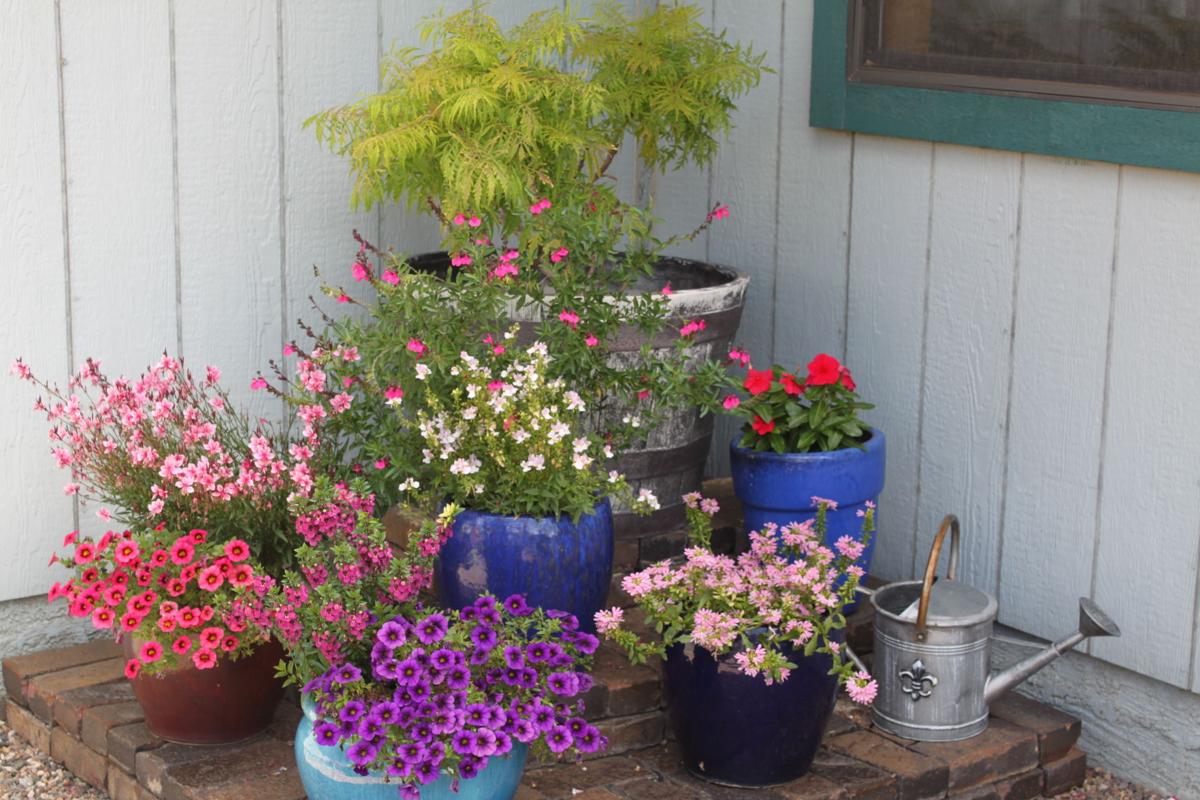 Have you ever been browsing through your nursery when you spy a few specimens you simply can't resist, but upon reading their labels, you learn they require growing conditions you can't provide?
For example, you catch sight of some gorgeous annual flowers that require full sun and well-drained soil, but your flower beds have neither of these. Or, perhaps you yearn for the taste of home-grown tomatoes but know you can't give them the tender-loving-care they require because your vegetable garden is too far from your abode.
In these, and many other situations, you might consider growing your plants in pots and other containers. Container gardening may offer a number of advantages over in-ground gardening by allowing you to: extend the growing season or regulate temperatures by moving pots to different areas, better manage the structure, moisture, and nutrient content of your soil, and easily spot and control pests and diseases. These are merely a few of the perks you will find by employing this gardening method.
Let's start with vegetables. As with all container plants, using a good, light, potting soil is imperative. For vegetables, it's beneficial to mix in a slow-release low-nitrogen fertilizer before planting. A number of gardeners I know recommend growing veggies in self-watering containers, which hold a spout near the bottom of a water reservoir where you add the water. This way, you'll never overwater, and roots will grow robustly and deeply. You can put the container in an area that's suitable to that plant's particular needs. Better yet, put the container on wheels and bring your plants into your garage or shed on nights when a frost is expected. Your vegetables will be convenient to inspect for disease like early blight, or pests like aphids, if they're set on your deck or patio.
Now, let's move on to ornamentals and choices for pots or containers. If you plan on leaving your pots outside during our frigid winters, I recommend and have always used Vietnamese ceramic pots. Stone containers are also freeze-tolerant and come in many shapes and sizes but are quite cumbersome. Plastic ones could break when cold, and the same for terra cotta. Whatever container you choose, be certain there's a drainage hole at the bottom.
Be creative—many garden and household objects may become plant containers. A child's old, red wagon looks radiant, as well as whimsical when overflowing with annuals such as petunias and oregano—yes, you can intermingle herbs with flowers. Or, find an old coat rack, set it out on your patio, and hang baskets or old purses brimming with flowers and herbs on the arms. Colorful veggies like ruby Swiss chard and purple kohlrabi are lovely, as well as edible.
Don't worry too much if the plant label says "full sun". In Northern Arizona, we receive a higher intensity of light rays than folks in other parts of the country, so five hours of sunlight may be sufficient.
As spring heads into summer, you can easily replace your potted cool-season annual flowers, like pansies, with heat-tolerant varieties like lantanas and zinnias. And conversely, switch out your heat-loving cosmos with tasty nasturtiums and variegated thyme or parsley as summer yields to autumn. Of course, anytime a pot appears to be struggling from too much sun, heat, cold, or shade, just move it to a more desirable area. Additionally, frost cloths protect plants quite well on particularly chilly nights.
Winter-hardy trees and shrubs may be cultivated in pots, too. I had a staghorn sumac (Rhus typhina) in a faux half-wine barrel that thrived for years. Its leaves would morph from brilliant green to rusty orange in late summer. My potted dwarf Alberta spruce placed to one side of the garage door served as a welcoming year-round pop of green for guests parking in the driveway. Evergreen 'Little Giant' arborvitae and some other Thuja species make handsome potted plants but may require supplemental water, and often, some shade during our harsh, sunny winters.
If you water regularly and fertilize occasionally, I think you'll discover container gardening will solve a number of gardening conundrums, in addition to beautifying your patio, deck, or landscaping.
Cindy Murray is a biologist, Coconino Master Gardener, and co-editor of Gardening Etc. We have several options for taking the Coconino Master Gardener class in 2021. For more information, visit: https://extension.arizona.edu/coconino-master-gardener. Our Gardening Etc. co-editors are happy to answer your gardening questions in this column. Send in questions and topics to cocogardenprojects@gmail.com or reach out to the Master Gardener hotline at 928-773-6115.