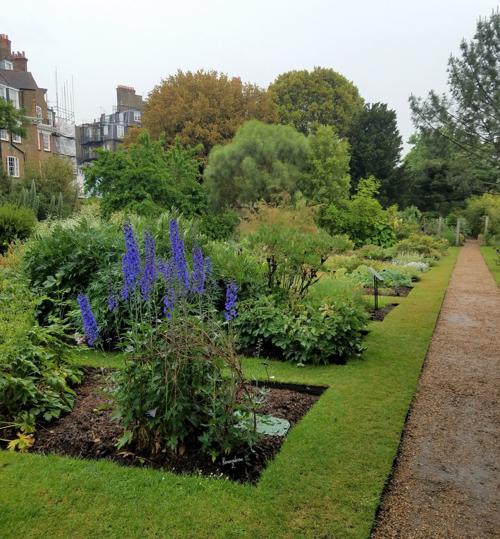 Here's a riddle for you. What do Carl Linnaeus, Eli Whitney, and Sir Thomas More have in common?
Answer: They can all trace the roots of their success back to a quiet, 4-acre preserve in London, England called the Chelsea Physic Garden.
But chances are if you walked by the Chelsea Physic Garden today, you'd miss it. The brick wall keeps its fascinating mysteries in as much as it was built to keep visitors out. Only a small, stone sign inlayed into the wall recommends itself as the botanical paradise for which you may be looking.
Founded in 1673, the property was named simply the Apothecaries' Garden and was meant to grow plants for medicines needed in nearby hospitals. And though the garden hasn't veered very far from the medicinal herb growing purpose, it has become collection space for interesting flora from all over the world.
Some of the collections include the oldest rock garden in Britain, the northernmost citrus grown outdoors, and the largest, fruiting olive tree in the country. Not to mention they have an extensive fern and palm collection older than the heat-trapping brick walls which protect it.
The Chelsea Physic Garden is the third, oldest garden in England, though it feels anything but ancient and irrelevant today.
Many white-tented events happen year-round on the lawns and the garden itself is kept in meticulous, season-evolving beds with stone paths connecting them. Plants are organized by bioregion or medicinal use, greenhouses are maintained to stay true to their original designs, and rows of herbs, complete with informational signs, recall how and why the monks who first tended these beds would have nurtured the plants.
Guarded by the Worshipful Society of Apothecaries since its establishment, the garden wasn't even opened to visitors until 1983. You read that right—it took three hundred ten years before visitors could enjoy the beauty and tranquility of the site. Currently the garden is home to around five thousand plants, including fruit and woodland trees. And because of the warm, air currents flowing off the River Thames, gardeners are able to take advantage of a unique microclimate right in the city.
The Chelsea Flower show, held across the street, may boast the largest roses available, but for those wanting to take a stroll down the Royal Hospital Road, they may find a path into history rich with plants and people. Including players like Linnaeus, Whitney, and More.
And how do they fit in? Well, Carl Linnaeus, the father of scientific, binomial nomenclature, came to the garden in 1736 hoping to learn from its director, Phillip Miller, and his applauded book, Gardeners Dictionary. It became a matter of who taught whom, however, when Miller, so excited about Linnaeus' new ideas of classification, ultimately arranged the garden according to Linnaeus' system rather than his own.
Thus, Miller set the trend for the rest of the world. Eli Whitney would have had no cotton to gin if Director Miller wouldn't have initiated a seed swapping program leading to cotton being grown in English colonies all over the globe. Sir Thomas More wouldn't have known the influence he would have when he left lands fallow around his Chelsea mansion, but we have him to thank for his neighbor, Sir John Danvers, establishing the gardens after More was no more.
Among a long list of other notable figures who furthered their education at the Chelsea Physic Garden, was Pennsylvania Quaker, John Bartram, whom Linnaeus called the "greatest natural botanist in the world". Americans are grateful for this education because it also helped teach his sons, John Jr. and William. These men would go on to be some of the first to document the natural history of the New World.
If ever you find yourself in London, the Chelsea Physic Garden is a must see. Steeped in history, culture, beauty, and botany, no where is similar in the world. Linnaeus knew it. Now you do too.
Jackee Alston is the co-editor of Gardening Etc., a University of Arizona Cooperative Extension Master Gardener, founder of the Grow Flagstaff! Seed Library, and has been growing food in Flagstaff for 14 years. If you have a gardening topic you would like to hear about, please send your question or topic to cocogardenprojects@gmail.com.
Be the first to know
Get local news delivered to your inbox!