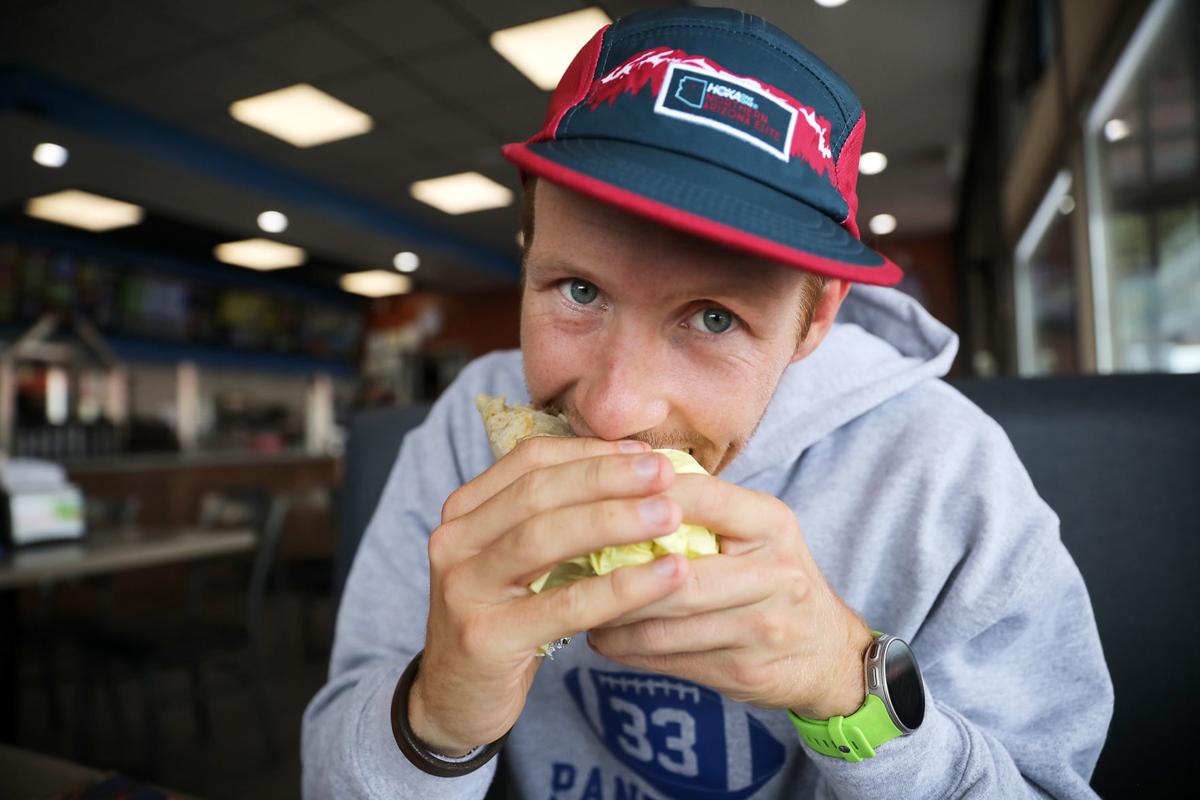 Best practices of serious journalism would dictate that an interview with world-class marathoner Scott Fauble focus on his plan heading into next year's Olympic Trials, or the state of his balky hamstring, or, heck, even the book he's published about his training regimen.
Instead, the talk turned to... burritos.
If you're familiar with Fauble, the NAZ Elite runner whose profile skyrocketed after running 2:09 and placing as the top American in April's Boston Marathon, then you would nod your head in solemn acknowledgment and expect nothing less.
Many pro athletes cultivate a rich social-media persona, but Fauble's carved out a niche as a runner who is more likely to post about the perfect burrito or slag on the abomination (and heinous misnomer) that is the "burrito bowl" as he is to humble brag about some speedy tempo run he crushed along Lake Mary Road.
He's drawn a following, too. On Instagram and Twitter, people (mostly other runners, pros and hobby-joggers alike) send him photos of burritos in various stages of consumption, seeking his approval or blessing. And Fauble, despite putting in 100-mile weeks and doing all the other training and self-care needed to be an elite marathoner, always responds, passing judgment with a tough but fair eye.
His fans must sometimes wonder how Fauble is even able to eat a burrito, given that his tongue is so often firmly planted in his cheek when regarding what started as a one-off Twitter joke, but has grown into a sardonic cult he dubs the Burrito Mafia.
Just how obsessed is Fauble about this burrito evangelism?
• He once painstakingly devised a flow chart in hopes of answering the existential question of what, exactly, constitutes a burrito. (Answer to come later on.)
• He and Stephen Kersh, an elite ultrarunner who also calls Flagstaff home, designed and markets a Burrito Mafia enamel lapel pin — a raised fist, a la Tommy Smith and John Carlos in the '68 Olympics, emerging from the top of a gorgeously wrapped burrito — available on his website for the low, low price of $10.
• He took to Twitter recently to rewrite the lyrics to Shawn Mendes and Camila Cabello's hit "Señorita," turning the ingénue into a luscious burrito: "You say we're just friends/But friends don't know the way you taste, la, la, la/'Cause you know it's been a long time coming/Don't you let me starve."
• He has gone high-brow, as well, inserting burrito references to literary classics — Hemingway's "The Burrito Also Rises," anyone? Or, "Portrait of the Artist as a Young Burrito?"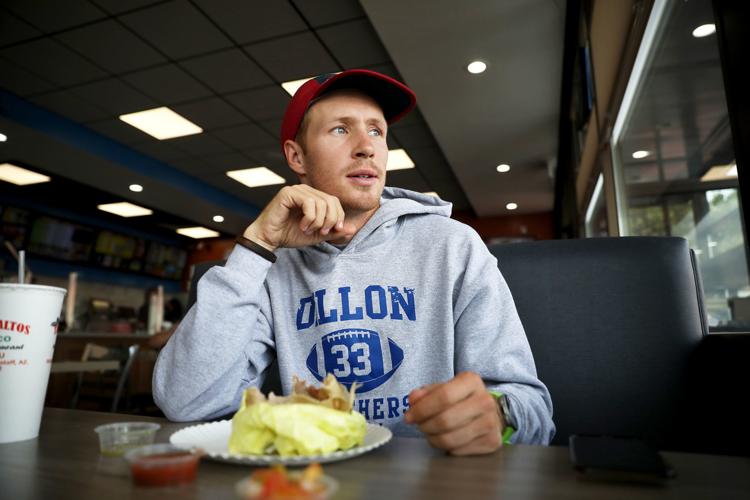 There's more, loyal readers, so much more. But the purpose in this space is two-fold: one, to delve into Fauble's knotted psyche and suss out the origins of his gastronomic infatuation and what makes the burrito worthy of philosophical musing and noshing; and, two, to examine his vast reservoir of burrito expertise, including his carefully-curated list of Flagstaff's top burrito joints and those in other parts of this burrito-loving country.
Some backstory: Fauble traces his love of burritos back to childhood in Golden, Colo., though he didn't fully appreciate the sublime goodness at such a tender age. It wasn't until he matriculated to the University of Portland that burritos assumed a dominant presence in his life. Visit the running site Citius for Fauble's full first-person account of his awakening, but it involved weekly (or sometimes daily) communal breaking of flour tortilla among as many as 20 runners at a Portland joint called Boulevard Tacos.
"Multiple times a semester, my mom would check my debit card statements and immediately texted me to ask if I was indeed eating at Boulevard 3-plus times a week," Fauble wrote. "I was spending so much money and going to Boulevard so frequently that my mom thought that my debit card information had been stolen and I was getting scammed by this place. I wasn't. She wasn't psyched."
It might have just remained an in-joke among Fauble and his running buddies. But then he had to go and graduate and become a top pro runner that fans of the sport actually pay attention to online. Rather than hide his affection for burritos, he became a proselytizer of what he revers as the perfect entree.
Sitting at a booth across from his interviewer at his favorite Flagstaff burrito joint Tacos Los Altos on East Route 66, Fauble sipped horchata and mused about how his public profile has meshed running and burrito munching.
"It started as a joke," he said. "I was kind of an early (social media) adopter in the sense that I realized that this could be a stand-up comedy routine for me. I didn't care about being serious. At the start, what people were posting was very banal and super boring. Like, 'I got a shirt today.' Cool, Jake. That's not interesting. So I made a joke of it: 'Eating this burrito today.' And people understood the tongue-in-cheek nature of that. So I started trying other versions of burrito (talk).
"In general, the tone of 95% of elite athletes in sports like running, triathlon or swimming, are the same and generally boring. You can just make fun of it: Say the same stuff, but in silly ways. I don't necessarily trust other people (the media) to depict me well. Why not take the initiative, develop your own fan base?"
In due time, Fauble's burrito arrived. He carefully, nay, lovingly, peeled back first the foil and then protective yellow paper wrapper, grasped the burrito in both hands, bowed his head as if in supplication, and took a big bite.
The look on his face: bliss.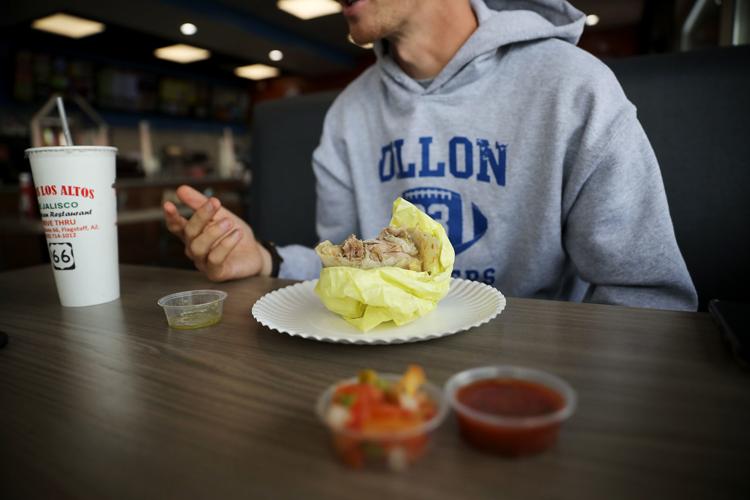 The interviewer felt that he may have been intruding on something intimate, almost sacred, and wondered whether Fauble might need a few minutes alone with his burrito to regain composure. Later, when the interviewer, noting the burrito flow chart and whatnot, threw out the O-word, Fauble didn't flinch.
"I'd say obsession is fair," he said between bites. "But obsession makes it sound creepy, and this is a very endearing thing, in my opinion."
What makes him so smitten?
"It's the perfect food," he explained. "You know, you can't really go wrong as a form of sustenance. You can make the argument that the architecture is one of the most perfect parts of it. Completely wrapped in a tortilla, you hold it in your hands. It's a very accessible meal."
Lest you think that because Fauble is an autodidactic burrito connoisseur — a snob — he added that he finds the fast food burritos at Chipotle, Del Taco and Taco Bell acceptable.
"There certainly are levels of perfect burritos," he said. "This one I'm holding (at Tacos Los Altos) is top notch. A corporate burrito like Chipotle or Qdoba, they're still good. Because they are burritos. They might not be authentic, but when you go to Chipotle, you don't expect it."
Fauble, essentially, is a mix between a burrito "prescriptivist" and "descriptivist." He explained his flow chart:
"First thing: Is the filling entirely encased by a tortilla? Wait, the very first thing is: Does it have a tortilla? No tortilla, no burrito. Then there's wraps. My distinction is, well, you've got to ask yourself: Could I imagine an abuela making this for me? If the answer is no, then that's a wrap, not a burrito. If you go to a place where they've got pictures of the food on the board and chiles hanging down, that's a burrito. A wrap doesn't have the same vibe or ambience — gravitas, if you will."
Fauble can be a stickler, though. He abhors burrito bowls. As he proclaimed in a June 19 tweet: "A burrito bowl is how salad tried to rebrand itself in order to sound like the best food in the world and less like a mediocre food."
Bring up burrito bowls in his presence, and, boy, does he bristle. "Don't besmirch the good name of burritos by lumping this into it."
He is kinder to "wet" or "smothered" burritos, with the sauce on top. He also gives a hearty thumbs-up to breakfast burritos. Tacos? A great food, he said, but it's not a burrito — nor can a burrito qualify as a taco. Same genus; different species.
As for the best burrito city in America, Fauble lists the obvious choices: Los Angeles, San Diego and, perhaps, San Francisco. But he holds a soft spot for Portland and raves about the chile-heavy burritos found in Albuquerque and elsewhere in New Mexico.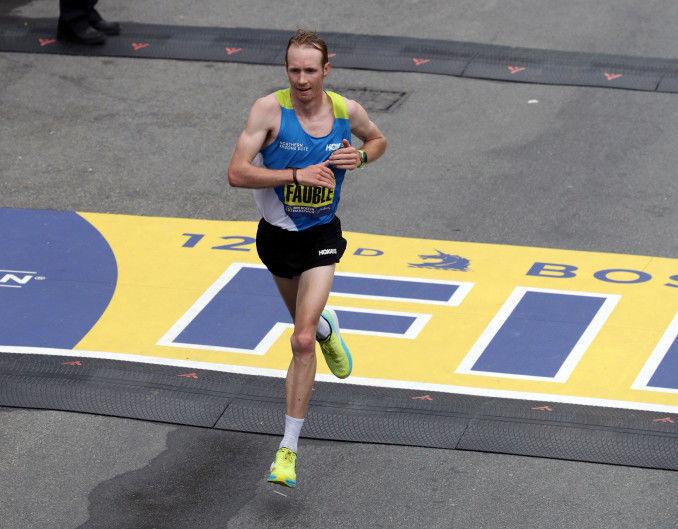 Should Fauble qualify for the 2020 Olympics in Tokyo, no doubt he will be on the lookout for Japan's best burrito joint.
Oh, right, what about Fauble's running? For the record: Fauble said his training is going well for the Feb. 29 Olympic Trials in Atlanta. His hamstring? "It kind of bothered me since Boston, but no worries. It flared up, but it seems fine now. We're moving forward."
Satisfy your cravings
With our weekly newsletter packed with the latest in everything food.