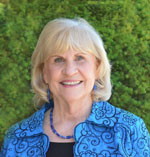 The Center for Spiritual Living Flagstaff recently announced the appointment of a new minister, the Rev. Eunice I. Chalfant. Chalfant received her ordination from the United Church of Religious Science and for the past 20 years has served churches in Ohio, Oklahoma, Northern and Southern California.
According to a press release, Chalfant is passionate about community service and outreach. While in Dayton, Ohio, she served as a board member for the Dayton International Peace Museum, leading the finance committee. In addition, she was active in community educational programs, interfaith organizations, and taught weekly classes in mysticism, metaphysics, and financial freedom. In collaboration with Sinclair Community College, she co-founded the Teen Summit Program, empowering local high school students to create strategies to promote peace and nonviolence in their schools. She also co-founded the Dayton Partnership for Peace, a coalition of community agencies dedicated to promoting peace and unity. On March 29, 2001, Chalfant was inducted into the Martin Luther King, Jr. International Board of Preachers at Morehouse College, in Atlanta.
She will lead The Center for Spiritual Living's Sunday celebrations held weekly at 10 a.m., at Ponderosa High School, 2384 N. Steves Blvd.