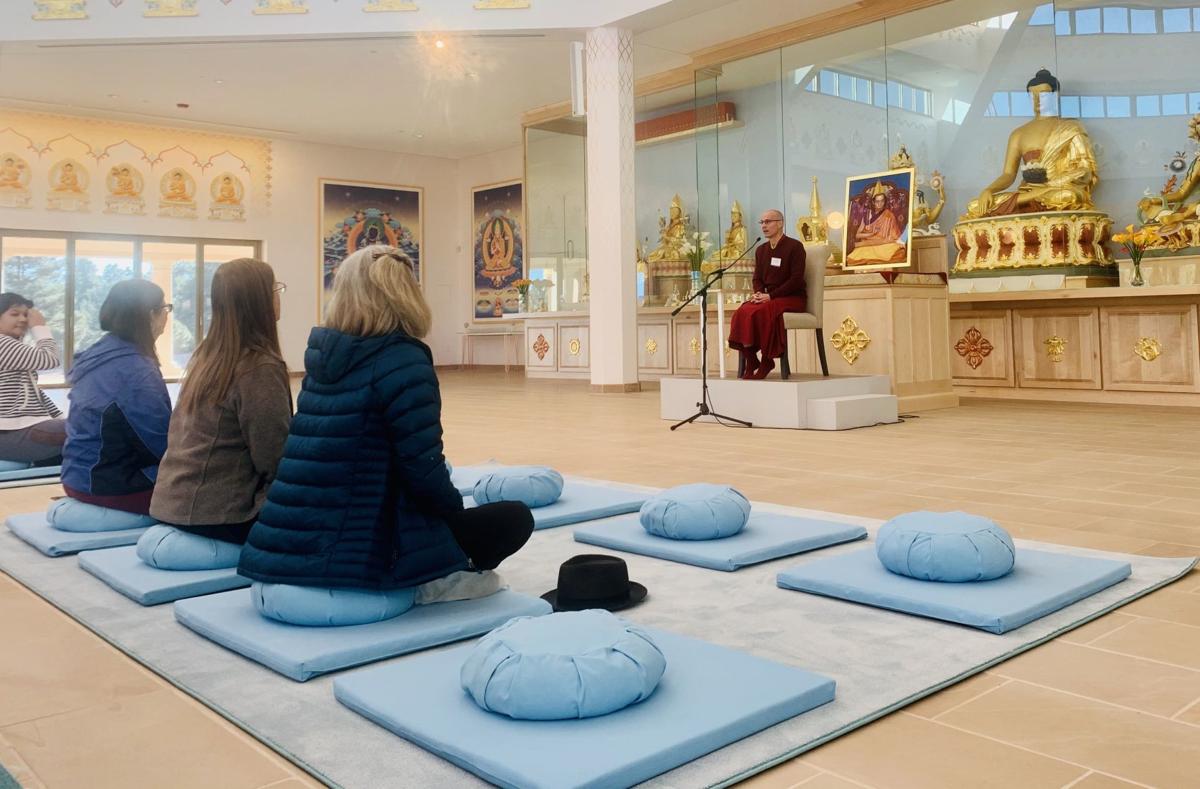 The morning sun peaks above the pines of northern Arizona, protruding beams of light that catch the gilded vajras (sacred Buddhist ritual ornaments) lining the roof of the Temple for World Peace. For just over a year, commuters traveling between Flagstaff and Williams may have caught a glimpse of the temple's construction visible from the I-40. Now, the Grand Canyon International Kadampa Retreat Center (IKRC) has opened the temple doors to the public.
An open house was hosted by the IKRC to introduce interested visitors to the newly constructed temple on Oct. 26. Religious leaders, volunteers and resident practitioners welcomed locals to the retreat center with a pancake breakfast, guided meditations and tours of temple. 15-minute breathing meditations took place inside the temple guided by Gen-la Kelsang Jampa Deputy Spiritual Director of the New Kadampa Tradition and resident teacher.
"You should allow yourself to completely and physically relax. Allow yourself to stop thinking about anything," said Jampa during a guided breathing exercise.
As the first meditation of the morning concluded, visitors flocked to Jampa inquiring about the Kadampa Tradition and the new temple. Jampa began practicing NKT over 20 years ago. Since then, he has traveled internationally to study Kadampa and held various leadership roles. Most recently, he was asked by spiritual guru and founder of the tradition, Geshe Kelsang Gyatso, to be the retreat center's resident teacher.
"The practice allows for people to develop a good heart, mind and wisdom," Jampa said. "If people can learn how to develop a peaceful mind, then from our practice will come an outward peace – peace in the community."
A month earlier, the temple officially opened to NKT practitioners for a blessing ceremony, Sept. 26, and was followed by a fall festival. In its entirety, the event hosted Kadampa Buddhists from 43 unique countries and lasted for a week, serving as a worldwide spiritual reunion for members of the tradition.
The temple is the fifth addition to an international network of peace temples and will serve as a place of worship, meditation and teaching for practitioners of the NKT with the capacity to host nearly 1,000 people. Gilded ornamentation and an altar featuring symbols up to 8 feet tall adorn the interior of the temple, simultaneously providing profound spiritual meaning for temple-goers. The walls boast engravings of the Eight Auspicious Symbols of Buddhism, each representing a significant Buddhist virtue.
The location of the retreat center was selected strategically for its proximity to Phoenix, Las Vegas and California, said teacher and volunteer Michelle Gauthier. Subsequently, the retreat center was chosen as the location for the fifth international peace temple because of its accessibility for surrounding Kadampa Buddhists. The forested areas of northern Arizona also offer an idealistic spot for meditation because of the serene landscapes and connection to nature, Gauthier said.
In addition to housing travelers, the retreat center is home to a permanent community of Kadampa Buddhist residents. Resident Kelsang Gamo has lived at the center for nearly two years, commuting daily to her job at the NAU printing center. Gamo has practiced the teachings of Kelsang Gyatso since 2004, attending centers in Tucson, Phoenix and upstate New York as a devout follower. She said she feels right at home in Flagstaff.
"Everyone (in Flagstaff) is so friendly," Gamo said. "People do know us in the community. This is just another option that is diverse and inclusive."
Modern Kadampa Buddhism follows the teachings of spiritual guru Kelsang Gyatso, affectionately referred to as Geshe-la. In 1991, Kelsang Gyatso founded the New Kadampa Tradition (NKT) in Britain with the vision of bringing ancient Tibetan Buddhist teachings to the west. The religious organization expanded rapidly, in part due to modernized teachings strategically altered to present well to the modern world.
Both NKT teachings and traditional Buddhism share a common goal; however, the vast difference between traditional Buddhist and western cultures necessitates a distinction in NKT teaching. In contrast with ancient practice, modern Buddhism is increasingly open to individuals of all backgrounds, said Jampa, who noted the temple's visible location to the outside world.
"Modern people are practical, and they are intelligent people. Modern Buddhism bases teachings on experience and logic," Jampa said.
Not all Buddhists have been accepting of the group's new practices. Followers of various Buddhist traditions have criticized the groups teaching in the past, Jampa said. An internet search for "NKT Buddhism" results in multiple online sources claiming involvement in the religion, many of whom are unhappy with their experiences.
Despite the controversy, Jampa remained optimistic toward other Buddhist traditions.
"There are many representations of Buddhism which are all equally precious," Jampa said. "It is important for people to have the choice of which is best for them."
When talking with residents at the retreat center there is a common theme. Jampa, Gamo and Gauthier all insisted the center's events were not just for Buddhists, but for anyone looking to lead a healthier lifestyle. The Temple for World Peace is an extension of this belief – opening its doors to anybody, whether looking for a place to worship or a peaceful place to meditate.
"Many people who come here will consider themselves Kadampa Buddhists, but there is no expectation of that," Jampa said. "Our meditations are not just for Buddhists, but for anyone looking to develop inner and outer peace."