Let's be honest we are all ready to get out, gather, social un-distance, and catch up with friends and family. 4th of July has a tendency to be a big barbecue/potluck kind of holiday and could be just what we need to get us back to the good old days. So we thought we would deliver 14 recipes over the next 14 days counting down to the holiday weekend. We hope our creations inspire your culinary creativity and wow some taste buds at the same time.
We start our countdown with a refreshing Strawberry Sorbet brought to us by our contributor Betsy Green. Betsy has fond memories of her grandmother making delicious strawberry desserts every 4th of July. Her grandma would deliver ice cream, pie, shortcakes, you name it she made it. That inspired Betsy to come up with her refreshing Strawberry Sorbet. Cooling and light, perfect for a hot 4th of July day!
Makes 1 quart (8 servings)
You will need the following ingredients:
2 quarts of fresh strawberries washed
1 teaspoon vodka (chef's note: this will make the final mixture less icy but can be omitted)
Start by removing the strawberry hulls, using a Stem Gem makes this a breeze. Toss the strawberries in a blender until pureed. The Ninja Professional 72oz blender will have this done in no time. Next add sugar, lemon juice, vodka, and salt and blend to mix.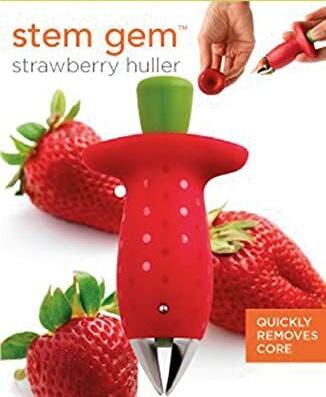 Let the mixture chill for 2 hours until very cold.
Time for the big finale! Churn the sorbet mixture in your ice cream maker (follow your maker's directions for this). Looking for an ice cream maker? We found this affordable Nostalgia Electric model on Amazon. Upon completion transfer sorbet to the freeze and let it firm up for 2-3 hours.
Now serve to guests and watch their temperature drop and smiles grow!
We hope you enjoy the products we recommend. We may receive a commission if you purchase a product mentioned in this article.