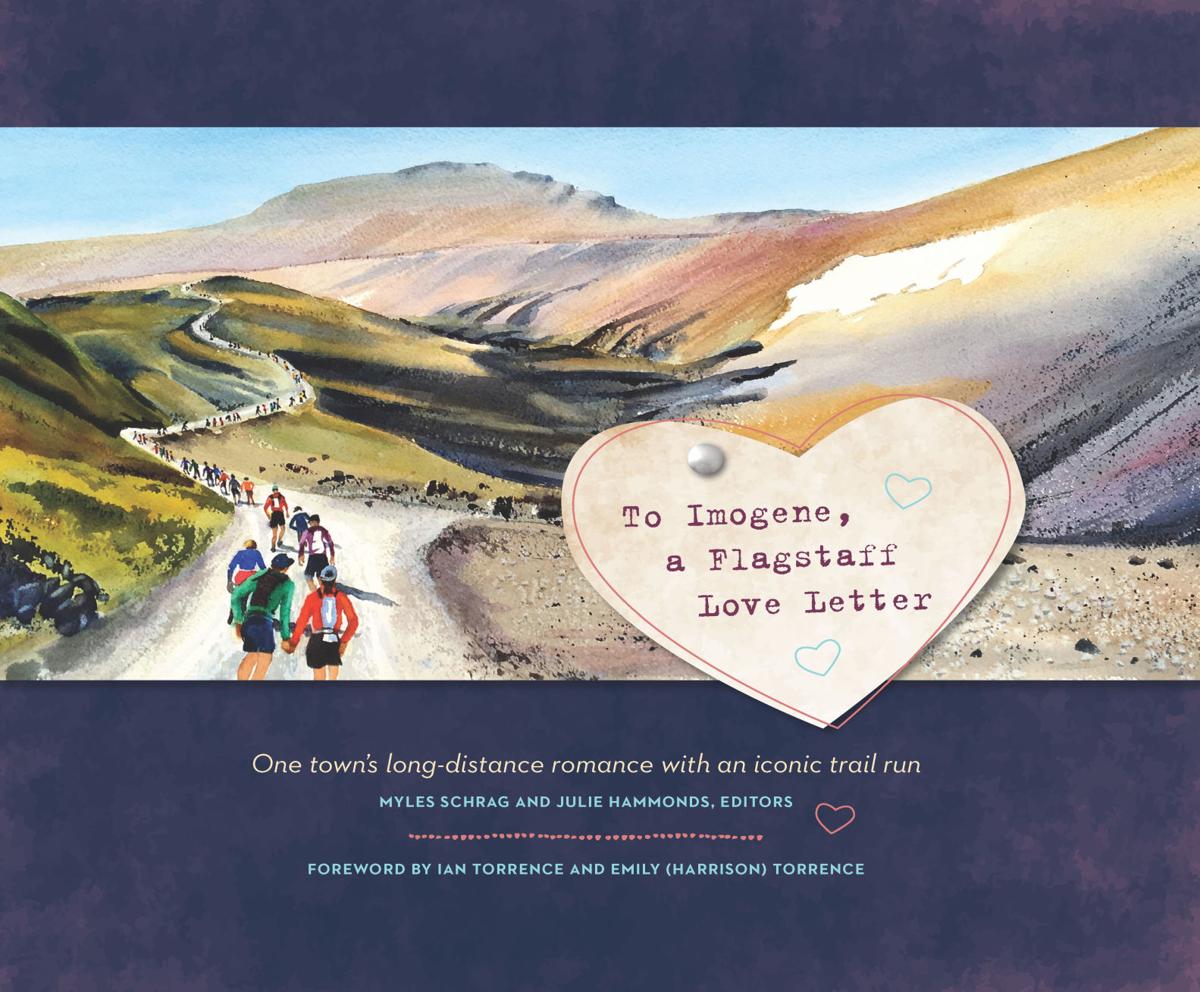 Pssst, want in on a secret?
You heard about that Imogene book, right? I've been talking about it for two-plus years. So has High Country Running coordinating editor Julie Hammonds.
Many people have been excited to check in on the progress of the book, which by the way is titled "To Imogene, a Flagstaff Love Letter: One Town's Long-Distance Romance With an Iconic Trail Run." Thank you for that interest. It has been motivating to us.
And you have plenty of reasons to want to know how it's coming along. Some 70 contributors made it possible, including many of your friends, I'm sure. Possibly even you. We believe the stories it tells about Imogene are a snapshot of Flagstaff's best qualities, so yeah, be excited.
Right now, Julie and I are holding onto a secret, and from 5 to 8 p.m. Wednesday at Dark Sky Brewing (located at 117 N. Beaver St. in Flagstaff), we will share it with you — the official launch of "To Imogene, a Flagstaff Love Letter." The whole community is invited, whether or not you're an Imogene veteran, a runner, or even a Flagstaffian.
Come buy a book, and enjoy pizza, beer, good conversation, a silent auction and giveaway of Linda Sherman's stunning watercolors and other fun activities. Contributors even get a free book (thank you, Griffen & Stevens Law Firm) and some swag.
It's easy to get behind a book about your town, because you're interested in the subject matter and it includes people you care about. But only Julie and I know how good this book is. It's damn good: not because it has our neighbors' names in it, but because there is so much creativity and heart in these pages. As any truly good book should, it expresses something meaningful.
I always felt this book had the chance to be special as a piece of local history; I never dreamed it would be so artistically successful in words and images.
When we made final selections for what to include, when we looked at final proofs earlier this summer, when we went back through the PDF to prepare for Wednesday night and to create stickers and T-shirts (that's right, people, merch: awesome merch), it is astounding to see the talent, passion and vulnerability compiled in these 224 pages.
I'm so proud to be part of this book and thrilled to have met, or deepened my relationships with, so many wonderful people through the process of creating it — writers, artists, photographers, sponsors, supporters.
Of course I'm biased. I've thought of this book for almost three years. It was like a marathon without the blisters. I know the real proof comes in what you think when you crack open the binding to look at your copy Wednesday night.
I'm confident I'm not delusional, though. As you're driving up to Colorado later this week and your passenger is reading passages to you, or as you reflect on your Imogene achievement by thumbing through pages describing how your friends and neighbors reacted to theirs, drop me a line.
Let me know if you agree that this secret was worth letting out.
Myles Schrag is co-editor of "To Imogene, a Flagstaff Love Letter" and co-founder of Soulstice Publishing (soulsticepublishing.com). He is feeling grateful today for living in this town.
Coordinating editor Julie Hammonds invites columns on any aspect of the local running scene. Send tips and ideas to runner@juliehammonds.com or via Twitter @highcountry_run.
Be the first to know
Get local news delivered to your inbox!