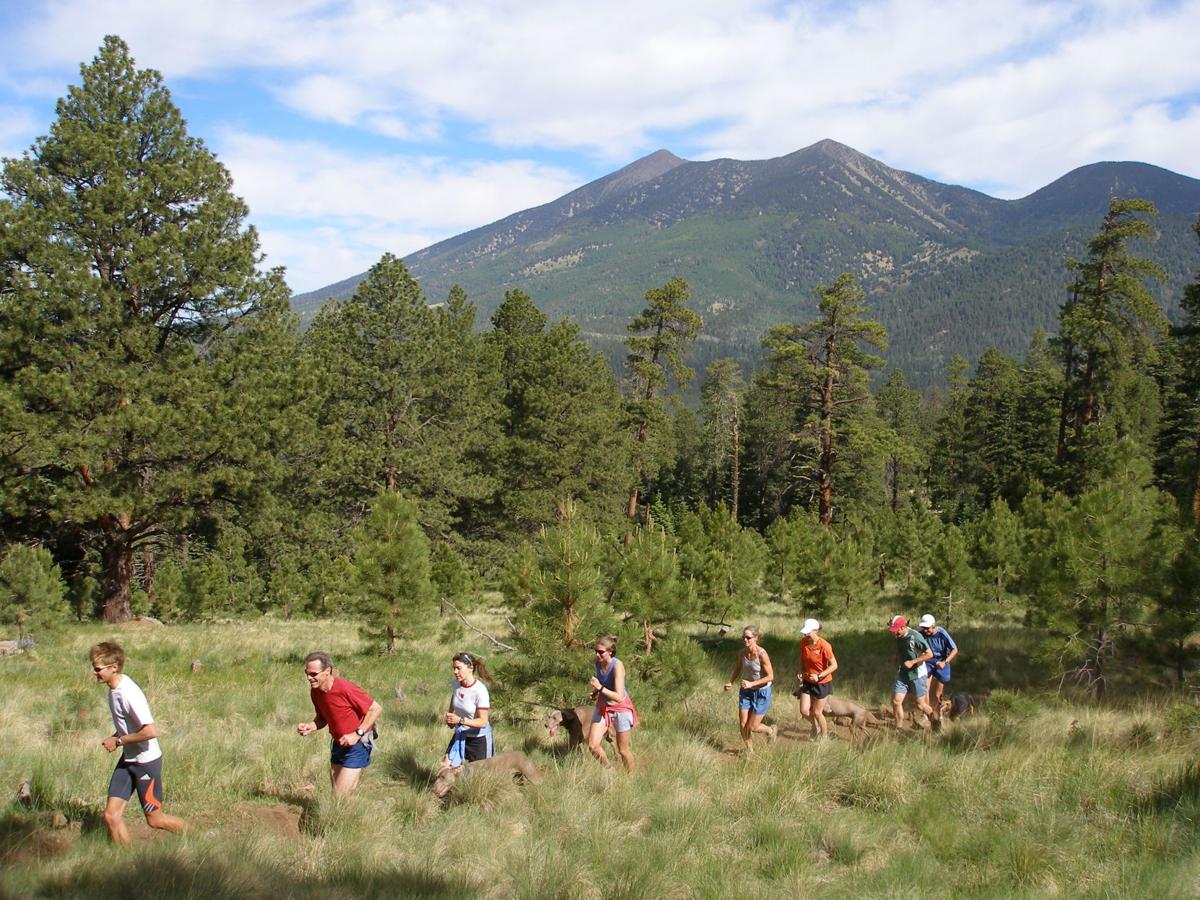 When running in Flagstaff, all routes seems uphill, even if the topographic lines on your map suggest otherwise. After running my least-favorite ascent on July 1, 2018, I posed the question on Facebook to Flagstaff runners: What is your least favorite hill?
For me, it's always been the Flagstaff Urban Trail up onto Observatory Mesa; not the steep quarter mile by Rosie's Corner, but the gradual section leading up to it from the Thorpe Bark Park. I almost always walk, shouting expletives and dodging Frisbees along the way.
Jerry McLaughlin singled out Hamburger Hill. "That's how I refer to the little hill in front of my house after a long, grueling run." Many readers will know the exact location, going up Beal Road just west of its junction with Aztec Street.
For Heather Cooper Provencio, it's the short A1 Mountain climb just past the 7-mile marker during the Big Brothers Big Sisters of Flagstaff Half Marathon. "It's rough for me because once you've made the climb up onto Observatory Mesa, you think you're done with the hills, but there's one short little push right at the base of A1. (Daughter) Chelsea and I just struggled through that one this morning, but I swear I will conquer it for the race!"
From Koren Michelle Brown, it is "any hill I don't see the end of, or that requires stepping higher than my knees, or that is a gradual grade."
Sara Jager named the trail "on the way up to Humphreys from the Inner Basin, on the steep gravel section in the wind tunnel near the wind shack."
Janet Nelson-Bain says, "I have a love-hate relationship with Elden Lookout Trail. It's steep, so tough to run, and it's usually hot. I have been climbing it since a sixth-grade field trip from Christensen Elementary in 1986, so it's an old nemesis. I love that it makes me a stronger runner."
Mike Popejoy agreed with Janet. "It's like a Stairmaster that requires jumping."
Tina Bristol's least-favorite hill is "Elden Lookout Road! Dusty, hot, boring until the top!" Keith Wyatt Jr. agreed, "Elden for sure."
As I posed the question when the San Francisco Peaks were closed this summer, Betsy Whited chimed in for O'Leary Mountain, saying, "Maybe it's just because it's one of the only options right now!"
Martos Hoffman chose the Weatherford Trail to the top of the Agassiz saddle. Mark Trotter suggested "any of the cinder hills east of the city around Doney Park." Paul Drumheller said simply, "Lower Brookbank."
The funniest comments regarded the infamous hills of the Soulstice Mountain Trail Run. Robert Miller pointed the finger at the 2-mile, thousand-foot Sunset Trail. Mark Thurston voted for the Seven Sisters (the pipeline), noting, "It's always a rock pile underfoot." Legendary Flagstaff ultramarathoner Ian Torrence asserted that his least-favorite hill is "the final finish line hill sprint on the Soulstice course, because I'm toast and Rob Decot, John Bogen and/or Sara Wagner are hot on my butt." To which six-time Soulstice champion Sara Wagner, known for good-natured ribbings of her rivals, replied, "Ian, you call that a hill?"
So what is your least favorite hill in Flagstaff? Share your thoughts on the NATRA Facebook page.
Neil Weintraub co-founded the Northern Arizona Trail Runners Association in October 2001. This group welcomes runners of all abilities every Saturday, with outings ranging from 5 to 8 miles, free of charge. In winter, NATRA carpools to Sedona for warmer runs.
Do you have a column, tip or idea for High Country Running? Run it over to coordinating editor Julie Hammonds at runner@juliehammonds.com, or tweet her @highcountry_run.
Be the first to know
Get local news delivered to your inbox!