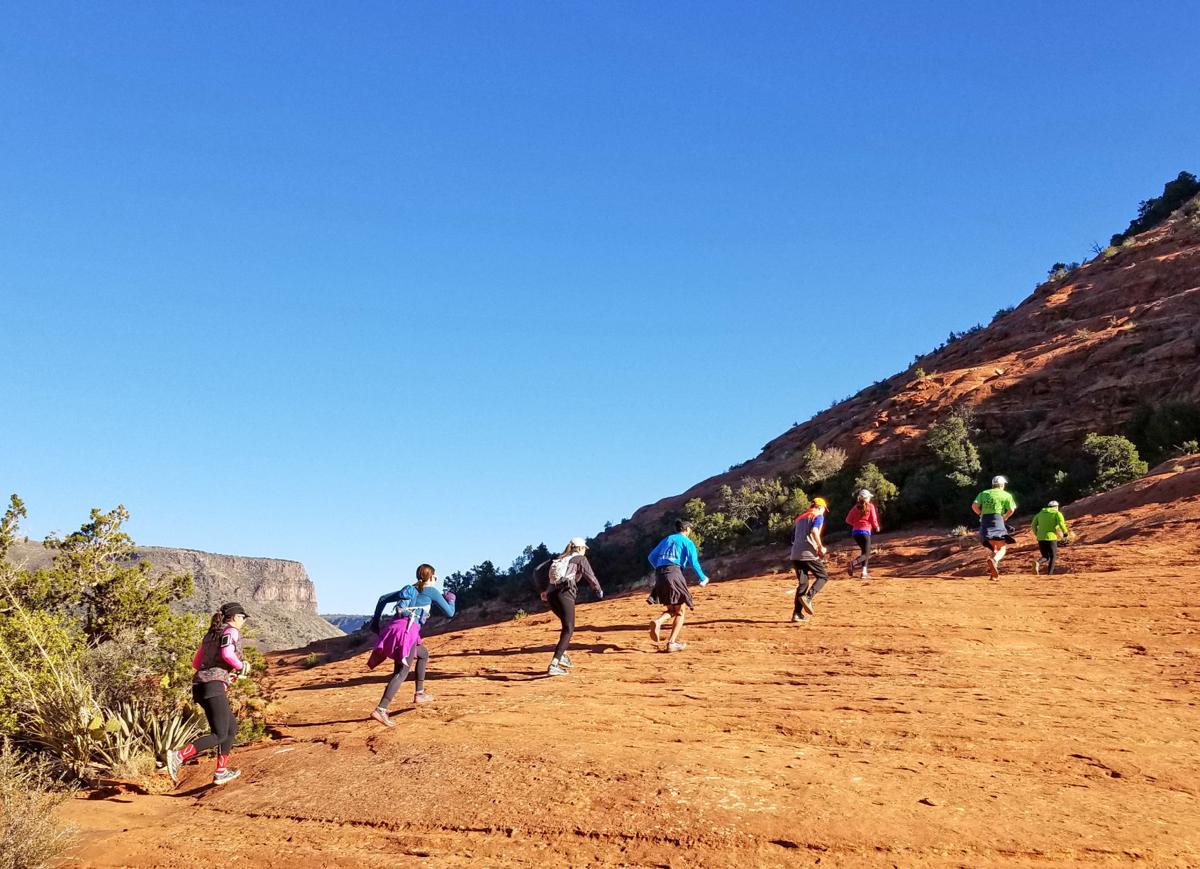 On Nov. 23, Northern Arizona Trail Runners Association makes our annual return to running in the red rocks of Sedona every other Saturday -- which we'll do until early spring.
For the past 18 winters, group-named staple runs such as Mescal Mountain Magical Mystery Tour, Hangover, the UFO Landing Pad and Back and the Wet Beaver Creek Polar Plunge Run have provided adventures that live up to their names. If you enjoy running, hiking, plunging, scrambling or crawling on slickrock, our Saturday runs have it all.
Sedona runs start Saturday with a 7-mile round trip into the Wet Beaver Creek Wilderness "to the Crack and Back." The "Crack" is where the canyon narrows and a deep, freshwater pool dares runners to jump off a sandstone ledge 20 feet above water. Known as the Polar Plunge Run, this tradition invites braver runners to celebrate our return to winter. Though the Crack is often heavily visited in summer by hikers eager to refresh themselves, we rarely encounter a soul on our early morning run.
Do you believe something is out there? We do, and that's the reason we continue to run the 7.5-mile round trip up to the huge, flat slickrock "UFO landing pad" hidden away in Long Canyon. While we have yet to encounter any extraterrestrials on the pad, we do enjoy lying on our backs to gaze hopefully into the blue sky … then taking a group photo in one of the most panoramic vistas in Sedona.
The Hangover Trail loop is a questionable way to recover from a late night at the pub. For those fearless of heights, this 8.2-mile run on a narrow, very technical trail involves crawling up steep pitches of the Schnebly Hill formation.
Your arms get a more intense workout pulling you up than your already wobbly legs did. The downhill return is exhilarating, with its ocean of magical sandstone formations below. In wet winters, we've been known to find plunge pools to cool off in. Yes, even in winter, our Sedona runs heat up enough to warrant soaking in snowmelt.
The run we fondly call the Mescal Mountain Magical Mystery Tour will leave you singing a catchy Beatles tune. This is one of our shorter Sedona runs, about 5.2 miles round trip. I guarantee the sheer beauty of circumnavigating Mescal Mountain will energize you.
Others would say it's because we run near the Boynton Canyon vortex of positive energy, a Sedona hot spot featured in the "harmonic convergence" of Aug. 16 and 17, 1987. Pick your favorite search engine to learn about that historic event.
Finally this winter, we're excited to check out trails near our friends at the Run Sedona store. With the running store as a starting point, we'll explore Coffee Pot, Tea Cup, Chimney Rock and Thunder Mountain like never before. Stay in shape all winter long: opt outside with NATRA.
Neil Weintraub cofounded NATRA in 2001. NATRA is free and open to runners of all abilities. Neil thanks longtime NATRA runners David Blanchard and Bruce Higgins for their insights and for always stepping up to help lead a Saturday run. To find our next adventure, visit www.natra.org and click "Next Run."
Do you have a column, tip or idea for High Country Running? Send it to coordinating editor Julie Hammonds at runner@juliehammonds.com.
Be the first to know
Get local news delivered to your inbox!