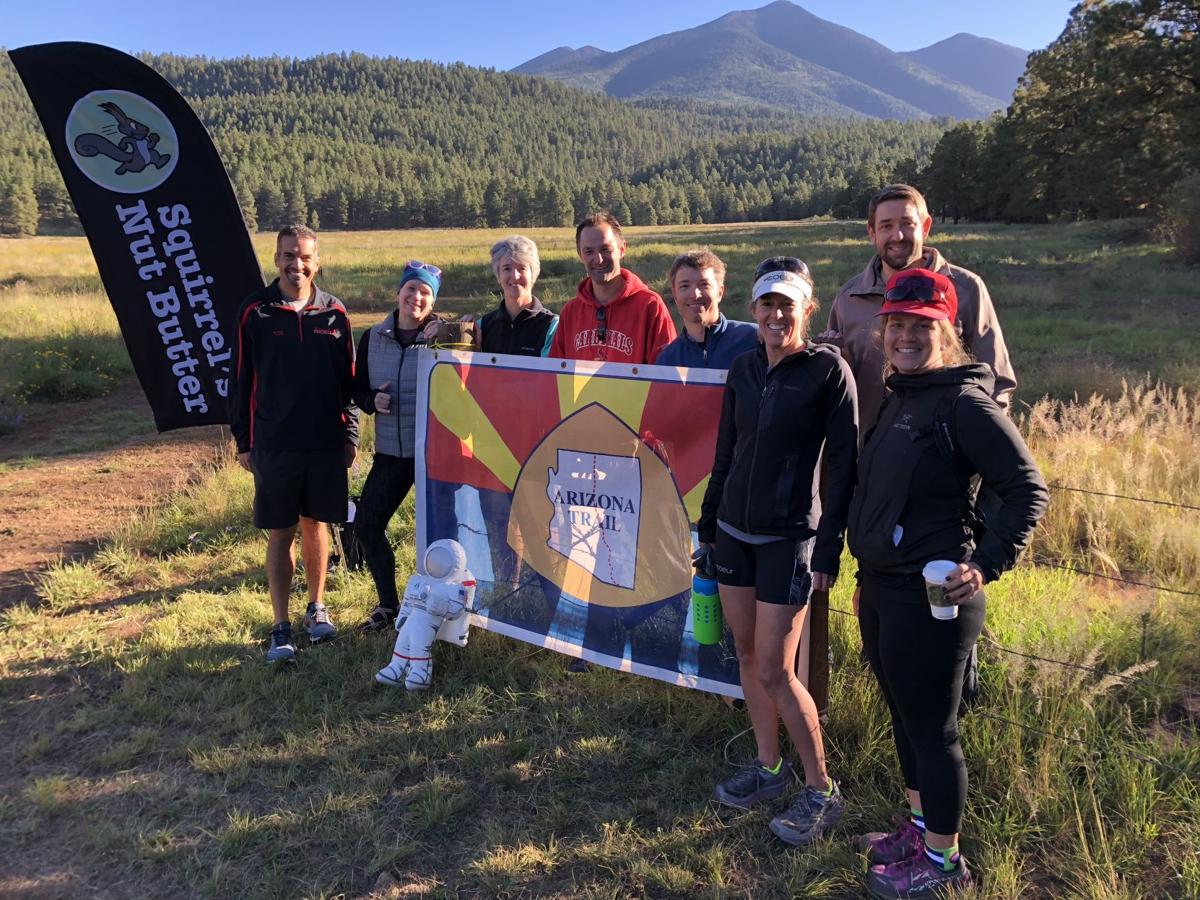 "Come to Arizona!" she said. "Take part in a 100-mile trail relay!" she said. "It will be fun!" she said.
The text was from my longtime friend Julie Hammonds, whom I've known since we grew up on the same street in Whittier, California -- and who, as I later found out, is the editor of this weekly running column.
Julie was inviting me to fly out from California to join a team she was putting together for the 2018 Flagstaff to Grand Canyon Stagecoach Line 100-mile Relay. I'm a member of a running club and have run several marathons, but I'd never attempted a trail run before. The route sounded beautiful, trail-running sounded like a challenge, and Julie's teammates sounded fun, so this past September, I flew to Arizona to take part.
We woke up early on race day, Saturday, Sept. 22, and headed to the start line at the Hotshot Ranch just outside Flagstaff, where I met the rest of the Shake, Prattle and Stroll team: Karen, Emily, Elise, Jeff, Chad and Myles, all friends Julie has met through the Flagstaff trail-running community.
Karen started us off with Leg 1, followed by Emily on Leg 2. I quickly got into the rhythm of the day: cheer the team member as she or he takes off on her or his portion of the run, drive to the next relay-exchange point, wait for that runner to finish the leg, repeat.
You have free articles remaining.
I had volunteered to run Leg 3 of the race: 17 miles of up-and-down trails. It's the longest leg of the relay, but I run marathons, right?
Turns out: this trail-running thing is a whole different beast. Around mile 8.5 (halfway through my segment, if you're paying attention), my legs started asking me what I was doing and how much longer I was planning on doing it.
I made sure to take time to enjoy the scenery, though. My portion of the run traversed a segment of Babbitt Ranches, with a glorious view of the San Francisco Peaks in the distance. When I made it to the exchange station at Cedar Ranch at last, it was a relief to pass the metaphorical baton to our Leg 4 runner, Elise.
The last leg of our relay was run by our team captain, Julie. I was, sadly, fast asleep in the back of a pickup truck cab when she came in to the Grand Canyon IMAX Theater parking lot around 2 a.m. Sunday morning, but she didn't seem to begrudge my sleepiness. She'd had an amazing run in the dark -- just her, the portion of trail lit by her headlamp, and nature all around.
A team dinner Sunday evening, a flight back to California the next day, and my part in the 2018 Stagecoach Relay was done. Or so I thought. Julie had another idea.
"Write a column!" she said. "It will be fun!" she said.
Doug Evans is a member of the So Cal Pacers Running Club who has run 15 marathons, including the Los Angeles Marathon 12 times, and numerous half marathons. His 16-year-old daughter is now faster than he is, but whatev's.
Julie Hammonds coordinates this column and forces friends and strangers alike to contribute. She's looking to join a Stagecoach team this year and promises to behave herself if invited. Send tips and ideas to runner@juliehammonds.com or via Twitter @highcountry_run.