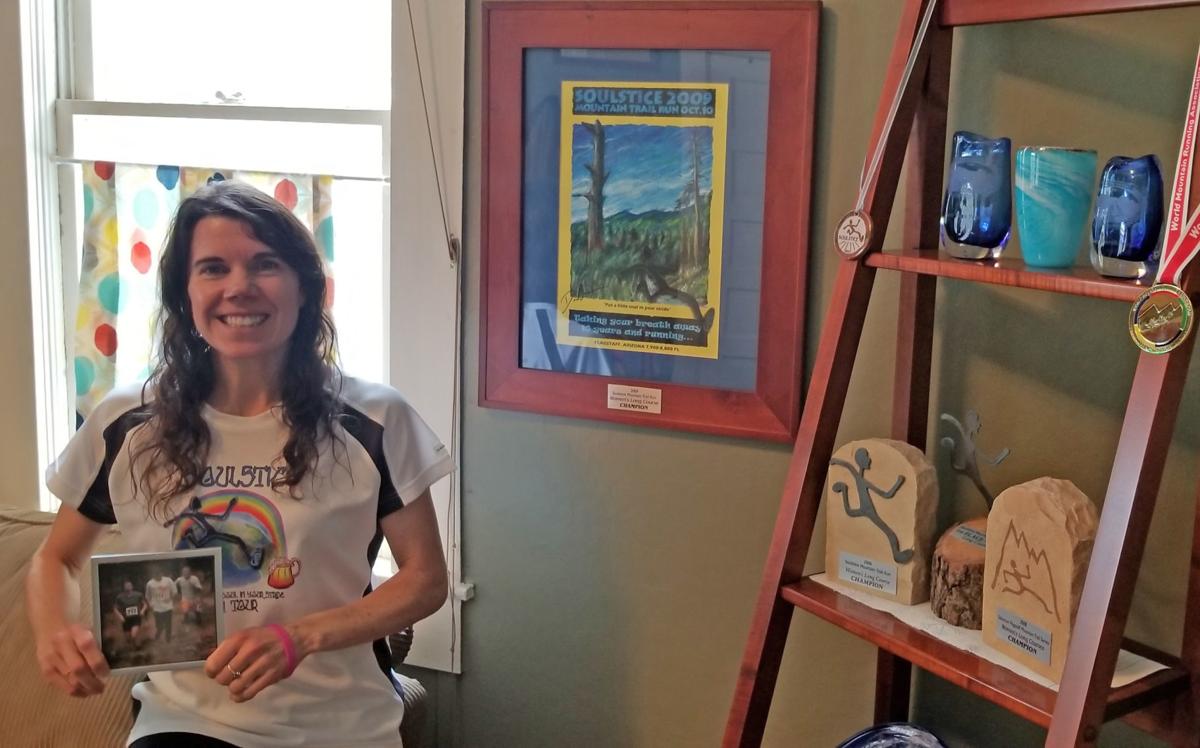 In the mid-1990s, three adventurers returned home from Colorado's Imogene Pass Run believing Flagstaff could create its own version of the famous race from Ouray to Telluride.
Conceived by William Ring, Wiley Addis and Paul Brinkmann and first directed by Ring's Soulstice Racing Company, Soulstice started with a $500 sponsorship from Brinkmann's Pay N' Take in 1997 and again in 2001. In 2002, Northern Arizona Trail Runners Association (NATRA) began managing the event and added a six-mile course to encourage beginners to try competitive trail running.
On Oct. 12, NATRA will celebrate the 20th running of the Soulstice Mountain Jackie Weintraub Memorial Trail Run. The race, which is capped at 225 entrants, has sold out every year since 2003. Entry is through an April 1 lottery.
Since I started keeping records in 2002, there have been 1,197 different participants. Fifty-three have completed the race 10 or more times, and 103 have "legacy" status (finishing the race seven or more times). Most amazingly, three legacy runners have participated every year since 2002; kudos to Howard Brown, Daniel Maestas and Tom Lyle, who are in a league of their own.
Over the holidays, I went on a run with one of NATRA LLC's former runners, Andrew Lawlor. When we started discussing podcasts, it occurred to me that it would be fun to create a "Soulstice Podcast" to honor the cast of characters who hold the race so close to their heart.
On a mid-January visit to see my dad in New York City, I kicked off the podcast with Shara Bailey, one of Soulstice's first 30 or so finishers in 1997. Today, Shara is a biological anthropologist at New York University, specializing in Neanderthal dental morphology. She has vivid memories of that year's challenging 12.25-mile course (it's now 11 miles). She ran it with one of her best friends, Nancy Mahoney, as they trained for their first New York City Marathon. The difficulty of the course gave them the confidence to successfully complete their first marathon three weeks later.
Back in Flagstaff, having been furloughed from work, I turned my attention to interviewing six-time Soulstice champion Sara Wagner. When we met inside her cozy downtown apartment, I was awestruck by the gallery of artful race awards and David McKee Soulstice posters adorning her walls and shelves.
In the podcast, Sara shares memories of her first Soulstice in the torrential rains of 2006 and talks about the many friends she's met through the race.
As the government shutdown extended into late January, Soulstice devotee and Pizzicletta owner Caleb Schiff announced he would offer affected employees a free pizza a day until it was over. During our podcast, Caleb discusses having to make far more pizzas than usual and hoping the shutdown will end soon. Sure enough, two hours after the interview, a deal had been reached.
More Soulstice stories are on the way, so stay tuned to natra.org in the months leading up to this year's race for additional podcasts (click on "Soulstice Podcast").
Have a Soulstice story for the podcast? Contact Neil Weintraub, Soulstice's Benevolent Dictator, at natrallc2017@gmail.com.
Do you have a column, tip or idea for High Country Running? Run it over to coordinating editor Julie Hammonds at runner@juliehammonds.com, or tweet her @highcountry_run.
Be the first to know
Get local news delivered to your inbox!