"It is always dangerous to prophesy, particularly about the future," — Old Danish proverb (aka Yogi Berra)
You might think that geologists readily agree about events in Earth's past, but our competing hypotheses can make agreement almost as dangerous as prophesying the future. Still, geology's more fun this way!
In 1974 Bill Breed — Curator of Geology at Museum of Northern Arizona — posed the title question above, referring to whether the unique and highly visible 800-foot-high red amphitheater on the flank of Red Mountain (35 miles north of Flagstaff) formed via explosion or slow erosion. In a brief Plateau article, Breed cast his vote for erosion.
Unconvinced, the authors of a 2002 USGS-Forest Service Fact Sheet speculated that the amphitheater was created by "steam explosions...shortly after eruption ceased." They judged that "…there is [too] little surface area to catch rainwater...and funnel it down channels to erode the [amphitheater]." NAU Prof. Nancy Riggs and Wendell Duffield (USGS/NAU emeritus) seconded this steam explosion concept as part of their detailed 2008 study of Red Mountain.
In this column, I argue for Breed's erosional origin of the amphitheater. Next week, Nancy Riggs will present her counter-argument in favor of explosion. Duelling geologists! Rock hammers at 20 paces!
Breed claimed that Red Mountain was uniquely susceptible to flank erosion because "…the rock at Red Mountain is almost impermeable [so that]…water that falls on Red Mountain tends to run off, it erodes the mountain…." (Typical cinder cones are so porous and permeable that rainwater soaks in without disturbance.)
If you use your sharp eyes at Red Mountain, you will observe that the remaining mountain consists of two distinctly different portions: 1) an outer zone of black cinders (moderately cemented to loose), and 2) an atypical red interior zone of tuff well-enough cemented to hold up the amphitheater wall. This tuff is constructed not of black, glassy cinders but of small shreds of altered cinders, crystals freed from the magma, and rounded quartz sand grains that mixed violently in the subsurface when the magma encountered groundwater in the Coconino Sandstone, probably along the Mesa Butte fault.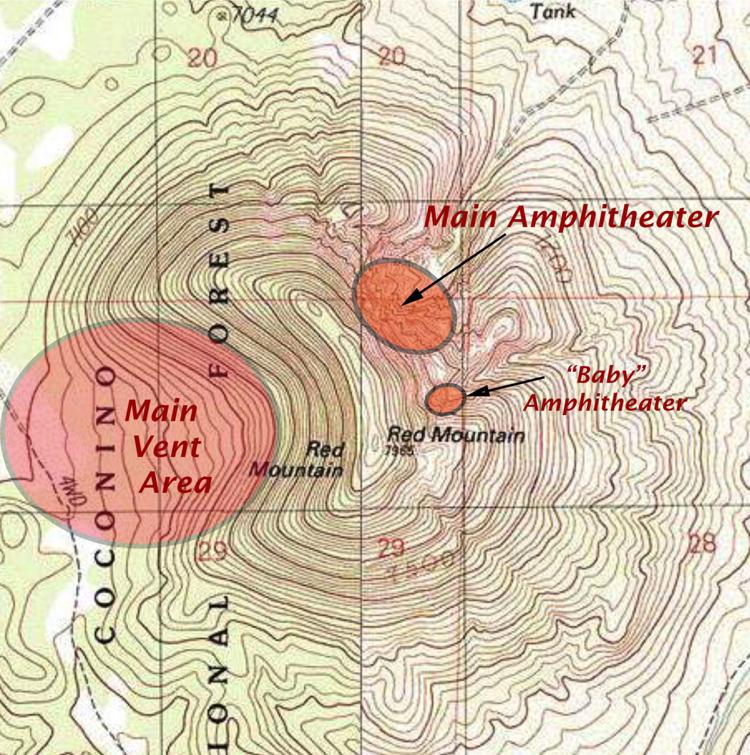 You have free articles remaining.
Register for more free articles
Stay logged in to skip the surveys
Toward the top of the amphitheater, you will observe distinctive resistant beds that jut outwards, each capping a few feet of vertical cliff. These impermeable beds dominate the uppermost surfaces of the mountain, where they truly force water to run off, per Breed's model.
But all it took was a single chink in this armor — an upper bed breaking off when the west side collapsed? — to concentrate the runoff where it could begin eroding. As more cinders washed down this drainageway, additional resistant surface area was exposed, creating ever more rainwater-collecting area.
This positive feedback loop — every runoff expanding the drainage area, increasing every subsequent runoff — carved an ever-deepening channel until the small gully became the enormous water-carved amphitheater.
Such feedback would be reinforced by deeper accumulations of winter snow. In 1967, Harold Colton pointed out that Red Mountain amphitheater and smaller erosional scars on the flanks of other cones are all on snowier north- or northeast-facing slopes.
If you climb the cindery slope on the left (south) side of the amphitheater, you can essentially observe the erosion process continuing. There, upwards and to your left, you will see a drainage (which possibly once flowed laterally to the amphitheater, or else formed later in place) that has relatively recently begun the twin processes of incising a new gully downslope and cutting a second amphitheater above — right alongside the original — the drainages separated by a narrow ridge of red tuff. Erosion continues its relentless work, 700,000 years after Red Mountain formed.
Three final points: First, Occam's razor should disfavor the explosion scenario, due to these extra-but-necessary assumptions: A) a fluid-impervious "bomb" within the mountain that was nevertheless B) charged with water, and heated by C) a post-eruption thermal pulse, that heated the water to steam.
Second, hydrology predicts that water flowing out of the lava conduit would likely seep from the base of the cone as a spring rather than rise several hundred feet up in the cone. And third, no one has yet found any trace of the tuff debris expelled by the explosion.