As the long days of summer dwindle and the quaking aspen turn a brilliant yellow, many of us start to think about our fall and winter plans. In preparation, we polish our skis or pull our snowshoes out of storage, and head to the peaks. Others think about warmer locals to hike and recreate.
An hour and forty-five minutes east of Flagstaff is Petrified Forest National Park. Established in 1906 as a National Monument, the park preserves "deposits of fossilized wood" that are more than 200 million years old. These brilliantly colored pieces and whole logs of petrified wood are remarkable to view.
The land that encompasses the park today also preserves the rich cultural history of Native peoples. Migratory Indigenous people gathered food and hunted animals throughout the region beginning around 1350 C.E. As these Native peoples transitioned into more agricultural societies, permanent settlements were established. One great example is Agate House, a Puebloan structure built entirely from petrified wood.
Hiking within the park is a great way to explore its diversity of resources. Below is a list hikes within Petrified Forest National Park. Visit www.nps.gov/pefo for more information on these and other trails. Some backcountry trails are accessible by permit only. Permits are free and must be acquired in person at either the Painted Desert Visitor Center or Rainbow Forest Museum on the first day of camping and before the facilities closs.
To help preserve the natural and cultural wonders of Petrified Forest National Park for this and future generations, be sure to leave everything you find. It's illegal to remove natural or cultural objects from the park.
Be prepared for your hike. Bring plenty of water, food, sturdy hiking boots, a map and compass or GPS unit to help with navigation.
Easy/Moderate Cultural Resource Hikes
Agate House Trail — runs 2 miles (3.2 km) roundtrip from the Rainbow Forest Museum parking lot. A shelter sits at the junction of this trail and Long Logs Trail, offering shade as you cross the badlands and petrified wood scattered landscape.
Puerco Pueblo — enjoy this 0.3-mile paved walk amidst the remains of a hundred-room pueblo, occupied by Ancestral Puebloan peoples over 600 years ago. Petroglyphs can be viewed along the south end of the trail. The trailhead is located at the Puerco Pueblo parking area.
You have free articles remaining.
Register for more free articles
Stay logged in to skip the surveys
Easy/Moderate Natural Resource Hikes
Crystal Forest — Named for the presence of beautiful crystals found in the petrified logs, this 0.75-mile loop trail offers one of the best opportunities to view the petrified wood deposits. The trailhead is located at the Crystal Forest parking area.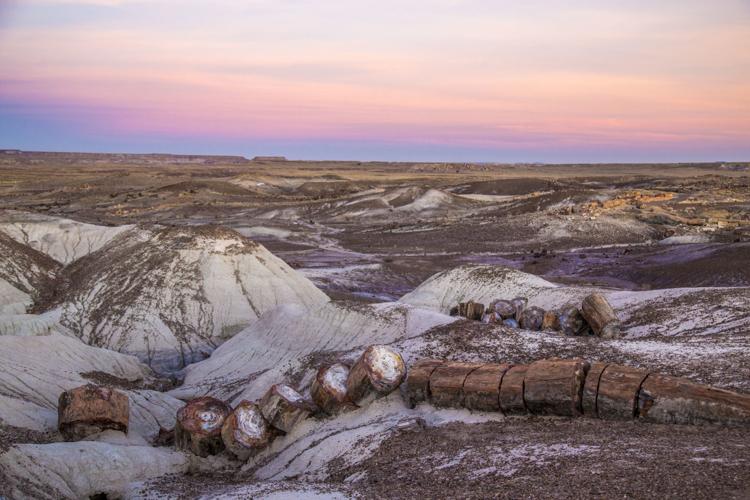 Long Logs — is one of the largest concentrations of petrified wood in the Park. Explore this ancient log-jam at the base of gray badlands. The trail is a 1.6-mile loop that begins and ends at the Rainbow Forest Museum parking area.
Strenuous Hikes/Backcountry Options
The Devil's Playground — this is a strangely beautiful, highly eroded part of the Park, worthy of exploration. There is access, by permit only, to this southwest portion of the Petrified Forest National Wilderness Area. Permits are available at the Painted Desert Visitor Center on a limited basis. Instructions on how to get to Devil's Playground are given with the permit.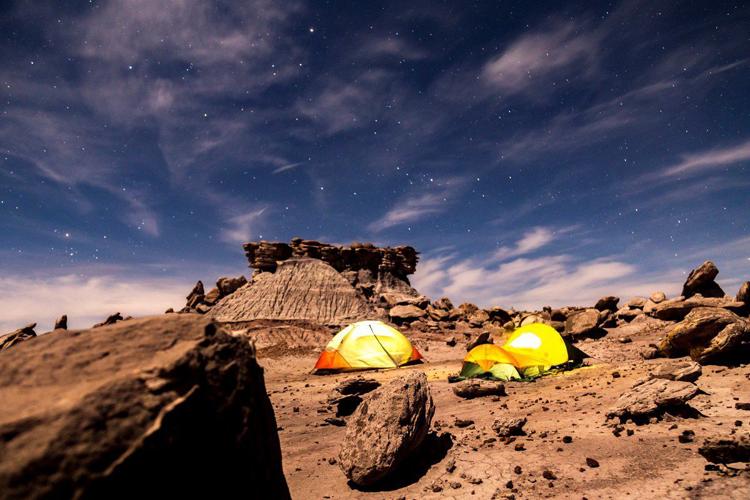 Onyx Bridge — this hike is 4 miles (6.4 km) roundtrip with an elevation gain of 300 feet. The trail meanders through a dramatic example of petrified wood eroding out of the Black Forest Bed of the Chinle Formation. The Triassic conifer tree known as Onyx Bridge is one of the many preserved logs in the Black Forest. These logs and the geologic layer in which they are found are about 210 million years old.
The combination of rich natural and cultural history makes Petrified Forest an engaging park to explore. The slightly warmer conditions (compared to Flagstaff) during the winter allow for a suitable environment for hiking. Averaging around 5,400 feet elevation, the park's average winter temperatures are in the low 50s, compared to the mid-40s in Flagstaff. Take advantage!