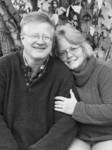 Cindy Burson and Ron Goulet are happy to announce their engagement. The couple resides in Flagstaff. Both graduated from Clay Senior High School in Oregon, Ohio, a suburb of Toledo, in 1977 and 1975 respectively.
Goulet, a resident of Flagstaff since 1991, and has owned and operated Peak Publishing, Inc. in Flagstaff since 1993. He was active in the Exchange Club of Flagstaff for 15 years.
Burson moved to Flagstaff in September, accepting a job at Flagstaff Insurance, Inc., where she continues a long career in the insurance business.
A wedding ceremony is planned for the evening of Dec. 25, 2010, in Oregon, Ohio.