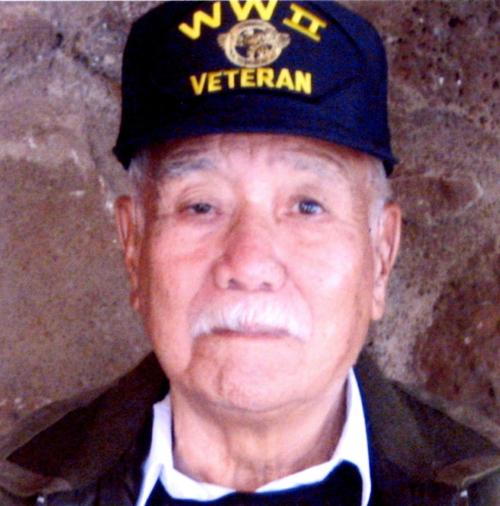 Tomas H. Vega, 96, a Flagstaff native, passed away peacefully on March 14, 2018, surrounded by his family. Tomas was born on March 9, 1922, to Aurelio and Josefa Vega. He attended Brannen Elementary School, dropping out after 8th grade in order to help his parents support the family, working at the sawmill, earning twelve and a half cents an hour.
At the age of 18, Tomas enrolled in the Civilian Conservation Corps, a program established by President Franklin D. Roosevelt during the Great Depression. His experience is documented in the book "Images of America, the Civilian Conservation Corps in Arizona."
On July 27, 1942, Tomas marred Sophia Alfaro and together they raised eight children.
Tomas was a part of the "Greatest Generation", a Mexican-American patriot, enlisting in the U.S. Army in 1942. He served with the 49th Engineers Combat Battalion and the 359th Engineer General Service Regiment in the European Theater during World War 11. Tomas participated in D-Day, landing on Omaha Beach on June 7,1944. The mission of the regiment was to furnish gasoline, petroleum and oil to fuel the invasion and rebuilding infrastructure destroyed by the Germans.
After his discharge from the military, Tomas resumed his career in the lumber industry. He obtained his GED and worked his way up at the sawmill from working on the green chain to becoming a supervisor. In recognition for his outstanding abilities as a lumberman and grader, he received his Master Grader ranking from the Western Wood Products Association. Tomas also received a Certificate of Completion from NAU School of Forestry for his study in Lumber Seasoning. His career with Saginaw/Manistee Lumber and Southwest Forest Industries spanned 50 years.
He was a devoted member of Our Lady of Guadalupe Catholic Church.
Tomas was a life member of the VFW. He was a member of the Sawmill Workers Union and was also a volunteer fireman for Southwest Forest Industries. He was a member of the Triangulo Club, Monterey Club, and The Forty Niners. He was actively involved in Little League Baseball at Arroyo Little League Park. He was an avid outdoorsman and carpenter, having built his own homes. He loved to read and had a passion for history. Tomas took great pride in his Mexican heritage and culture and loved to share his stories about life and the history of Flagstaff. He was an inspiration to his family. He was a member of Nuestras Raíces and took great pride and pleasure in sharing the story of his ofrenda during Dia de los Muertos at the Museum of Northern Arizona's Celebraciones de La Gente. He was recognized as a Flagstaff "Hispanic Pioneer' for his community and military contributions by the Coconino County Hispanic Advisory Council as part of the 2015 César E. Chåvez Community Recognition.
Tomas was preceded in death by his wife, Sophia; his son, Francisco, who perished during the Vietnam War; his daughter, Olivia, an Associate of our Lady of Guadalupe Monastery in Phoenix; his great-grandson, Anthony Pegram, his parents, Aurelio and Josefa Vega; his sisters, Georgia Carreño, Julia Vasquez and Leonarda Hernandez.
Tomas is survived by his children, Loretta (Lupe) Velasco, Rachel (Steve) Casaus, Steve Vega, Virginia (Henry) Martinez, Victoria Vega, Norma (Dale) Wallace, 27 grandchildren, 40 great-grandchildren, 8 great-great grandchildren and Max Martinez, a special family friend. He is also survived by his sister, Anita Urias; his brothers, Aurelio, Jose and Luis Vega, as well as a large extended family.
Rosary will take place, Monday, March 26th at 7:00 pm, funeral mass will be Tuesday, March 27th at 10:00 am, both at Our Lady of Guadalupe Catholic Church, 224 S Kendrick St, Flagstaff, Arizona. Burial will follow at Calvary Catholic Cemetery.