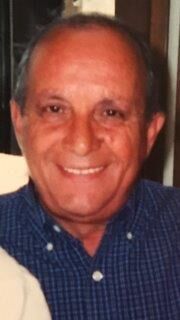 Silvano J. Perla, 83, of Flagstaff, Arizona, passed away Friday, July 17, 2020 in Peoria, Arizona.
Silvano's extraordinary life started in Italy on May 1, 1937 when he was born to Joseph and Perinda (Centoni) Perla. He came to America and lived in Bradenville, PA. He graduated from Derry Township High School where he was a proud member of the Marching Band and there met the love of his life, and Majorette, Joanne Andrako. Joanne and Sil were married in 1958, and after ditching the Battaglia Produce truck in Pittsburgh, he accepted a position with Peabody Coal and moved to Indiana. Sil worked for Peabody Coal Company for over 30 years and retired as the General Superintendent of the Black Mesa and Kayenta mine operations in Arizona. Sil immensely enjoyed immersing himself in the Navajo culture while mining coal on the reservation.
Silvano was preceded by his parents Perinda and Joseph Perla, and his brothers Sergio, and Franco.
Silvano is survived by his loving wife of 62 years Joanne (Andrako) Perla; his children, Scott Perla of Denver CO, John Perla, and his wife Laura, of Queen Creek, AZ, Lynn Perla Rasmussen of Cary, NC, and Todd and Gilly Perla of Denver, CO. Silvano has eight grandchildren who adored him, Paige Perla of Parker, CO, Grant, Jack and Teddy Rasmussen of Cary, NC, Brayden and Maggi Perla of Queen Creek, AZ, and Amelia and Madeline Perla of Denver, CO. Left also to mourn is his sister Mary Ellen Kromel, and her husband Donald, of Greensburg, PA, and his brother Anthony Perla, and his wife Becky, of Latrobe, PA. Silvano loved life, his work, and all of his wonderful friends and family. He truly lived every day, and positively impacted the lives of everyone he touched.
Family and friends will be received on Friday, August 21, 2020 at the John J. Lopatich Funeral Home, Inc., 601 Weldon Street, Latrobe, Pennsylvania. A funeral Mass will be celebrated on Saturday, August 22, 2020 at St. Rose Church, 4969 Route 982, Latrobe, Pennsylvania. Entombment will follow in the Mary, Mother of Mercy Mausoleum at St. Vincent Cemetery, Latrobe. All times for the visitation and funeral Mass will be announced at a later date. To sign the online guest book, send condolences, or share a story, please visit www.lopatich.com. ACelebration of Life to follow in Flagstaff, Az., place and date to be determined.