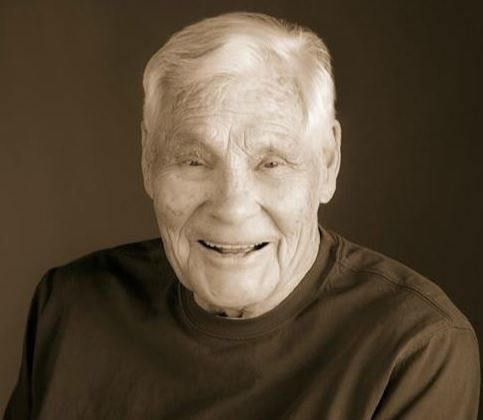 Richard Kuhn passed peacefully at his home in Flagstaff, Arizona surrounded by family on May 9, 2020 after a long, wonderful life. Richard was born in Roswell, New Mexico, to E.A. 'Pos' and Ruth Kuhn.
The son of a railroader, they moved all around the southwest, from Ash Fork to Needles, where Richard graduated from high school in 1941. He then attended UC Berkeley on a tennis scholarship until 1943, at which time he joined the US Marine Corps serving in the Pacific Theater as a tech sergeant flight controller. After the war, Richard returned to Redlands, California, where he attended and graduated from the University of Redlands with a degree in geophysics in 1948. Richard then went to work for the Texas Oil Company, which brought him to Montana where he met Martha O'Toole.
Richard and Martha married in 1949 in Crystal, North Dakota, and started their family in Alberta, Canada where he worked as a geologist. Richard left Texaco in 1954 and went back to school to get his teaching certificate. Richard taught school in North Dakota for two years before the family moved to Flagstaff, Arizona, in 1957. Richard taught various social sciences over his 30 years as a teacher at Flagstaff Junior High School and Flagstaff High School. In the summers, he worked for the National Park Service as a ranger at Sunset Crater and Wupatki National Monument, as well as the National Weather Service. He retired from teaching in 1986 to help raise his many many grandchildren.
Richard and Martha were married 65 years before she passed in 2014, after which Richard moved in with his daughter Jane and her family where he spent the last 6 years as a big part of their family.
Richard leaves a lasting impact on the greater Flagstaff community and all that knew him. Richard was smart, kind, warmhearted, and always had a smile on his face. It seemed impossible to go anywhere without running into someone Richard knew, or someone that had him as a teacher. He, without fail, would remember the not just the name of the seemingly random person at the grocery store, but also their brother, mom, and dad. As he walked away down the aisle he would say, "I had them as a student in 1975!" He had a steel trap for a memory, even in his final years. When Richard wasn't teaching, hiking up mountains, or chasing one of his 19 grandchildren, you could find him with his nose in the newspaper or a book – often the dictionary, the Weather Spotters Field Guide, or something light like "Astrophysics for Dummies."
Richard devoted his life to his family, helping others, and learning as much as he could. He was beloved by all that knew him and will be deeply missed. Preceded in death by Martha in 2014, he is survived by his 9 children – Eric, Beth, Mary, Tom, Cyndi, Bob, Jim, Danny, and Jane – their spouses, 19 grandchildren, and soon to be 13 great grandchildren. In lieu of flowers, we ask that you please make donations directly to Flagstaff High School in the name of Richard Kuhn, to help support teachers and advance learning for students in the Flagstaff Community. A memorial service will be planned for a later date, please check the Daily Sun and Norvel Owens website for details at a later time.
Obituaries Newsletter
Sign up to get the most recent local obituaries delivered to your inbox.