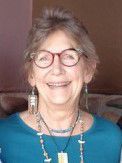 Linda "OJ" Ojajarvi passed away unexpectedly January 28, 2020. This was the first morning of her new life in The Villages, Florida, with "her boys" John and Wrigley.
Linda was born to parents George and Mayme Ojajarvi in Conneaut, Ohio. Along with sister Mary, she grew up in a close Finnish community that included grandparents, aunts, uncles and cousins. OJ was proud of her Finnish heritage and was known to say, "You can always tell a Finn but you can't tell them much."
Linda received a BA in Sociology from Wright State University. After graduating, she worked in a diversion program for teens in trouble with the law. From there she began her work in mental health, starting as a crisis counselor. Wanting to do more for those she saw suffering and disenfranchised she returned to W.S.U. and obtained her B.S. in Nursing. Working in a hospice for AIDS patients Linda wanted to increase her skills, so she obtained an M.S.N. from the University of Southern Maine. She retired as Clinical Director from Hospice Compassus' Sedona branch in 2010. Her good-humor, wisdom and compassion left its mark on patients and staff alike.
Linda was an avid reader and loved to write. She enjoyed weaving, sailing, golf and rescuing puppies. Her sense of humor, acceptance of people and positive outlook on life will be sorely missed by the many lives she touched.
Linda is survived by husband, John Lelak, sister Mary (Doug) Bouck, nieces Liisa Johnson and Joy Barton, plus ten great nieces and nephews. Plans for a celebration of life are in progress. Memories and condolences can be shared at www.norvelowensmortuary.com
To plant a tree in memory of Linda Ojajarvi as a living tribute, please visit Tribute Store.
Obituaries Newsletter
Sign up to get the most recent local obituaries delievered to your inbox.