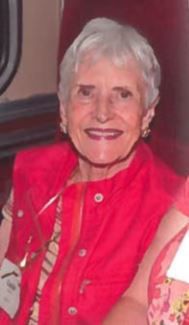 Words are nearly inadequate to distill the essence of such a beautiful spirit.
Our beloved Caislin, we know heaven shines brighter and sounds sweeter because you are there.
Caislin was born January 3, 1936 in Los Angeles, California and passed from this physical world on December 4th, 2019 in Phoenix, Arizona. She grew up in Southern California and was a proud graduate of Westmont College in Santa Barbara. While there, she made life long friends, including Marilyn, who is truly her best friend forever. Their friendship thrived for 66 years. Caislin and Marilyn were roommates after college and taught school together. After that, Caislin headed east in the early seventies for graduate school at Georgia State University in Atlanta. There she received her Ph.D in Psychotherapy and established her counseling practice in Atlanta. The West was calling her back however, and in 1991, she moved to Flagstaff, where she opened another counseling practice that was active until 2017. Counseling was her calling and her healing compassionate care has improved the lives of her many clients over all these years. She fell in love with our mountain town and upon arriving here she was quickly involved in the Episcopal Church of the Epiphany. She loved and was beloved by this warm faith family that nurtured her for over 28 years. And, she gave her heart and soul as well to Epiphany. She was a pillar of the church community, actively engaged and participating in the inner workings of the church, running adult education programs as well as singing in the choir. Throughout Caislin's life, music was the common theme from playing the piano at the Peaks Senior Living Community, to singing in both her church choir as well as performing with the Master Chorale. Music was a major influence and passion that was a vital aspect of her whole life.
An intrepid traveler, the world was a wonderland waiting for her to experience and discover. She loved an adventure and nearly everyone that knew her well has vivid memories of escapades with Caislin! She had a way of turning the ordinary into the extraordinary. She may be gone, but she will live in our hearts always.
She is survived by her brother Darrell Weathers of Seal Beach, California and her niece, Linda Maguire of Mission Viejo, California.
There will be a service in celebration of her life and in honor of her 84th birthday, January 3, 2020 at 2 pm at the Episcopal Church of the Epiphany at 423 North Beaver Street in Flagstaff. In lieu of flowers, donations in Caislin's memory may be made to the Adult Formation Ministry fund to the Episcopal Church of the Epiphany.
To plant a tree in memory of Joan Weathers as a living tribute, please visit Tribute Store.
Obituaries Newsletter
Sign up to get the most recent local obituaries delievered to your inbox.