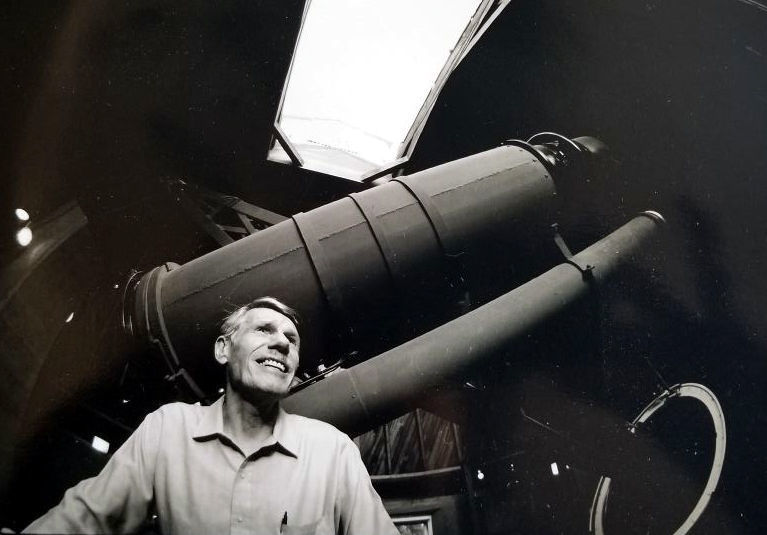 Norman Gene Thomas, former astronomer, father of four, long time Flagstonian, and master DIYer, passed away on May 19, 2020, due to complications from Alzheimer's.
He will be sorely missed.
Norm was born in Alamosa, Colorado on May 1, 1930, the same day that Lowell Observatory announced that the newly discovered Planet X would be called "Pluto". He got his first telescope by saving up cereal box-tops when he was 9. As a senior in high school he received an Honorable Mention from the Westinghouse Science Talent Search and a scholarship to Adams State College in Alamosa. After a year he transferred to Wesleyan University and earned a BS in Physics. He began working at Wesleyan's Van Vleck Observatory before receiving a draft notice on his wedding day. He married Maryanna on June 3, 1953.
Norm spent two years in the Army as part of a military project to accurately measure the distance across the Pacific using the occultation of stars with the moon. Most of his time was spent in the Philippines, doing his best to set up the telescope for the observations in extreme humidity.
After his stint in the Army, Norm pursued a PhD at Berkeley College, but accepted a job offer with Lowell Observatory to work on the Proper Motion Project before finishing. For nearly thirty years he observed and measured star movement by comparing photographic plates from the 1920s with the 1960s. He cataloged the movement of thousands of stars, helping to show that the universe is expanding, discovered 55 asteroids in the process, and contributed to our knowledge of star types. After the end of the Proper Motion Project, he worked on cataloging white dwarfs and worked on the Near Earth Object project along side of Eugene and Carolyn Shoemaker. Throughout his time at Lowell he also gave educational tours to hundreds of school children, tourists, and visiting scientists.
Norm also helped raise his four children, Kathryn, Carol, Brian, and Bruce. He took them on numerous camping trips, both backpacking and via pop-up trailer pulled by a VW bus. They got to fish, canoe, and explore the wild, while he flipped burgers into the fire and said a little dirt and ash never hurt anyone. He worked on various home improvement projects constantly, much to the consternation of his wife and the kids, but all in pursuit of a more comfortable and enjoyable home. In 2013 Norman and Maryanna celebrated sixty years of marriage.
Norman G. Thomas was preceded by his wife Maryanna (March 28, 2014), his brother Douglas, and grandson Avery. He is survived by his four children, six grandchildren, and five great grandchildren. A private memorial is planned in June.
Norm spent his life studying the stars. May he live among them now.
To plant a tree in memory of Norman Thomas as a living tribute, please visit Tribute Store.
Obituaries Newsletter
Sign up to get the most recent local obituaries delivered to your inbox.