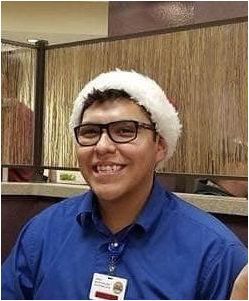 Jared Jake Williams, 30, of Flagstaff, AZ was called forward to be with our Heavenly Father in the early morning hours of Thanksgiving Day due to complications that resulted after surgery.
Jared was born in Tuba City, Arizona to Leonard Williams and Kim Begay. Jared was the 2nd oldest of 4 boys. Jared's older brother, Jake Edwin Williams, and his Grandmother, Anna Tso, precede him in death.
Jared is survived by his younger brother Trent Williams; his youngest brother Chad Williams; his Step-brother Justin Curley; his Step-sister Gina Williams; his niece Jordyn Williams; his niece Caitlenn Diego and niece Haseya Carroll; his Father Leonard Williams; his Mother Kim Begay; his Step-mother Jennifer Williams and his Step-father Randolph Curley.
Jared graduated from Coconino High School in 2007. He attended Coconino Community College and worked at Flagstaff Medical center.
Jared was a purpose-driven, intelligent, vibrant young man early in exploring every possibility that life offered in education and careers. Jared made it his purpose to be with everyone at every place in the region and the community with his family, friends, and co-workers. His hobbies included fishing, hiking, fitness, conspiracy theories, and most of all the imparting of his time and friendship to everyone he met.
Jared touched many lives throughout the country in his travels and here at home in Flagstaff. He will truly and dearly be missed.
With Love to our Jared and immense appreciation to Our Heavenly parents, and to everyone that met our Son, Thank you for all your blessings and condolences.
Services for Jared will be held on Friday, December 6th 2019 at Flagstaff Bible Church, 520 N. Switzer Canyon Drive: a viewing will be from 9 – 10:00 am with the funeral service from 10 – 11:30am, burial will follow at Citizens' Cemetery, 1300 South San Francisco Street. A reception will take place back at the church after burial.