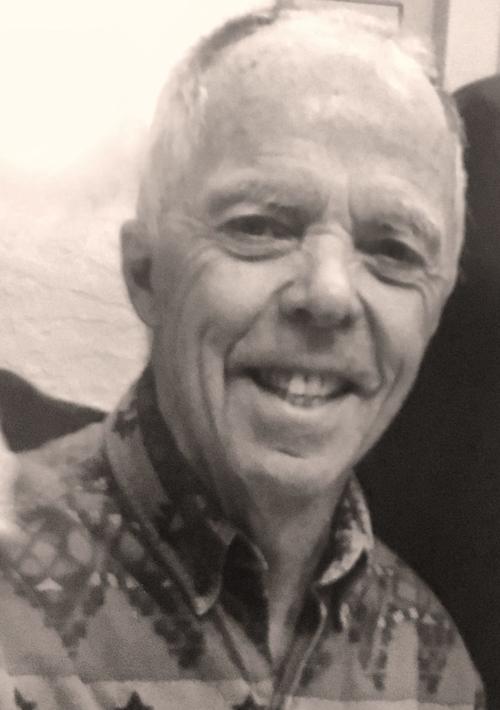 Hans Magelssen Gunderson, beloved husband, father, teacher and Flagstaff resident passed away at age 81, on April 16, 2020 in Cottonwood, Arizona from Alzheimer's dementia and complications. He was born in Walker, Minnesota to the Rev. Alfred and Marie (Leugenie Magelssen) Gunderson on October 10, 1938. He lived in the rural town of Ulen, Minnesota from 1943-1952, then moved to nearby Twin Valley, Minnesota where he graduated from Twin Valley High School in 1956. Hans received a Bachelors Degree in Chemistry from St. Olaf College, Northfield, Minnesota in 1960. He taught high school chemistry in Atwater and International Falls, Minnesota from 1960-1965, before teaching English, math, and science in Papua, New Guinea from 1965-1967 as a short-term missionary under the American Lutheran Church, a predecessor to the Evangelical Lutheran Church in America. In 1968 Hans earned a Masters Degree in the Teaching of Science at University of New Hampshire, then taught chemistry at Bemidji State College (BSC) in Minnesota from 1968-1971. There he met Margaret Anne Steeble, a voice instructor at BSC, and they were married in December 1969. On a three-year fellowship Hans earned a Ph.D in biochemistry in 1974 from University of North Dakota School of Medicine (UND), where he researched metabolic enzymes such as glucose-6-phosphatase with renowned professors. In 1974 Hans accepted an offer to teach biochemistry and chemistry at Northern Arizona University (NAU) in Flagstaff, Arizona where he taught for thirty years, retiring in 2004. While at NAU he engaged in exercise-science research with colleagues and students and ran several marathons to test their theories. His articles from both UND and NAU were published in major scientific journals.
Hans had extensive interests and hobbies from a young age, for his entire life: woodworking, hunting, boating, and motorcycling. He made over forty pieces of beautiful household furniture from cherry, walnut, and birch, including beds, bureaus, cabinets, and tables. He bagged deer and elk in Minnesota and Arizona, spending hours motionless in tree blinds. He was a versatile and expert athlete, playing ice hockey, running, and downhill skiing on the AZ Snowbowl Courtesy Patrol. Hans was most at home on water, where he loved to fish, sail, and paddle, in the wooden sailboat and canoes he built from scratch. He did extensive hiking in Northern AZ and the Grand Canyon, completing several times rim-to-rim in one day or two, up to age 76. Beginning in New Guinea, he became an avid motorcyclist and eventually traveled over 100,000 miles, throughout the Southwest, and cross-country to Minnesota and New England. After forty-one years of teaching, in his retirement he took eleven years of painting classes, winning a blue ribbon at the Coconino County Fair for an oil painting of the Grand Canyon. He also took four years of bikram (hot) yoga classes to which his daughter introduced him at age 72.
Hans's beloved daughter, Sharon Marie Gunderson, was born in Flagstaff and from the time she could walk, he introduced her to everything he loved, especially the outdoors. They camped, hiked, boated, skied, and did yoga together. She is currently a professional classical violinist in New York City.
Hans was loved deeply by his family and friends and had a gift for creating and maintaining long-lasting relationships. He was unfailingly amiable and got along with people in his own very special Norwegian way. He loved to tell jokes and is remembered for lightening up tense situations in group dynamics, always seeking to collaborate and find common ground. He enjoyed particularly close and long friendships with his NAU Chemistry department colleagues. His enthusiasm for a given subject or activity was contagious and changed lives, especially those of his students. All his life Hans was a faithful and active follower of his Lord, Jesus Christ, serving the Lutheran church in several capacities. He especially loved to read the scriptures for Sunday services. He started a weekly breakfast Bible study at Brandy's Restaurant in Flagstaff with his friends of varying denominations, that lasted over 20 years.
Hans and Margaret enjoyed traveling, especially to Norway, from where both sets of his grandparents had emigrated in the 1800s. Their last trip in 2015 on the Hurtigruten cruise sailed up and down the spectacular Norwegian coastline for fourteen days. Hans staunchly supported Margaret's forty-six-year voice-teaching career at BSC, UND, and NAU, and attended her operas, concerts and recitals at all three. He listened to thousands of hours of vocal and violin practice, and faithfully attended Sharon and Margaret's performances. In 2006 he joyfully attended his fiftieth high school reunion in Twin Valley, Minnesota, as well as his fiftieth reunion at St. Olaf College in 2010, where he renewed many old friendships.
Hans is survived by his wife of fifty years, Margaret Gunderson; daughter Sharon; sister Naomi and brother-in-law Mick Hoien of Cokato, Minnesota; brother Mark Gunderson of Duluth, Minnesota; sister-in-law Kathy Gunderson of Denver, Colorado; also many cousins, nieces and nephews. He was preceded in death by his parents the Rev. Alfred and Marie Gunderson, and his brother the Rev. John Gunderson.
A viewing and service will be handled by Norvel Owens Mortuary with burial at the Citizens Cemetery in Flagstaff. A full Memorial Service will be held at a later date when permitted.
Honoring Dr. Hans M. Gunderson the family is suggesting contributing to the Chemistry Discretionary Fund at the Northern Arizona University Foundation. Memorial gifts may be directed to the NAU Foundation online or via mail. Mail checks to NAU Foundation, PO Box 4094, Flagstaff, AZ 86011, and write "Fund 4058 in memory of Dr. Hans M. Gunderson" in the memo line. Or, make a secure online gift at alumni.nau.edu/giving. Enter fund "4058" in the search box and Chemistry Discretionary Fund will come up. Under "My Gift is a tribute", select "This gift is in Memory of Someone Special" and type Dr. Hans M. Gunderson." Or to St. Olaf website - stolaf.edu at Support to indicate gifts to the St. Olaf Chemistry Department
Condolences in his memory may be directed to the mortuary (www.norvelowensmortuary.com).
To plant a tree in memory of Hans Gunderson as a living tribute, please visit Tribute Store.
Obituaries Newsletter
Sign up to get the most recent local obituaries delivered to your inbox.