I'm grateful to readers for their overwhelming response the last two days. Thousands of words have been written to this point that speak to Randy's integrity, character, knowledge and professionalism. In my decade at the Daily Sun, I've seen all of those traits firsthand. But the memory that sticks out to me was the day I hated him the most.
The last time the Suns were relevant and in the playoffs, I was working in the office the night of Game 5 against the Lakers. Ron Artest's putback of Kobe Bryant's airball was devastating to me, but Randy couldn't help himself -- he spent the rest of the night offering punny headlines for what happened from the comfort of his desk. I couldn't stay angry at him, though, because what he produced was clever and funny.
Randy had a way of disarming people that was unique for someone of his intellect. His nose for journalism was unparalleled, his local knowledge encyclopedic. It will be impossible to replace him.
You were the most stubborn bastard I ever met, but you were also the most beautiful. You never hesitated to stand up to a bully – even when they were inches from your face and the spit was flying, even if your voice quaked and your hands shook. You held to your convictions – even when they were unpopular. Your passion and fire for journalism as a way of life inspired me. Your dedication to this community and the narratives that give it its character has been unparalleled. I, like the dozens of reporters under your wing over the years, know how much of yourself you gave to the Flagstaff community through the newspaper – the late nights, the weekends and the holidays.
You wanted to see the human element in every story -- how events, policy and the decisions by elected officials affected people. "What's the story?" was one of your go-to questions to challenge your reporters, and we all learned what it meant to be able to adequately fight for a story's existence among the continuing storylines of this community.
You were humble and fiercely private, but you were always present. When it was appropriate to shout, you were calm. When an unkind word seemed necessary, you responded with kindness and tact.
Randy, to me, you died before your time. I will miss you -- desperately.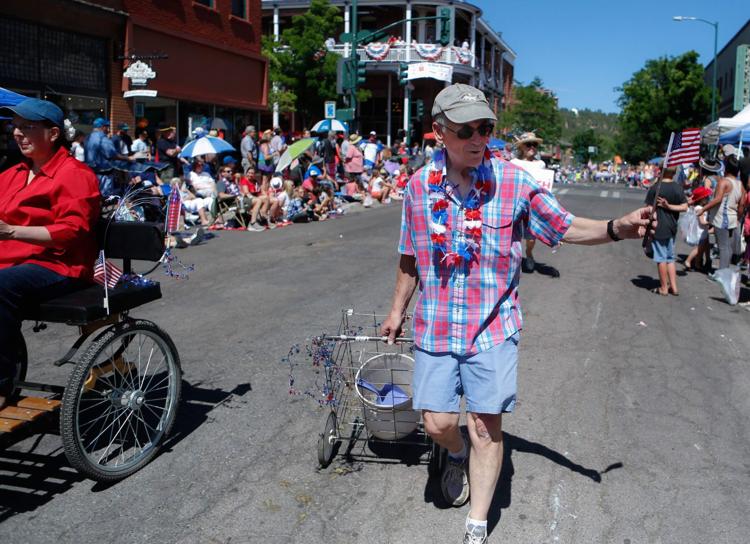 Here's the thing about Randy – he never let the Daily Sun's circulation numbers or limited newsroom resources be an excuse for not producing outstanding, award-winning, in-depth news coverage of a city and a community that was dear to his heart.
Randy was competitive -- no outside newspaper was going to beat us to a story in our backyard. When writing headlines, he played with words the way a jazz musician plays with notes. He let us have fun with April Fools' Day stories. And on nights in the newsroom when he had a bit of writer's block, he'd clap his hands loudly, perhaps to encourage the words out of him.
Randy's editorials were well-reasoned and fair, and lessons in persuasion. His editorials set community standards for how public officials should govern, and the newspaper held those public servants accountable, regardless of political affiliation. The Daily Sun's new managing editor would be wise to read every one of them.
Randy told me once that a local paper is like a good friend or neighbor -- it has to be willing to tell you not only the good but also the not-so-good about you. A local paper lifts up you, it keeps you grounded, and it holds you to account, even when you mess up … especially when you mess up.
LAURA CLYMER
~~~~~
It's been almost 20 years since I worked for Randy, but I have seen him over the years and can remember my favorite aspect about him vividly -- his quiet sense of humor and smirk when he was entertained.
Randy was a wicked brilliant man -- you could literally see the wheels turning in his head when he was thinking. I always remember the sly smile on his face and how he'd get a glimmer in his eye right before he contributed something humorous to a conversation.
One of my most vivid memories was sitting next to him while he was deciding on a headline for one of my stories. I can't remember what it was about -- but he stopped with his fingers perched over the keyboard, and got that smile and look in his eye. He turned toward me and hypothetically asked the universe if there wasn't a song related to this topic -- and proceeded to sing Lynyrd Skynyrd out loud … "Oooooh That Smell." Then he giggled to himself before typing some more. Every time I happen to hear it on the radio, I laugh out loud remembering that night like I am still sitting next to him, a young reporter apprenticing under a master editor I aspired to one day be.
KELI OPENSHAW
Like he did with so many young reporters, Randy took a chance on me and hired me right out of college for my first newspaper job.
I should have known I was in for a wild ride when my job interview lasted nearly three hours and was mostly full of hypothetical questions and story ideas from every possible angle.
Three years spent in the Daily Sun newsroom left me with more memories of Randy than I could ever recount, like when I called him from a city council meeting with a serious question and the first thing he said after answering was "One of the reporters changed my ringtone to a choo-choo!" Or, when he heard of a bunch of apples (one of his trademark foods) going rotten and he said, "No one should treat apples that way."
Our daily banter often included jokes only we would find funny and one Easter, Randy humored me by letting me write about how I became the proud owner of a lionhead rabbit.
How do you honor a man who worked too hard, played too hard and cared deeply and fiercely for his community and the people in it? As for me, I'll try my best at the impossible task of living like Randy, a man who spoke truth to power, believed in people and gave every ounce of his energy to caring for the community.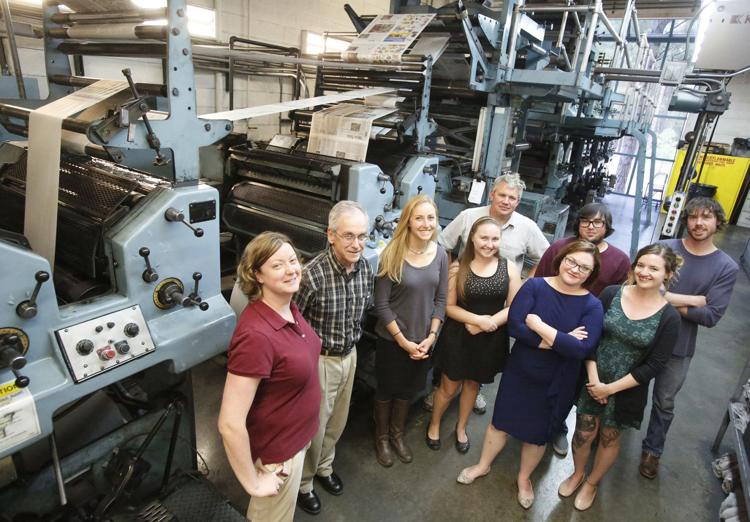 There was a message on my phone Saturday evening to call the paper. I thought to myself, "Uh-oh. A glitch with my column." I went to my desk and pulled up the file and returned the call . . .
Randy and I started at the newspaper on the same day in May 1995. On our anniversary, we would make a point to reach out and acknowledge the mystery of our longevity. . .
Last May, on our 23rd anniversary, we chuckled at the prospect of reaching the 25-year mark that would qualify us for a mention in Susannah Carney's "Flagstaff History" column . . .
Like all exceptional community journalists, Randy protected his readers from slipshod grammar and punctuation. He was not a fan of ellipses, for example. Sadly, today, that is all I can muster . . .
Quite simply, Randy Wilson was the pulse of the Arizona Daily Sun newsroom, a voice of reason in the Flagstaff community and a fierce fighter for freedom of the press and the role of the press to seek the truth and hold those in power accountable. His tireless work ethic, relentless pursuit of stories and common decency were hallmarks of his 22-plus years at the paper.
He was a demanding boss, but he always showed that he cared; and even if you didn't like 1-2 of his story suggestions, there were always 3-4 others that were obviously worth pursuing ASAP. He understood how busy we were, but so was he. We had a small staff, but packed the paper every day with local news. He never wanted us to load the news sections with only wire stories.
In addition to having a remarkable work ethic, Randy made sure that when staff left the paper, they were given a fun farewell party. At a small paper with high staff turnover, this could be a never-ending chore, but he made it quirky, memorable and unique each time — usually a lunch for the departing person. And there were old Arizona Highway magazines from yesteryear given to the person on the move and other little items. He took the time to make an effort.
Randy defended his reporters when their integrity or alleged bias was under attack. And when we made mistakes, he pushed us to work smarter and not make those same mistakes again.
His death saddens me, but I know that he made a giant impact in the community, mentored countless journalists and helped set the career path for so many in this profession. And that is something to remember forever.
I was already working at the Daily Sun when Randy was hired and I distinctly remember looking at his resume and thinking that the only way a small-town paper would ever attract someone of his caliber was because he was a "trailing spouse." And from the first day on the job, he continually raised the bar on what it means to report the news. He made the Sun the strong regional paper that it is and created many great reporters along the way.
Randy always trusted us to do our job but never hesitated to call us on it when we didn't (or could have done better). I consider him one of my greatest mentors. I hope to follow in his footsteps -- to get out of the office and onto the trails -- and never take life or my loved ones for granted. I'll miss you Randy.
Randy was a wonderful teacher and mentor to a generation of journalists in Arizona. He taught news judgment, journalistic integrity, and the power of one more rewrite and one more phone call. He demonstrated how to be a journalist who is an active part of his community, not a mere observer. He gave me many chances to grow and learn and I'll always be grateful.
It was clear from my first day at the Daily Sun — which was not so long ago — that Randy was someone not only dedicated to news but very much to those around him. I found my days in the office to be ones filled with Randy witticisms, jokes about his dog off the leash and keen observations that showed his knack for understanding the workings of the world.
Every day I looked forward to him walking in through the newsroom door to begin his work, greeting everyone and giving us a jolt of motivation for the afternoon to come. I have a feeling that for many months I will be looking toward that door, hoping Randy is the one turning its handle and walking in.
I suspect a lot of people will talk about Randy as the last-to-leave-at-night editor, a mentor and a father figure to a generation of reporters and the even-handed conscious of this community for more than two decades. I want to tell you about the reporter.
In late June 2008 and on a Sunday no less, Randy found himself first on the scene when Flagstaff made national news after two helicopters collided mid-air near the hospital.
He would direct a team of reporters, photographers and desk editors to cover this terrible tragedy -- but he was also asking tough questions as the community demanded answers.
This was Randy that only a few reporters in his newsroom got to see, he was always asking questions, pushing everyone he knew to help tell the stories the community needed to know.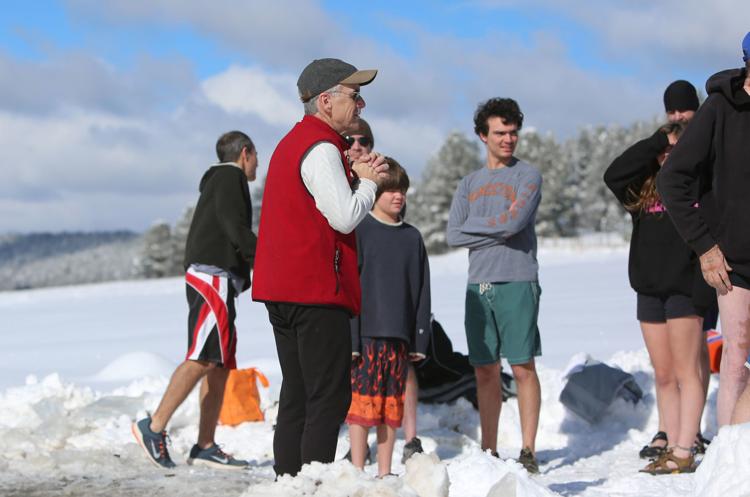 ~~~~~
Much has been said about how intelligent and sharp Randy Wilson was. But he never seemed imposing or intimidating because of it. That is until he would casually reel off how the Richter scale is logarithmic and calculated on a base of 10, and how could reporters not know that?
For being as intellectually inquisitive as he was, he also relished the absurd, finding time on deadline to recollect a long-forgotten Saturday Night Live sketch about a talk show featuring the likes of Richard Burton, Keith Richards and Elizabeth Taylor, and how they spoke in garbled tongues and rarefied accents rendering them unintelligible. Randy mimicked each one.
Who knows how many journalists' careers Randy kick-started, but I think back to when I was city reporter in the late 1990s and how I won't forget for one second how proud I was the day he called and asked me if I'd be interested in a potential job in my hometown newspaper.
G.E. ROYBAL
~~~~~
Randy pushed me to look, again and again, for ways to find the real voice of a story, those most affected by the events unfolding. It's a task that reporters know is necessary but dread because it often means cold-calling people or knocking on doors. It takes more time, more effort and more guts to do that kind of work.
Randy reminded me of one of the most important reasons for journalism, to shine a light on what is happening in the world around us so that changes can be made.
SUZANNE ADAMS-OCKRASSA
~~~~~
Randy had one of the best work ethics, if not THE best work ethic, I've ever witnessed.
On the morning of Sept. 11, 2001, I had just found out what was happening and was watching the news in shock. I hadn't really even processed it yet when I got a phone call from Randy. "Hi Theresa, I need you to come in early," he said, knowing I wasn't scheduled to come in until late afternoon. "We are putting out a special edition today."
When we all arrived at the office, he sat us down in the conference room. He already had a list of story ideas with all sorts of local angles. Of course he did. He was always thinking of his readers, of his community. Of the town he loved so much.
THERESA CURRY
~~~~~
Randy was a tough, dedicated managing editor who didn't relinquish oversight of the newspaper easily. Still, he was always committed to improving the Sun and gave me the freedom to innovate in areas where I could add something new, including an award-winning redesign of the newspaper.
A great editor knows when to say yes, because it will help the newspaper further its mission, and when to say no, because it won't. Randy had the courage and wisdom to do both.
ROB BREEDING
~~~~~
I don't recall when I first met Randy Wilson, but I do remember when I first spoke with him about a collaboration of sorts, in which I would contribute an astronomy column for the Daily Sun. I made it clear that this was a labor of love and didn't expect any payment, only the opportunity to share my passion for space and history. He, in turn, made it clear that whether or not I wanted payment was irrelevant, as funds were not available! He did love the idea of the column and even suggested a name, View from Mars Hill. That was in 2004.
Through the years of exchanging emails for these columns, we often discussed our mutual love of baseball. He recalled watching his hometown Pittsburgh Pirates and seeing Roberto Clemente, Bill Mazeroski, and other heroes do battle at old Forbes Field. I cherished those bi-weekly exchanges with Randy and appreciate the adventures in writing and travel I enjoyed as a result. Thank you, Randy, for touching my life so profoundly. Godspeed, my friend.
KEVIN SCHINDLER
~~~~~
Randy was the reason I moved to Flagstaff, sight unseen, in 1999. He offered me the education reporter job, making certain to emphasize to this Indiana girl that Flagstaff wasn't your typical Arizona town -- it averaged 100 inches of snow a year. I came anyways and when I was looking for a place to live, Randy sent me a map with the best neighborhoods already highlighted.
He was always enthusiastic about giving youth groups tours of the newsroom and had a penchant for one-column headlines, which often included the phrases "council mulls," "council nixes" or "Prexy." He had a pun for every newsworthy (or not-so-newsworthy) occasion and supplied sparkling cider for those of us stuck in the newsroom on New Year's Eve.
Randy loved Flagstaff and he cared deeply about his staff. He sent countless reporters off to their new endeavors with book and video gifts tailored to their interests or new pursuits. He had a nose for news and even when I didn't agree with him, I always respected where he was coming from. His death leaves a huge hole at the Daily Sun and a void in Flagstaff at large.
ARLENE HITTLE
~~~~~
The last time I heard from Randy was when he was biking with his wife near Kendrick Peak, shortly before he died on Saturday. Even in his few precious hours of free time (before he had to get back to his computer and put out Sunday's newspaper), Randy was texting and emailing me ideas for a future article. The man never stopped thinking about how we could tell the stories of this community.
He lived local journalism and his passion for the Arizona Daily Sun drove almost everything that he did. There were countless nights when I would leave the newsroom at 8 or 9 p.m. exhausted and ready to fall into bed, and as I drove away Randy was still typing away in his office with hours of work ahead of him to put out the next day's paper.
He entered the newsroom each day with a comment about the weather, or the traffic, or the latest news — something that always helped lighten the mood — and fully embraced his somewhat quirky obsession with apples and chili cheese Fritos.
His fingerprints are on every corner of our newsroom and every detail of this newspaper.
EMERY COWAN
~~~~~
Around the time I first started working with Randy in 2003, he asked me what brought me to Arizona and, ultimately, Flagstaff. I told him the story of the first time I walked around downtown, which would have been a few years before I started at the Sun. I shared with him how, during my walk, I discovered the wonder that was McGaugh's Newsstand on the corner of Aspen and San Fransisco. I marveled how Flagstaff not only had a newsstand at that time, but it was at the center of the town. I explained to him how I took that as a sign I needed to live here.
When I left the Daily Sun in July 2017, his going-away present to me was a watercolor painting of McGaugh's Newsstand. I could not believe he remembered my story--but Randy remembered everything--and also cared enough to make the painting one of my going-away gifts. While he and I had our disagreements and he sometimes brought headache-inducing levels of frustration, his friendliness, thoughtfulness and generosity always won the day.
Much has been written already about Randy the person, Randy the editor and journalist, and Randy the community leader. I echo all of those sentiments. But the level of his caring and giving always stood out to me. He dedicated so much of himself to the Arizona Daily Sun, his staff, the community and the professional field of journalism. Yes, Randy had a lot of questions. He demanded a ton of details (always with the numbers, numbers, numbers). But more than anything, he wanted to help make Flagstaff a better place.
Rest in peace, my dear friend.
SETH MULLER
~~~~~
On one early evening, Randy wanted just the right headline for a murder conviction story at the top of the front page. Among his many newspaper talents, Randy's ability to craft the perfect headline stood out. I watched as his eyes floated to the ceiling and his hands fidgeted as the words bounced in his head. This one's going to be good, I thought.
"Is this too much?" he said to the newsroom, a wry smile on his face. " … when he's 64." And here was the brilliant mind of Randy at its finest. Turns out the gears churned numbers that day: Randy took the age of the convicted criminal, added the years of the sentence, and figured out the man would be 64 before he could leave prison. Mix in a famous Beatles lyric and there you had Randy in a microcosm: his impish nature winning a rare split decision over his deep respect of the craft of news. Only Randy Wilson could write that headline. I laughed to myself and told him I liked it. Honestly, I just loved when he gave us a quick glimpse into the mad genius behind the glasses. He gave it a bit more thought and decided to run with it.
I'll remember him best in those moments — wickedly smart, charmingly offbeat, a unique product of the field that drew us together. We cannot replace him, nor should we. Randy's memory deserves to live on as one of a kind.
ADAM CANDEE
To plant a tree in memory of past and present Daily Sun staff, remember Randy Wilson as a living tribute, please visit Tribute Store.
Obituaries Newsletter
Sign up to get the most recent local obituaries delivered to your inbox.