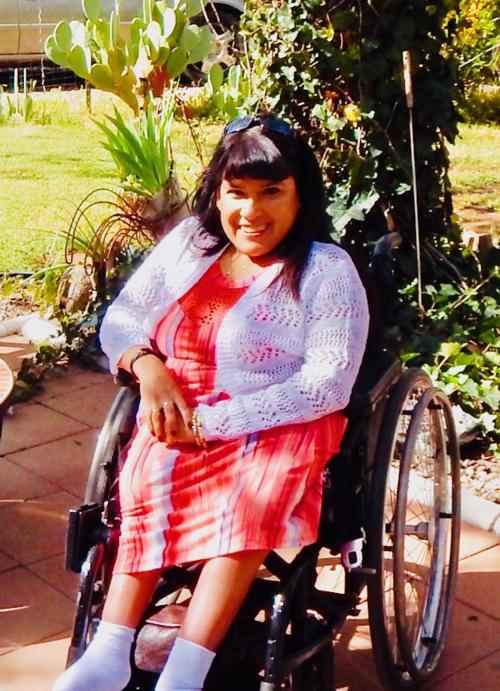 Christina Anaya passed away Tuesday, May 15, 2018, at her home in Flagstaff, Ariz., after a week of love, family, music and friends.
Christina was born September 9, 1970, in Bremerhaven, Germany, with spina bifida. She was immediately flown to Landstuhl, Germany, for surgery. Her parents, Frank and Lydia Anaya, soon realized how fragile yet tough she was as she underwent and survived many surgeries and countless doctor predictions that she would live a short life.
Christina was extremely involved in her mountain community. She was devoted to the Catholic Church, attending weekly adoration, organizing and leading Crucillos, and being a member of the Guadalupanas. She also loved to spend time at the Flagstaff Police Department, where she volunteered. She worked in the records department, helped organize National Night Out and other community events, and was assigned to the detective unit to go through pawn slips.
Christina was a big sister through the Big Brother Big Sister program and then became involved with the Step Up mentoring program at the Coconino County juvenile hall. She was presented the Big of the Year award for Step Up in 2015 and numerous other awards for volunteering and raising money for the March of Dimes. One year she raised so much money for that organization that she was asked to appear in a commercial with Miller's Outpost cowboys. She served as president for Nuestras Raices and was involved with the American Legion Ladies Auxiliary
Christina is survived by her parents, Frank and Lydia Anaya; sisters Rebecca Portillo, Danielle Portillo Morales, and Debbora Otero Montaño; grandmother Lupe Anaya; three nieces; four nephews; four great-nieces; and countless aunts, uncles, godchildren, and cousins.
She is predeceased by her godmother/aunt Rachelle Kraft, cousins Juvie Elena Ramirez-Alfaro and Fernando Armijo, aunt Jenny Quiroz-Wahl, nephew Anthony Otero, and grandmother Liboria Garcia Quiroz
A rosary will be held Sunday, May 20 at 7 PM at
Our Lady of Guadalupe Church, 224 S. Kendrick St.
A funeral mass will be held Monday, May 21 at 10 AM at San Francisco de Asis Church, 1600 E. Route 66. The burial will follow at Calvary Cemetery, and please join us for a reception at San Francisco parish center, 12:30 PM. 
Arrangements are by Lozano's Flagstaff Mortuary, 
Obituaries Newsletter
Sign up to get the most recent local obituaries delivered to your inbox.