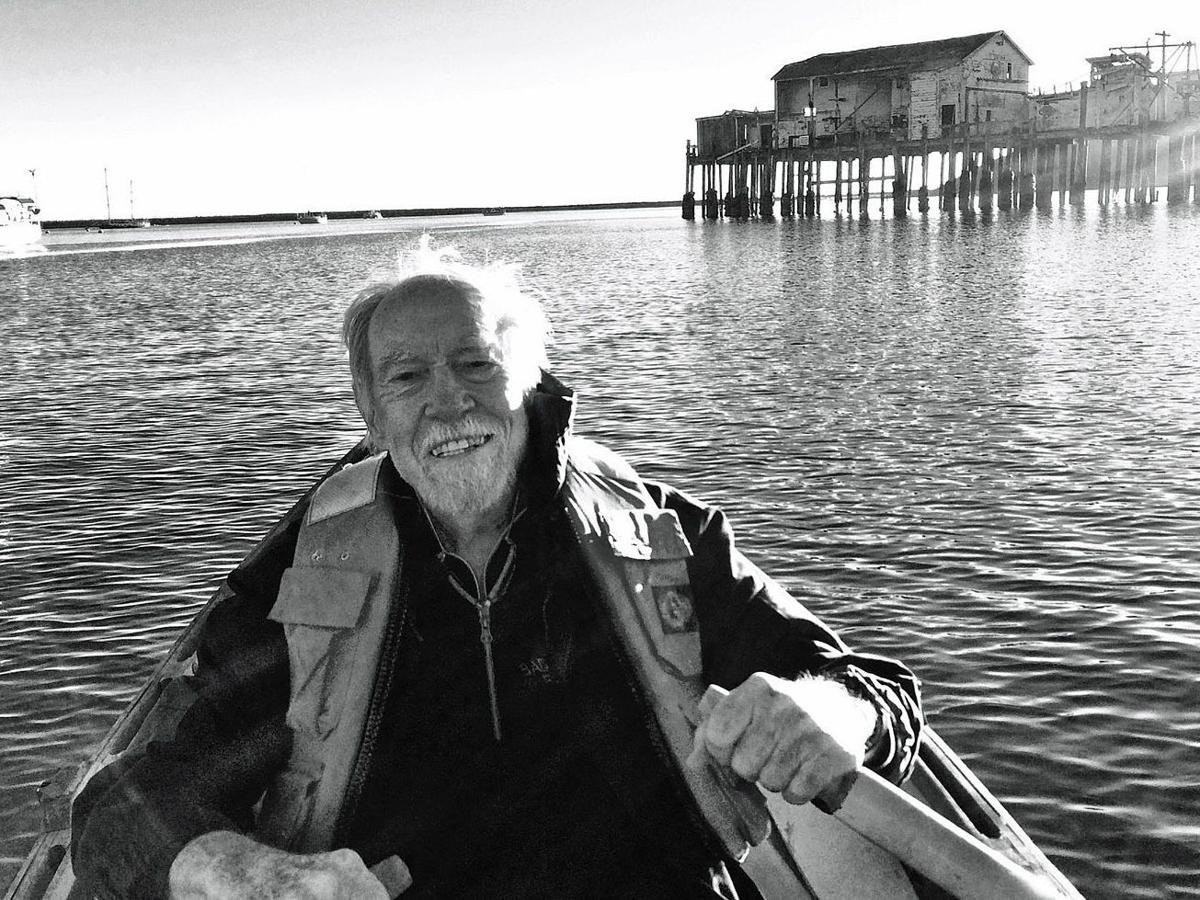 Bob was born in Tsingtao, China on July 5, 1930 where his father was a representative of Standard Oil, and his mother was a grade school teacher. At the age of one Bob and his family moved back to Alameda, California. Bob went on to graduate from the University of California, Berkeley, with a degree in geology. After serving in the army as a lieutenant of artillery, Bob became a high school science teacher in Half Moon Bay, California. During this time he was awarded a National Science Foundation grant to complete an M.S. Degree at the University of Colorado. While teaching, Bob served as an editor of Random House earth science textbooks.
Very early, and while a member of the Boy Scouts and the California Hiking and Outdoor Society at Berkeley, Bob became interested in rock climbing. He became a pioneering Yosemite Big Wall climber during the period known as "Yosemite's Golden Age" when climbers forged their own equipment. Bob is credited with a number of first ascents in Yosemite including 2000 foot Yosemite Point Buttress.
Bob was a member of the American expedition that made the first ascent of the world's eleventh highest peak: Gasherbrum 1 (26, 509 feet) in the Karakorum region of the Himalayas. Bob led or was a member of many other expeditions in Pakistan, Alaska, and the Yukon.
In the late 1960s Bob owned and operated the first commercial climbing school in the Sierra Nevada: The Palisade School of Mountaineering. He also worked as a professional guide and led many trips to Nepal and Kenya.
As a teenager, Bob had been taught to sail by his father. In the early 1970s he purchased a 34 foot sailboat, and with two of his former high school students sailed from California to the Galapagos Islands--a four month trip. Several boats later, Bob bought a Nordic tug that he berthed in Anacortes, Washington, and cruised about Canadian waters for many summers.
Bob was also a runner, and participated in over 20 marathons. It was during a 1973 run in San Diego that he met his wife Karen, a middle school science teacher, who went on to receive her Ph.D. in zoology from Duke University. After brief stays at San Diego State University and Texas A&M, Karen was given a tenured faculty position at Northern Arizona University, and the couple moved to Flagstaff in the late 1980s.
While in Flagstaff, as an adjunct physics professor, Bob was very active in pre-serve and in-service teacher education and pre-college education. These activities included: He taught science for a year at the Hopi High School on the Hopi Reservation; he organized a number of science fairs on the reservations; he was on the board of directors of the Arizona Science Teacher's Association (ASTA), he developed weekend workshops for the ASTA; he worked closely with NAU faculty in the development and implementation of National Science Foundation funded Middle School and Secondary School science teacher training projects; and he implemented the National Science Foundation funded Native American Astronomy Project. The latter consisted of a trailer with telescopes and computer stations that Bob would take to rural schools throughout the reservations and have evening observations and astronomy teaching.
Having damaged his knee while running, in Flagstaff Bob took up mountain biking and rowing. He would ride the many trails around Flagstaff and he built a single rowing scull that he would row at Lake Mary. (At Berkeley, Bob had rowed in an eight man shell) After 25+ years in Flagstaff, Bob began to feel the effects of living at near 7000' foot elevation and decided to move back to California. Because of some balance problems he bought a three-wheeled recumbent bike and logged over 3800 miles in the last four years of his life.
Not only will Bob be long remembered for his full, active, and adventurous life, but also for his depth of knowledge and command of language. He was very widely read and could contribute on a broad range of subjects with appropriate comments, quotations, and very often dry and subtle humor.
After being diagnosed with Hodgkins Lymphoma Bob died very peacefully surrounded by many friends in October, 2019. He was buried in the historic Purissima Cemetery south of Half Moon Bay, California.
To plant a tree in memory of Bob Swift as a living tribute, please visit Tribute Store.
Obituaries Newsletter
Sign up to get the most recent local obituaries delivered to your inbox.