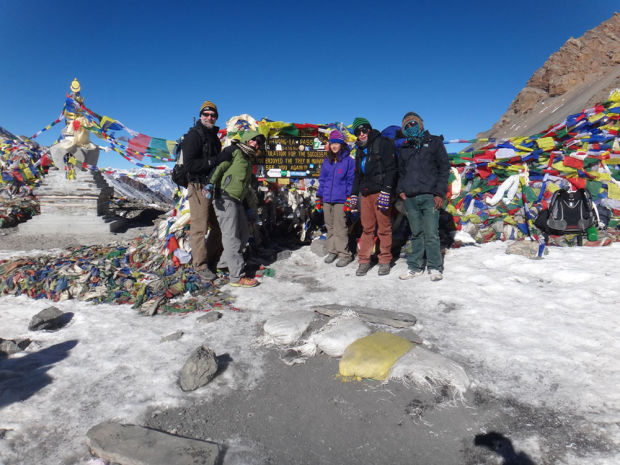 EDITOR'S NOTE: Flagstaff 12-year-old Lily Maurer is about halfway through a year spent traveling the globe with her family. She is traveling with her parents, Jeff and Kari Maurer, and her brother, Miles Maurer, 15. Lily has lived in Flagstaff from age 2. She attended Flagstaff Junior Academy and will be in eighth grade there next year. The family rented out their house and left Flagstaff in August, headed to Bangkok. They will return in June. In an email to the Daily Sun, Lily said her parents have been wanting to do this trip for a long time and saved their money. They are currently traveling around Southern Africa for four months. The family is blogging about their trip at www.dontusemytoothbrush.com.
Our flight to Bangkok gave us a three-day layover in Beijing, China. There we had the opportunity to hike the Great Wall of China. Our Airbnb host, Cindy, recommended a rarely visited area that was on a lakeside. We walked on the Great Wall for about four hours with perfect weather.
Next, we headed to Thailand for a month. We went to the Grand Palace, took a river trip on the Pai River and visited the beaches in Krabi. My brother got food poisoning here and spent two days in a local hospital.
Not knowing that the train tracks to Cambodia were flooded, we headed to the train station. We were informed of the problem and rushed to the bus station. Even though my dad refused to pay the bribe at the border, we made it safely to Siem Reap in a downpour. My favorite spots in Cambodia were Angkor Wat and a homestay in a local village.
Following the Mekong River, we headed over to Laos. The people there were very friendly and greeted us with "Sabaidee" (Hello).
With a little change in our schedule, we ended up in Nepal, which turned out to be the highlight of our trip so far. We learned so much, spending 18 days hiking the Annapurna Circuit with Thorong-La Pass, the biggest pass in the world. It was really cool to hike in the Himalaya's, knowing that it is the world's highest mountain range. Hiking Thorong-La Pass was amazing, with the top of it at 17,769 feet. We hiked from tea houses to guest houses in the middle of nowhere. The terrain switched from jungle to rice field terraces and big snowy mountains. Finally,  we finished the Trek spending a few days in Pokhara and Chitwan.
From Nepal we flew to Portugal and visited Lisbon, Oporto and Sintra. Oporto was the best because it wasn't a huge city like Lisbon, plus it was where port wine was from.
We met up with my grandma and my sister, Karisa, in Rome and spent Christmas in Florence. There were six people and were on a budget, so we decided to spend two Euros on each person for a present.
For New Year's, we stayed on Lido and saw the firework show on Venice. We got water taxi passes so we could go on all of the islands. 
Now we are in Cape Town, South Africa preparing to drive across the wilds of Africa for four months.