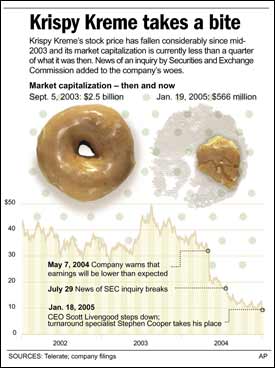 WINSTON-SALEM, N.C. — Roy Blount Jr. knew something was wrong at his beloved Krispy Kreme — long before the stock price began to plummet and the scent of corporate scandal filled the air.
When the North Carolina company opened its first doughnut shop in New York City, the Georgia-born humorist rushed right down to see how his favorite boyhood treat fared in that Northern clime. Bathed in the red-neon glow of the familiar "Hot Doughnuts Now" sign, he ate five of the signature glazed in one sitting and couldn't wait to tell his fellow Gothamites of their good fortune.
"When Krispy Kremes are hot," he wrote in the Sept. 8, 1996, edition of the New York Times Magazine, "they are to other doughnuts what angels are to people."
Some time later, after Krispy Kreme had become the darling of Wall Street and the fad food du jour on HBO's "Sex and the City", Blount was strolling on Manhattan's East Side when the red the sign beckoned. The guy behind the counter handed him a cold doughnut; Blount protested.
The server admitted his manager had told him to leave the sign on all the time.
"Something in my heart broke just a little bit," the 63-year-old transplant said with a sigh recently.
To investors and analysts, Krispy Kreme's woes are a black spot on the portfolio. A federal securities probe, allegations of padded sales figures and this past week's ouster of CEO Scott Livengood have tainted what had been a sweet American success story.
But to Southerners for whom a hot Krispy Kreme is part of a fond childhood memory of visits to Grandma and church get-togethers, the pain runs much deeper.
"It's the classic story of the country girl that comes to the city," Blount said. "You think anything that sweet couldn't get in trouble.
"But, of course, anything that sweet will get in trouble."
No lesser institution than the Smithsonian has declared Krispy Kreme a "Southern icon." But if the rents hadn't been so high in Peoria, Ill., we might be talking about that "Northern icon."
According to company legend, Vernon Carver Rudolph was looking for a place to open his own doughnut shop in the summer of 1937 when he landed in Peoria with $25, a Pontiac loaded with frying and rolling equipment, and a secret potato flour-and-yeast-based recipe. He was standing on a street corner when he pulled a pack of Camel cigarettes out of his pocket and noticed where they were manufactured.
"Why not Winston-Salem?" the Paducah, Ky., native thought. "A town with a company producing a nationally advertised product has to be a good bet."
Rudolph used the last of his money to rent a tiny brick storefront across the street from Salem Academy and College. He had to borrow the money for his first batches of flour, eggs, potatoes and yeast.
By November, Rudolph was selling 1,000 dozen doughnuts a week at 25 cents a dozen. Things were going so well that he'd already obtained business licenses to sell in Charlotte, and had designs on Raleigh and Durham.
But Vernon Rudolph died in 1973 at age 58. Three years later, Krispy Kreme became a wholly owned subsidiary of Chicago-based conglomerate Beatrice Foods.
Thus, some say, began the first "fall" of Krispy Kreme.
Beatrice immediately began changing the brand in an attempt to make Krispy Kreme more profitable. It redesigned the familiar green-and-red script logo and began having Krispy Kreme stores sell some of Beatrice's other products — sausage biscuits, brownies, ice cream, soup. Then the company started fiddling with the secret recipe.
"They lessened the grade of flour, the amount of egg — the ingredients that are important to making a good quality doughnut," said executive vice president Jack McAleer, whose father Joseph was one of Rudolph's earliest franchisees — or associates, as that early group of disciples prefers to be called.
McAleer refers to that period as "the dark ages." Sales began to slump.
"Beatrice did not understand what made Krispy Kreme unique and so sweet to its consumers," San Jose State University management professor David Denzler wrote in an essay last year. "Rather, they saw it as a name to be leveraged and to be cost managed."
Joseph McAleer, who got his start working for $1 an hour for Rudolph, was so disgusted by the changes that he began preparations to open his own doughnut business. But when Beatrice put the company up for sale in 1981, the Alabama man organized about 20 other franchisees and staged a leveraged buyout.
They immediately went back to the original formula and logo.
During the 1980s, the company began to realize that the future lay in the retail business. It decided to venture north of the Mason-Dixon line.
The first target was Indianapolis. Early focus groups were disheartening, said Jack McAleer, who picked out the doughnut holes as a boy in his father's Mobile, Ala., shop.
"But when the double drive-thru store opened in 1994, cars were lined up down the street, filled with people who had eaten Krispy Kremes growing up down South or during a family vacation.
New Yorkers fell in love with Krispy Kreme in 1996, and even President Clinton was having them delivered to the White House. Three years later, the little North Carolina company took on Los Angeles.
In 2000, the company went public at $21 a share. Investors weary from the dot-com bust seemed to embrace this tangible, flour-and-sugar product like financial comfort food.
The glazed rings suddenly had become chic. Lines at grand openings were two, three hours long.
The company jumped to the New York Stock Exchange in 2001. Two years later, the brand went international, opening stores in Australia and England, where the tabloids dubbed Krispy Kremes "as addictive as crack cocaine."
Stock prices soared to near $50 when adjusted for splits by the summer of 2003. Nearly 400 Krispy Kreme stores as far away as Korea were producing nearly 3 billion doughnuts a year.
Then, like a doughnut left too long under a bright lamp, things started to deflate.
Last May, Krispy Kreme issued its first profits warning. Blaming the low-carbohydrate craze (each original glazed packs 200 calories, 12 grams of fat and 22 grams of carbs), the company slashed its 2005 earnings forecast by 10 percent.
By fall, the Securities and Exchange Commission announced it was looking into some dubious accounting practices at Krispy Kreme.
Last month, amid allegations in a stockholder lawsuit of padded sales figures, the company restated its 2004 earnings and warned investors that it was in danger of defaulting on a $150 million credit line. On the news, the share price tumbled more than 17 percent to $10.15. On Jan. 14, just over a week ago, it reached an all-time low close of $8.72.
Tuesday, the company's board ousted Livengood as CEO amid expectations of yet another quarterly loss.
Critics say Krispy Kreme grew too big, too fast, that it had gone against the strength of its hot doughnut sales and saturated its markets with cold grocery- and convenience-store pastries.
"They grew faster than they were being efficient," said Carl Sibilski, who follows the company for Morningstar in Chicago. But Sibiliski is confident the company can get beyond that.
"From the brand perspective, I think it's still rising in popularity," he said. "Now, from a financial standpoint, the company needs to regain confidence among investors."
A start came with the departure of Livengood, who only weeks earlier had been listed by Business Week magazine as one of the seven worst managers of 2004. News of his ouster sent the stock price up 10 percent.
"This is just a time that we've got to get through," McAleer said. "And we'll look back in years to come, and it'll be one of those dark years, just like the dark ages."
On a recent sunny day, Beury Derstine munched an original glazed at the Winston-Salem shop as her 3-year-old son, Ethan, stood on a chair by the curved window, transfixed by the "doughnut theater" unfolding before him.
Ethan's eyes moved up and down as the extruded dough circles float down a tea-colored stream of soybean oil. They bobbed for 55 seconds, then, FLIP, for another 55 seconds.
Ethan giggled with glee as the conveyor carried the pastries through the "glaze waterfall."
"Do you like eating them better or watching them better?" asked his mother, a 35-year-old pharmacist whose own mother introduced her to Krispy Kremes during summer vacations in Florida.
"Watching," Ethan said, his eyes still glued to the window.
"I don't know about that," his mother said as she tried in vain to pull him away from the scene.
A third-generation Krispy Kreme fan was born.
Nearby, 53-year-old Bill Arnold was working his way through his daily pair of doughnuts as Harold Gregory, 70, got ready to tear into a chocolate cream-filled. The two friends drive 15 miles almost every day to meet at Krispy Kreme.
Gregory thinks the higher-ups got greedy. Arnold said Krispy Kreme might just have gotten a little big for its britches.
His advice to the company?
"Stick to your knitting," he said. "And lower the price of the coffee."
EDITOR'S NOTE: Allen G. Breed is the AP's Southeast regional writer, based in Raleigh.