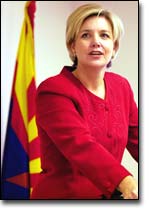 PHOENIX — State Superintendent of Public Instruction Lisa Graham Keegan, the chief architect of the controversial AIMS test, announced her resignation Thursday and has state educators pondering the future of many of the initiatives she helped to create while in office.
Keegan, who accepted the job of chief executive for a Washington-based school reform think tank that she helped found in 1995, said her departure would be good for the Department of Education because she had become a target for critics of the department's reforms.
She said she believes major initia-
tives she proposed — more money going straight to schools, differential pay for teachers, achievement standards — would probably not come about before her term ended next year.
"This is not a decision I have come to lightly, but one I feel will be best for the state and for the continuing advance of education reform," said Keegan, who plans to commute to her new job. "My departure is early by the calendar but timely by where I can make a difference."
Keegan has 18 months left in her term.
In Flagstaff, Mount Elden Middle School Principal Russ Furstnow said Keegan's decision was coming too soon after she instituted accountability measures such as the AIMS tests.
"To me, it's always disappointing when you have an elected official leave before their term is up," said Furstnow, a supporter of AIMS.
Keegan, whose resignation is effective May 11, said she will continue to push for the Arizona Instrument to Measure Standards test as a graduation requirement and would recommend her replacement do the same.
"I'd encourage my successor to pay attention to what's true and not what's trendy," said Keegan, adding that AIMS has the public's support if not that of education leaders.
Ted Briggs, director of Flagstaff's Northland Preparatory Academy charter school, said AIMS will likely become more controversial and problematic following Keegan's resignation.
"I predict AIMS will be under more scrutiny as the graduation requirement gets closer, and we're going to start seeing a lot of lawsuits," he said.
In 1995, Keegan worked to get charter school legislation passed allowing individuals and organizations to start their own schools and operate independently from a school district while still receiving public funding. There are now some 400 charter schools operating in Arizona, the most of any state in the nation.
Briggs said Arizona's charter school movement should not be affected by Keegan's resignation.
"One person is not going to bring down charter schools. They're already established," he said.
Gov. Jane Hull expects to name a new superintendent by May 14.
Under the Arizona Constitution, current legislators are not eligible. Under state law, the appointee must be of the same party as Keegan, Republican.
Hull said she decided on a potential successor last year when Keegan was being considered for U.S. education secretary and would now offer the job to the same person. Hull would not identify her candidate Thursday. One person she interviewed was Northern Arizona University President Clara Lovett, who is resigning from NAU after June.
However, Lovett was not in her office Friday and could not be reached for comment.
Keegan has recommended Jennifer Mabry, director of policy and operation for the state Education Department. Other potential candidates are Yavapai County Superintendent Paul Street and former Sen. Keith Bee, who's already filed campaign papers.
Another potential candidate, Deputy Superintendent Billie Orr, will instead follow Keegan to the think tank and so will Keegan's policy adviser, John Schilling.
Keegan, 41, was the state's top educator for six years and a legislator from 1991 to 1994.
She was considered a driving force for parental choices and accountability.
At her news conference Thursday, Keegan staunchly defended the AIMS test as "thoroughly sound" and expressed regret for not having been more assertive with another controversial measure — the use of a sales tax increase to supplement teacher pay based on student performance.
The initiative was approved by voters as Proposition 301 and designed as a method for increasing accountability for schools and teachers. Briggs said those efforts are likely to continue, despite Keegan's resignation.
"I don't think that was a Lisa Graham Keegan thing, I think that was a voter thing," he said of Prop. 301. "The voters approved that, not Keegan."
AIMS had become a source of controversy because so many students were having trouble passing at least portions of it.
Sinagua High School Principal Ute Salisbury said the timing of instituting the test was poor, and Keegan's resignation will likely prompt even more discussion about when to use it as a graduation requirement and what should be on the test.
"Depending on who takes her place, I think it will delayed as a graduation requirement," she said.
Sen. Jay Blanchard, D-Gilbert, said he was "optimistic that with the departure of the superintendent that we can now move forward on a critical examination of AIMS."
Blanchard sponsored unsuccessful legislation this year to put the AIMS test's graduation requirement on hold for two years.
Linda Gray, who effectively killed Blanchard's bill when she refused to grant it a hearing in her House Education Committee, said she was sad to see Keegan leave.
"I think she's been a leader in education reform," said Gray, R-Glendale.
Hull, Keegan and three other women held the top elected positions in Arizona and were referred to as the "Fab Five."
Daily Sun Staff Reporter Dan Rice contributed to this story.