Young children who don't get enough food to eat over the weekend don't start learning at their full capacity until mid-day Wednesday.
That means they have half as much actual learning time in the classroom as their peers who don't suffer from food insecurity.
That's the research that motivates Mike and Colby Miller, co-founders of Feeding Northern Arizona's Future. The nonprofit organization, which the two started in 2014, collects food donations to give to school children so they can eat over the weekend. Often, low-income students get the majority of their sustenance from free breakfast and lunch provided at school. That means they may not eat, or not get enough to eat, from Friday afternoon until Monday morning, and the effects of that hunger are significantly handicapping these students well into their adult lives.
"Our biggest goal is to help stamp out food insecurity among school-aged children," said Mike Miller, who is president of the organization.
During the last school year, FNAZF fed about 360 students and their families weekly. That's no small feat, particularly since Mike and Colby don't do it full-time. To be as successful as they've been, they rely on volunteers from the Flagstaff community to donate, bag and deliver food, get the word out about what they do, find students who may be in need of help and organize fundraisers. Business and church groups, student groups, families and individuals all pitch in to make the program, which goes to students at every elementary school in Flagstaff, work.
"It's a volunteer organization, and it would not work without it," he said.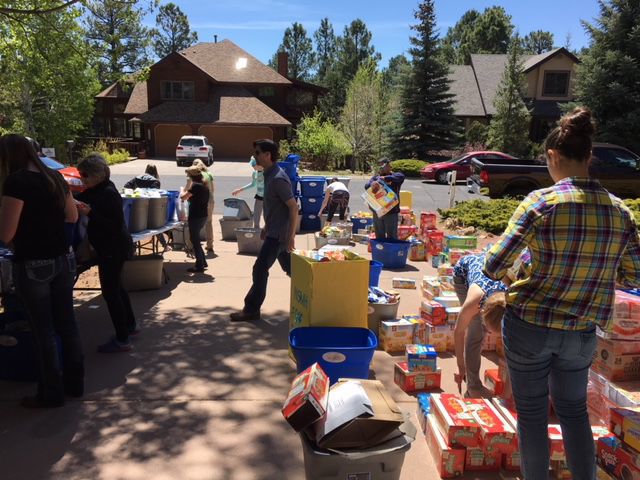 That's true of dozens of organizations in northern Arizona. According to the Corporation for National & Community Service, almost a quarter of the Arizona residents volunteered in 2015, with more than 1.2 million Arizonans volunteering a collective 174.36 million hours of service. That leaves 75 percent of residents who may be looking for ways to serve but not know where to start.
One way to find service opportunities is through JustServe.org, a service marketplace sponsored by The Church of Jesus Christ of Latter-day Saints. Organizations who need volunteers can post ads on the site, and people looking for ways to serve their community can browse through the ads and find the volunteer opportunity that fits with their schedule, interests and skill set.
Organizations include the Flagstaff Unified School District, Brookdale Senior Living Solutions, the Flagstaff Family Food Bank, Sharon's Manor and Attic Sun Sounds, Days for Girls and many more. These can be one-time service projects or recurring opportunities for individuals or groups from churches, civic organizations, nonprofits and governmental agencies, said Susan Fox, who along with her husband, Andy, coordinate the JustServe efforts in the Flagstaff area.
"Opportunities for service in Flagstaff include feeding those in need, sewing, reading for the blind, tax preparation serving senior citizens, serving veterans, reading in the school district, collecting needed items for distribution, thrift store work, maintenance at Camp Colton and many opportunities at the hospital," Susan Fox said.
STEM City is another organization using JustServe.org to find volunteers. Executive director Brigid Dineen said the organization's mission—promote all things STEM in Flagstaff and sustain and grow STEM-based learning opportunities for the city's entire population—only happens because of volunteers. Her job is simply to coordinate efforts among groups that encourage STEM (science, technology, engineering and math) and connect individuals and groups who want to learn more with others who can help them.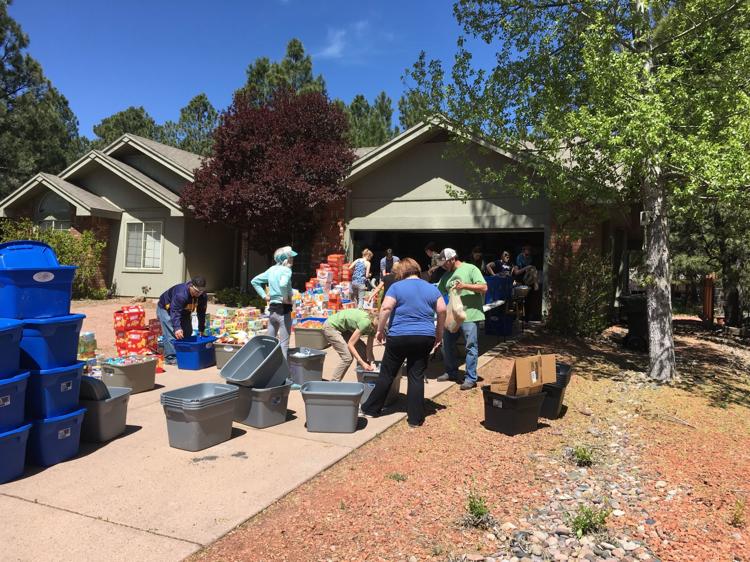 "We wouldn't be here without the community," she said. Even more than that, perhaps, "the reason we exist is to serve the community."
She is always looking for volunteers in the business, research and academic communities who are interested in speaking to groups or classes about STEM activities or in mentoring students who have an interest in STEM. Right now, they're looking specifically for scientists or STEM professionals to be one-on-one mentors with middle school students. But for those who may not be science-oriented, there are other needs as well. STEM City needs volunteers who can help with marketing, social media, accounting, proposal writing and event planning.
These opportunities, as well as dozens of others, are waiting on the JustServe website to help people make a difference wherever they are in whatever way they want, Andy Fox said.
"I can tell you from our experience with JustServe that our community is vibrant with service, and I am very impressed with the amount of service that is performed within the community," he said. "This is a great place to live—people care about others."