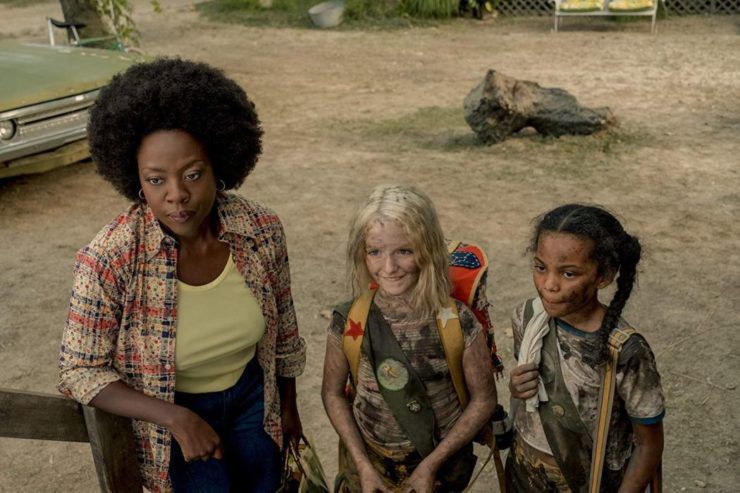 With award-winning films, excellent foreign movies and meaningful dramas ready to stream at the click of a mouse, what are the chances a silly, predictable film would even feel enticing? Well guess what? A fluffy comedy or a movie in which things blow up can really hit the spot sometimes. That's why Amazon Prime's Troop Zero felt like a smart idea at the time. Doesn't everyone need their fill of quirky comedies?
Troop Zero hits all the predictability needs. Misfit kids who band together? Check. Snooty kids who mock them? Check. Disapproving adults putting up roadblocks to the kids' goals? Check. Quirky family and friends who come through when needed? Check. Add any checkbox to the list and this flick would fill it. It's that kind of movie.
You have free articles remaining.
The movie's heroine is young Christmas Flint (McKenna Grace) whose mother has just died. Christmas' father (Jim Gaffigan) is a down-on-his-luck lawyer who can barely take care of himself, much less his daughter. Luckily, he has Miss Rayleen (Viola Davis) working for him, helping out with Christmas, albeit somewhat reluctantly. So, when Christmas learns that her voice could be on the NASA Golden Record heading to space on the Voyager mission if she was in a Birdie Scout troop that wins the Jamboree's talent contest, she'll stop at nothing, even making the unenthused Miss Rayleen play Scout mother, to win that contest.
What Troop Zero has going for it is Grace's sweet performance as Christmas. She's feisty but insecure, sugary but with a bit of spice. Davis as Miss Rayleen gets to be the cynical woman determined to see the children in her troop succeed. Throw in Allison Janney as the school principal and troop leader of the town's original Birdie Scout troop for some extra fun too.
Troop Zero ends up being something silly, but with heart. It will never hit the top films of the year, but if you too need that uncomplicated movie you can sit back and watch with family, Troop Zero just might be what you want.