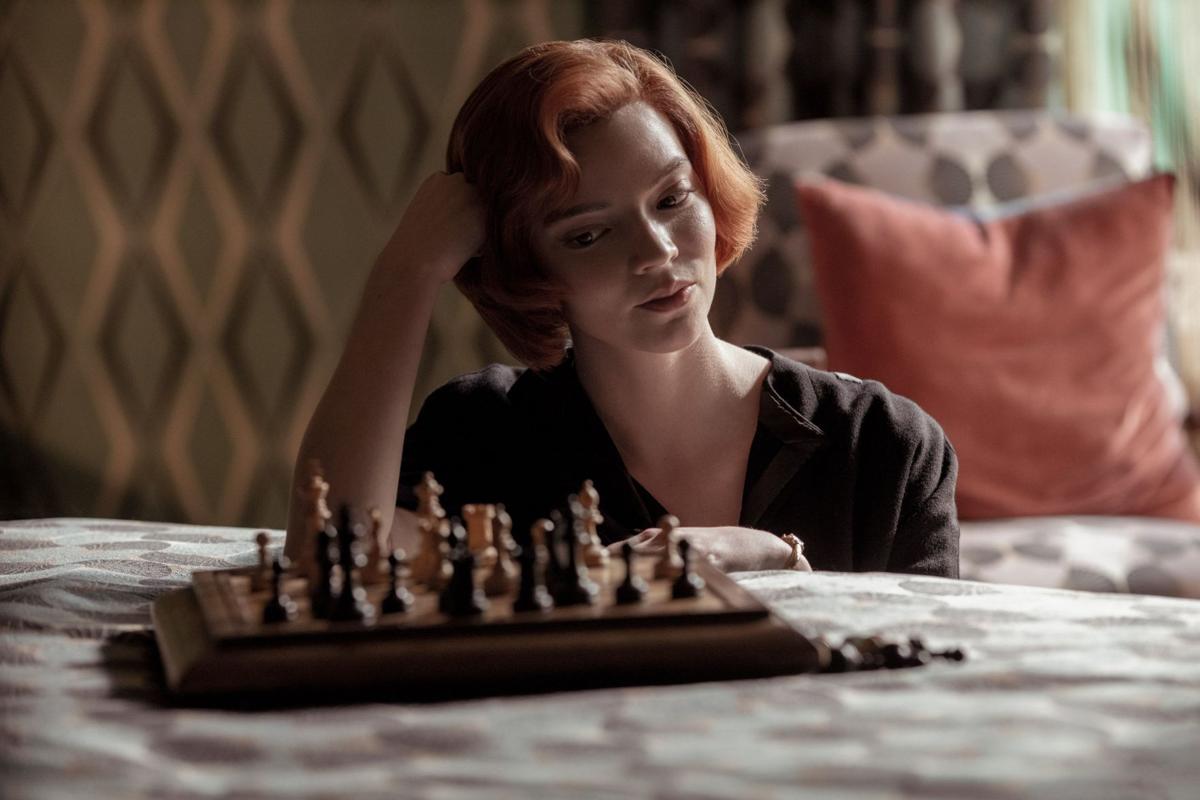 The Queen's Gambit is the entrancing story of Beth Harmon's evolution into a champion chess player. Scott Frank and Allan Scott created this Netflix series based on the Walter Tevis novel of the same name. Beth's story of growth in the face of adversity provides an altogether enjoyable series. The Queen's Gambit in chess is an aggressive move giving the player control of the centerboard, a good analogy for Beth's approach to life and to this male-dominated game. Her quest to become the best chess player in the world requires her to face her losses and overcome her weaknesses so that she can achieve the clarity she needs in order to win.
Beth becomes an orphan in the 1950s at 9 years old. Young Beth, portrayed by Isla Johnston, is a quiet, moody girl who finds herself growing dependent on the tranquilizers distributed at her orphanage. During the day, Beth is taught chess by the janitor in the basement of the school; at night, the tranquilizers help her to visualize the chess games she plays out on the ceiling of her room.
Several years later, Beth, now played by Anya Taylor-Joy (Emma, The New Mutants), is adopted by the Wheatleys, Allston and Alma (Patrick Kennedy and Marielle Heller). Shortly thereafter, Allston leaves, abandoning Alma and Beth to potential financial disaster. When Alma discovers that Beth can make money competing in chess tournaments, she schedules games far from their Kentucky home. Beth is determined to become a chess champion, and Alma provides Beth with school excuses as they travel together. Alma suffers from frequent illness, and Beth is able to help herself to her adopted mother's prescription of the same tranquilizers that Beth became addicted to at the orphanage.
A highlight of the series is the increasingly chic 1960s ensembles sported by the women as Beth's victories and their improving finances allow her and Alma to travel in greater luxury and style. They travel all over the country, including a trip to a charming 1960s Las Vegas, which is enough to make any viewer want to go back in time and join them on the road. Eventually, Beth begins traveling the world, playing chess in Mexico City, Paris and Moscow. The great cars of the '60s also have a place in the series; each time a friend comes to visit, the audience gets to enjoy another classic car.
Overall, the series does a good job conveying '60s nostalgia while also not shying away from darker themes of substance abuse.  
Be the first to know
Get local news delivered to your inbox!