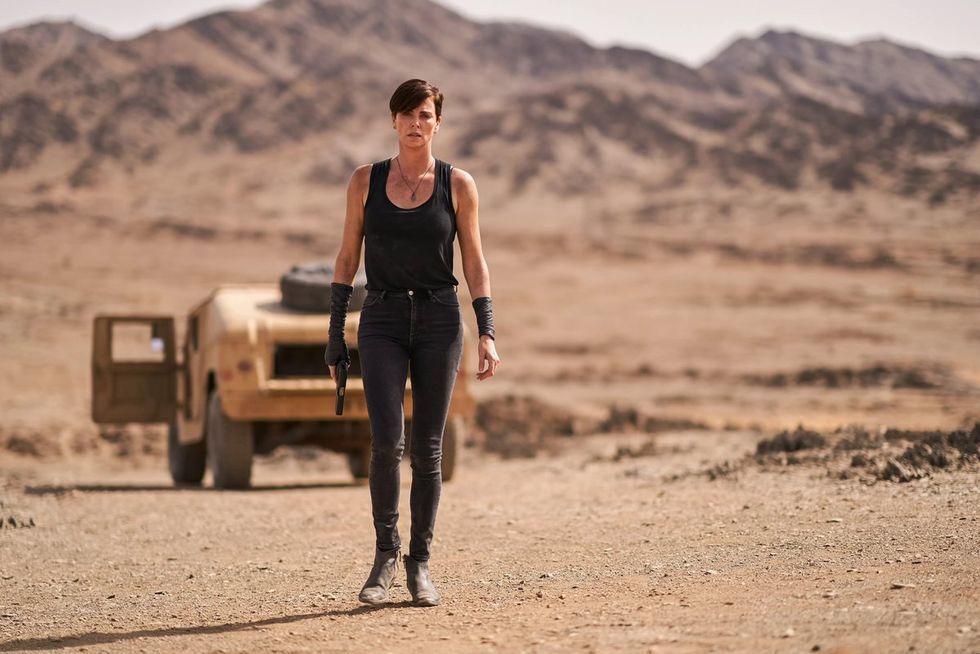 When looking back at  director Gina Prince-Bythewood's films, one thinks of serious romances between smart characters. In 2000's Love & Basketball and 2014's Beyond the Lights, Prince-Bythewood gives audiences intricate plots and entangled relationships. Now she has directed a different kind of film. In The Old Guard, we have a superhero story about immortal humans. Yet these kick-ass immortals still find time to fall in and out of love on the screen, making for a good Netflix time.
We meet a small group of impressive mercenaries who bravely face-off against men with guns. It's easy being courageous when you can't die. Booker (Matthias Schoenaerts), Joe (Marwen Kenzari), and Nicky (Luca Marinelli) have been together for centuries. Leading the crew is the oldest of them all, Andy, played by Charlize Theron. When they work with a government agent they previously knew, their secret abilities come to light. As this happens, a young marine in Afghanistan, Nile (Kiki Layne), surprisingly survives a knife attack only to discover that she is in fact a new immortal.
Based on a Greg Rucka graphic-novel series (he also wrote the screenplay), the best part of The Old Guard is the relationships within the team of immortals. They respect and care for each other, which makes us care for them too. Prince-Bythewood lets the story breathe as we learn more about her characters. It's not a fight-scene-every-minute kind of film.
But when the fight scenes do happen, we get some doozies. Once again, Theron's ability to pull off action scenes makes for a thrilling watch. The director gives us fight sequences that are easy to follow while remaining exciting. They don't rely on lots of quick-cut editing, rather we get to see them play out. We get guns, knives, huge axes (my favorite) and plenty of hand-to-hand combat. The plot also builds suspense about the fates of our heroes.
The weakest element of the movie is the villain. We get an over-the-top CEO of a pharmaceutical company. Harry Melling tries to make Merrick properly villainous, but he feels more like a cutout character. Chiwetel Ejiofor, as an ex-government agent, makes up for the villain's weakness as someone who has a past with the immortals.
The Old Guard is an example of a good action film that gives us time with the characters. It's a fun two hours, and if we are lucky, Prince-Bythewood will get a chance to work on a much-deserved sequel.
Be the first to know
Get local news delivered to your inbox!