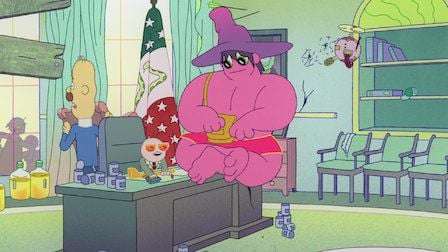 If you had a simulator that would let you experience any of the vast iterations of the multiverse, where would you go? Who would you talk to? Such is the premise of The Midnight Gospel, which follows spacecaster Clancy (Duncan Trussell) as he uses his multiverse simulator to bounce from reality to reality. While visiting new worlds, he finds and interacts with various locals, fostering deep conversations about various heady subjects while experiencing whatever bizarre situation each particular reality has to offer—think a pint-sized president facing a zombie apocalypse or a fish man sailing through a flooded world with the help of his cat crew.
It's an interesting premise, one that will likely get plenty of folks to add The Midnight Gospel to their Netflix list. However, the description above doesn't necessarily capture the show's intent, and viewers will quickly find that The Midnight Gospel is not an epic tale of adventures across time and space. Instead, audiences will discover the show is, at its core, little more than a dressed-up podcast. In fact, the discussions Clancy has on his spacecasting adventures are all derived from actual interviews from Trussell's podcast, The Duncan Trussell Family Hour. Discussions about existential topics abound, all while Clancy and his guest navigate trippy, surreal animated worlds where things are going horribly wrong in the background.
The Midnight Gospel is not without its merits; if nothing else, it deserves credit for being innovative. While it may not appeal to a broad audience, there isn't anything on Netflix like it. The discussions that occur between Clancy and his new friends are all very frank and feel genuine. The subject matter always carries depth, and the guests are insightful. An eclectic list of guests—including Dr. Drew Pinsky and the late Ram Dass—keeps the show from getting stale across its eight-episode first season, and even those who find they don't particularly enjoy The Midnight Gospel are bound to come away with new ideas and a better understanding of the subject at hand.
Most audiences are going to demand more structure than The Midnight Gospel has to offer. There is seldom a commitment to the animated storyline, and often the interviews just seem to trail off rather than reaching a satisfying conclusion. Ultimately, The Midnight Gospel is an interesting program, but while the show is sure to find its niche and generate a fan base, it is unlikely to resonate with mainstream audiences.
Be the first to know
Get local news delivered to your inbox!