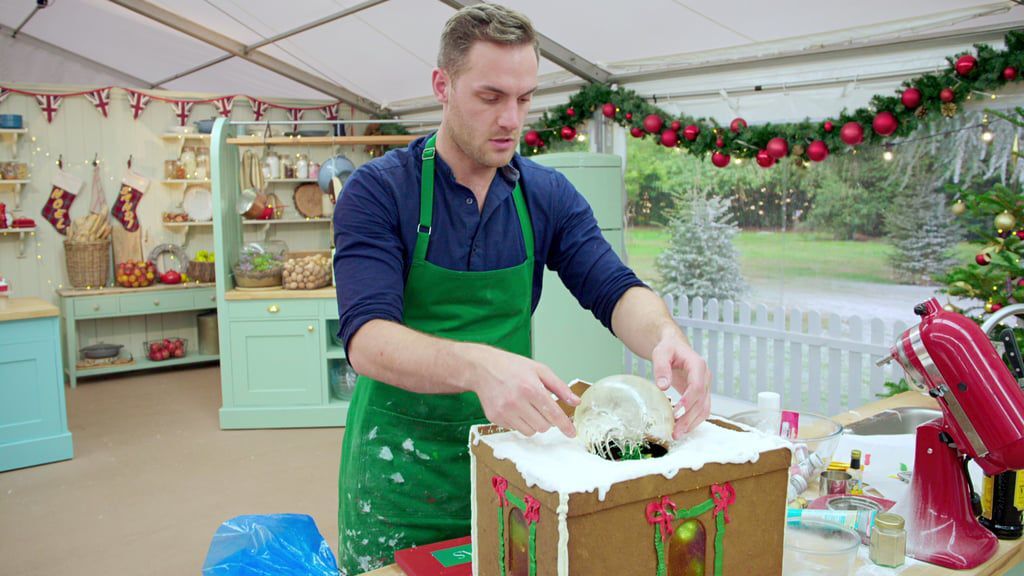 2020 is finally ending, and that end can't come soon enough. But at least if we must slog through the rest of December, we have the happy, non-confrontational cooking contest that is The Great British Baking Show, just about the least competitive competition you're likely to see. Netflix doled out the regular 2020 season a week at a time, which—though it may have frustrated those wishing to binge the entire 10-episode season when it premiered in September—provided this reviewer something enjoyable to look forward to every Friday. And though the regular season wrapped up just after Thanksgiving, this past week Prue and Paul were back with the two-part Holidays special. While the Christmas Special with returning contestants from past seasons was regular ho-ho-ho-hum light-hearted goodness, the New Year's Great Festive Bake Off reached new heights of hilarity.
Filmed at the end of the previous season and aired on Christmas Day in Great Britain in 2019, the Christmas Special features Tom and Yan from Series Eight and Briony and Terry from Series Nine. And though the pasty, hairless Matt Lucas joined vampire comedian Noel Fielding as co-host this year for Series Eleven, diminutive Dane Sandi Toksvig was still around for this special. The Signature Challenge is cake pops: each baker must present 24 cake pops with at least four different designs and flavors. At least now I know that cake pops are made by mixing cake with buttercream instead of using tiny round pans. Next up in the Technical Challenge, Paul unleashes his sausage roll wreath: hand-made sausage wrapped in puff pastry, which I may try myself (using pre-made sausage and Pillsbury puff pastry, of course). The Showstopper requires the bakers to create large gingerbread structures, and while there are some issues, the surprise that Terry hides in his Chrysler Building ends the bake with a bang and a laugh.
But the real treat is yet to come when the stars of Channel 4's Derry Girls (also available on Netflix) show up for the Festive Bake Off. Nicola Coughlan, Saoirse-Monica Jackson, Dylan Llewellyn, Siobhán McSweeney and Jamie-Lee O'Donnell make up for their lack of baking experience with great chemistry and wonderful humor. The Signature Challenge's trifle is forgiving and gives us our first look at how different the skill level will be, though the Girls (and Dylan) really do try while they have fun. Siobhán's jelly layer, which looks much more like clear slime, is a hilarious lowlight. In the Technical Challenge, Prue has them do beetroot blinis with salmon, horseradish and caviar, though her instructions are so much more thorough than most Technicals that once the blinis are cooked, it's little more than assembly. The Showstopper finds the would-be bakers creating tiered cakes that reflect the decade of their choice, and it's a chaotic disaster (but in a good way).
The Great British Baking Show has always been a welcome relief from most competition TV, featuring regular folks who bake for the love of it and could not care less about becoming influencers. The addition of celebrities for one episode doesn't detract at all from that goodness and makes for a very welcome bit of fun with which to wrap up this awful year.