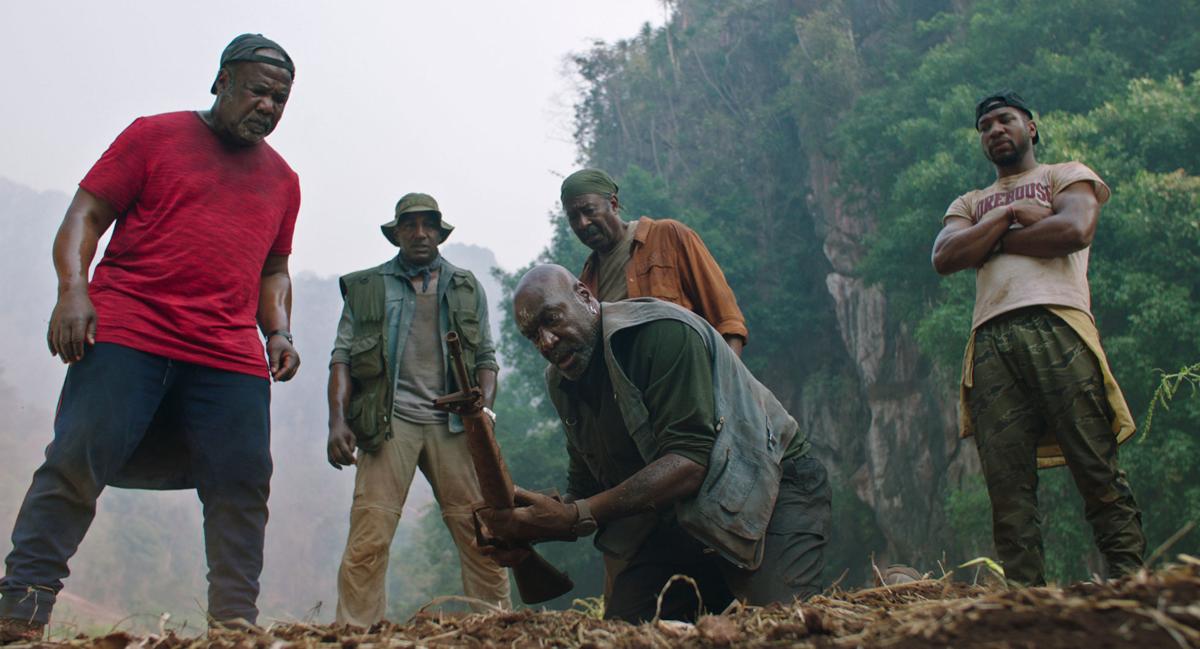 Spike Lee has experienced his fair share of hits and misses, but his projects are almost always interesting. His new film Da 5 Bloods, his first for Netflix, comes at a pivotal moment in history but falls well short of his best work. Oliver Stone was originally attached to direct but dropped out in 2016, after which Lee and co-writer Kevin Willmott re-worked the original screenplay to give it an African-American focus. And while that brings an urgent and timely perspective to what may have been little more than a caper story, there are too many missteps to elevate this to "A" territory.
Delroy Lindo, Clarke Peters, Norm Lewis and Isiah Whitlock Jr. play Vietnam veterans who have traveled back to said country to retrieve the body of fellow soldier "Stormin'" Norman Holloway (Chadwick Boseman), who they left behind in the war… along with a fortune in gold bars that the CIA had earmarked to pay off locals. Each man returns with his own stories and baggage, but they are all surprised that Paul (Lindo) has become a Trump voter, complete with a red MAGA cap and a hair-trigger temper. Paul's son David (Jonathan Majors) has insinuated himself into the mission as well, and it's evident that he and Dad don't have the best relationship.
Da 5 Bloods begins with great promise: Lee intersperses footage from the war and from the racial and political turmoil back home in the late '60s and early '70s to set the stage. The four old war buddies have great chemistry—we have no trouble believing they served together and survived the horrors of battle. And when we flashback to the war, Lee not only shrinks the aspect ratio to 4:3 but, in a very intriguing move, uses the older actors in their scenes with a young Stormin' Norman; it's a bold technique that releases the audience from having to match up the younger and older characters and reminds us how early Norman's life was taken.
But war movie clichés, heavy-handed foreshadowing and lack of narrative cohesion pull the film off the rails. Introduce a character out of the blue who tells you about removing old land mines from the countryside, and viewers know they'll spend the next 45 minutes just waiting for somebody to step on one. Lee films aren't necessarily known for their quieter moments, but Da 5 Bloods could have benefited from a bit more introspection. Still, the film is worth a watch as it helps highlight diverse experiences in this fractured country. 
Be the first to know
Get local news delivered to your inbox!