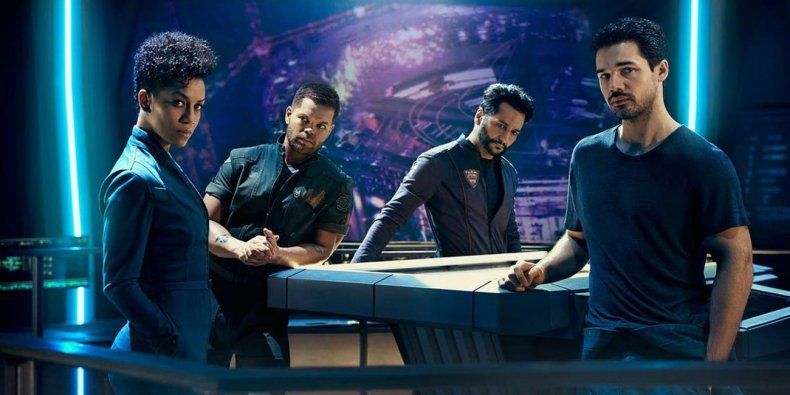 When Amazon picked up the canceled SyFy show The Expanse after its third season, fans were thrilled. Based on the series by James S.A. Corey (pen name for Ty Franck and Daniel Abraham), the fifth installation, Nemesis Games, was a favorite of many. It's television adaptation brings fans exciting, breath-catching action mixed with a deeper look at our characters.
The crew of the Rocinante (James Holden, Naomi Nagata, Alex Kamal and Amos Burton) has some downtime after their experiences on the planet Ilus last season. The Rocinante needs a lot of time in the maintenance docks on Tycho Station, leading to the scattering of the characters as they deal with personal issues. Amos (Wes Chatham) heads to Earth to see about the death of the person who helped raise him. Alex (Cas Anvar) returns home to Mars to check in on the family he left behind and catch up with friend Bobbie Draper (Frankie Adams), who is investigating the Martian military's connection to black-market dealers. Naomi (Dominique Tipper) learns that Filip, the son she abandoned when running away from her terrorist lover Marco Inaros (Keon Alexander), is now grown and still with his father. She hopes to find him and save him from Marco's plans. Holden (Steven Strait) is the only crewmember left to look after the Rocinante. That's this season's setup, then things get interesting.
For those who enjoy smart science-fiction that still offers surprises, this is the show to watch. For those who require excellent action scenes, this is the season to look forward to. Seeing if Marco's planned act of global terrorism will succeed leads to some edge-of-your-seat sequences. The actors in this season get some incredible moments to shine. Scenes in which viewers learn more about Amos' childhood on Earth or see Naomi meet her son Filip pack some emotional punches. When the toughest lady in the solar system, Chrisjen Avasarala (Shohreh Aghdashloo), looks lost as she puts on her jewelry with trembling hands, it hurts.
With episodes released weekly and seven episodes ready to watch on Amazon, viewers can catch the last three on Tuesday nights after 5 p.m. (the scheduled release is Wednesdays after midnight UTC time). Plan on some beautiful and breathless viewing.