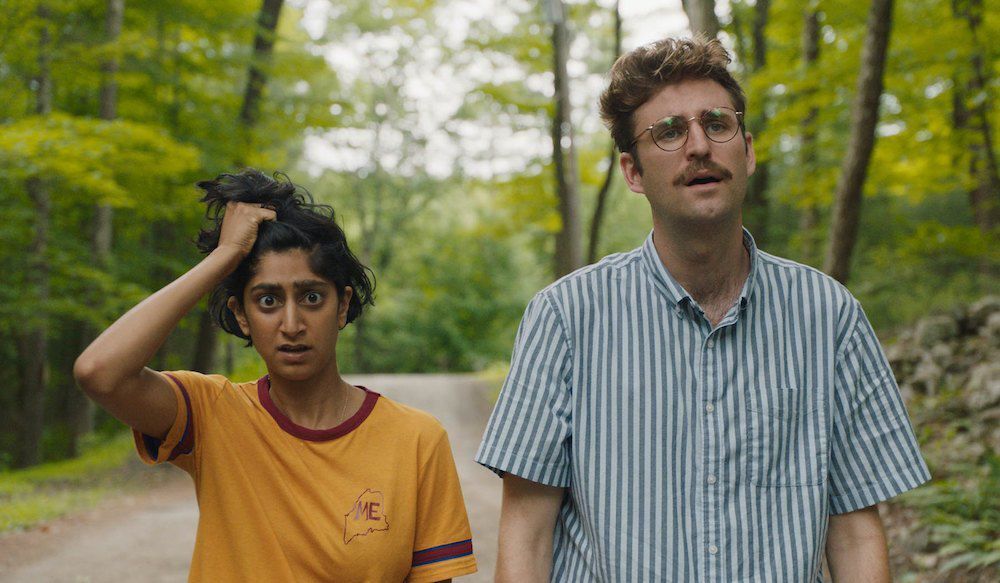 Do you feel a little too addicted to your digital devices? Do you find the thought of going offline for any length of time a frightening proposition? Su (Sunita Mani) and Jack (John Reynolds), dealing with those same questions, bravely decide to do something about it. They will unplug phones and computers for a week, leaving their hip Brooklyn lifestyle and heading off to discover themselves in a remote cabin in the woods. Sure, they'll face that fear of missing out, but it could help them get in touch with themselves and each other. After all, what could they possibly miss with their phones turned off? Um…how about an alien invasion?
The sci-fi comedy Save Yourselves! sets up an excellent premise for today's plugged-in world. Cleverly told, we get to see Su and Jack enjoying their time without constant notifications; they may miss a few clues that something unusual is going on in the world, but it's worth it to improve their inner selves.
The movie is funny enough in the first section as a depiction of a New York City couple feeling disconnected from others. Su and Jack want to be better people, but their goals go nowhere as they consistently find themselves on their couch, smartphones in hand. Then the humor takes off once they discover what is happening to the rest of the world. And when aliens appear, it gets hilarious and spooky.
The couple, trying to deal with an apocalyptic world with aliens, shows us how unlikely they are to survive. Jack's cry of "I have no skills!" is true, but they'll both try anyway. Mani and Reynolds find laughs in their character's actions pre- and post-aliens. A bit self-absorbed, we can't help but like them as they deal with a situation way beyond their skill set.
Save Yourselves! is the debut feature film by writers and directors Alex Huston Fischer and Eleanor Wilson. The film showed at the Sundance Film Festival earlier this year, but COVID-19 derailed the expected August release in theaters. Happily, this intimate story about two confused people dealing with something unexpected works well on streaming video.
We live in a world where we get distracted by all the digital goodies out there; Save Yourselves! might just give you a good reason to stay plugged in. After all, how else will you find out about invading aliens?
Be the first to know
Get local news delivered to your inbox!