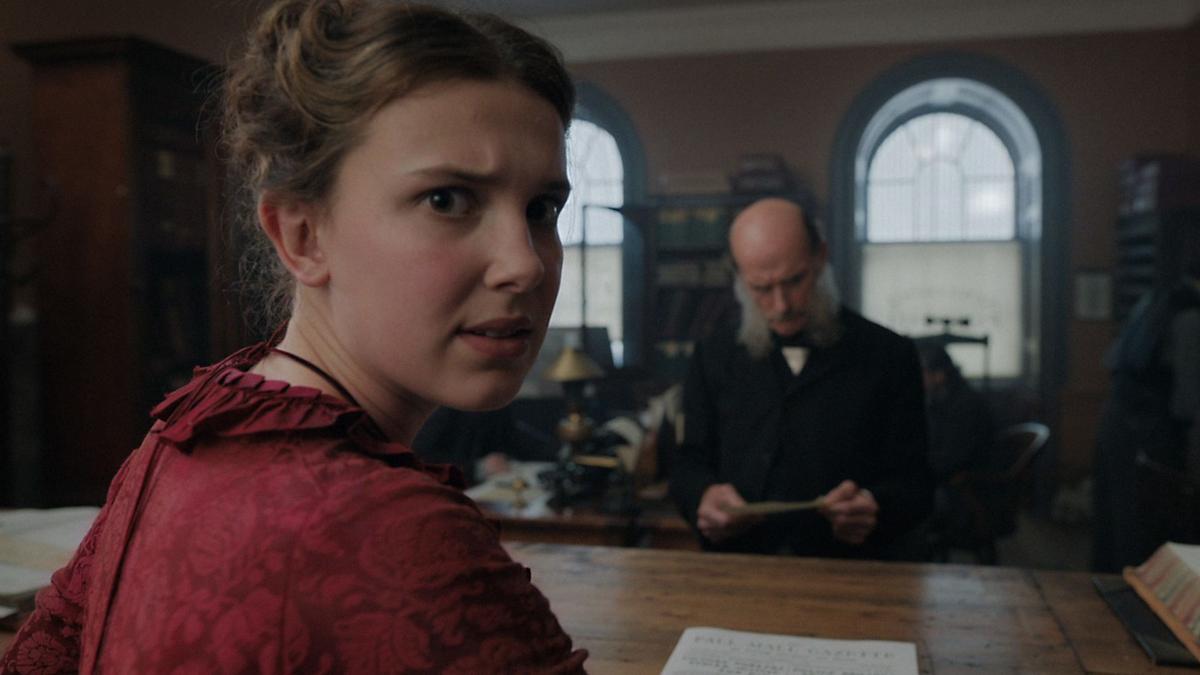 A young-adult book series about Sherlock Holmes' little sister, Enola, makes for a charming time when adapted to film in Netflix's Enola Holmes. Produced by and starring Millie Bobbie Brown, this story of a bright young woman in Victorian England keeps things fun. It helps to have Brown as the titular character to keep our attention even when the plot takes awkward tangents.
Living a carefree life studying all kinds of unusual topics with her mother (a glorious Helena Bonham Carter), Enola wakes up on her 16th birthday to discover her mother has disappeared. When her two older brothers, Mycroft (Sam Claflin) and Sherlock (Henry Cavill), arrive at the family home to decide what must be done, Enola's carefree ways are at an end. It's Victorian England, and young ladies must be taught to be proper young ladies. Happily, Enola does not want to go off to boarding school; she wants to find her mother. It's time to run away.
The plot moves fast as Enola disguises herself. She is soon caught up helping another runaway, the hapless Marquess of Tewkesbury (Louis Partridge). There is a hired killer (Burn Gorman), a sweet old lady (Frances de la Tour) and Detective Lestrade (Adeel Akhter), hired by Mycroft to track down Enola.
The twists and turns often feel improbable, but they are enjoyable. Brown makes Enola an intelligent and engaging character, often breaking the fourth wall to talk to viewers directly. It's often silly, and sometimes exciting. The story gives us plenty of action as Enola searches for clues about her mother's whereabouts while traveling across London. Oh, and there's that missing Marquess everyone else is seeking.
Though enjoyable, the story takes an abrupt turn when Enola is forced to attend a boarding school where she gets bullied by the other girls. It feels unnecessary and seems included solely to show how independent she is from the other girls. Fortunately, these scenes give us Fiona Shaw as the headmistress, and it's always great to see her in a supporting role.
The supporting cast helps Brown shine. Cavill as Sherlock and Claflin as Mycroft make good impressions. Partridge makes for a charming young marquess interested in Enola.
Enola Holmes feels bright and easy to watch. With luck, this could be the first in a series.
Be the first to know
Get local news delivered to your inbox!