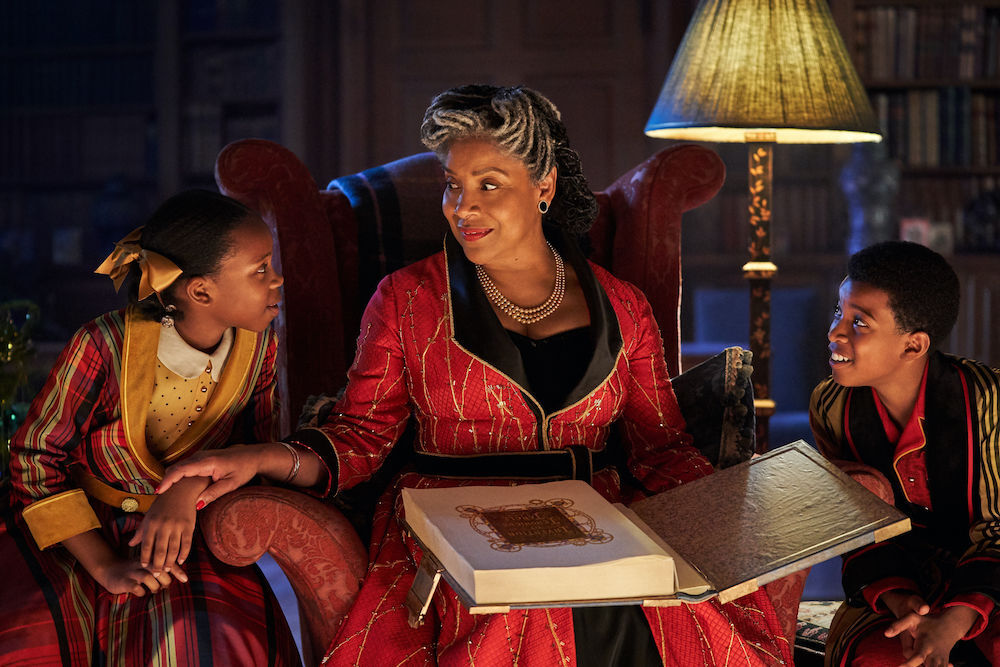 'Tis the start of the reign of holiday films and shows. For those of us ready to say goodbye to 2020, the Christmas season does not feel early. Let's embrace all the tinsel and ornaments we can. Netflix keeps releasing new holiday films and series, and in this week's issue, Charlene Gile reviews Dash and Lily; I'm discussing Jingle Jangle: A Christmas Journey.  Do they put us in the holiday spirit?
If you like singing and dancing in your Christmas films, Jingle Jangle: A Christmas Journey gives you a full-blown musical. With its excellent cast and fun costumes and sets, the movie makes for enjoyable viewing, as long as you don't require a simple plot. This movie throws everything into an overstuffed story. You want your movie to start with a scene where a grandmother tells a story to two grandchildren; you got it here. You want an amazing toy shop in a 19th-century town where everyone sings and dances; this movie offers that. You want a cute robot? Guess what? The movie includes that, too. In fact, this movie has so many crazy plot points, the story can be confusing to explain.
The basic outline has an inventive toymaker who is betrayed by his apprentice, which eventually leads him to give up creating any new inventions. Years go by, and Jeronicus Jangle (Forrest Whitaker) is now a widower, and his daughter (Anika Noni Rose) has moved away. Now he's a grumpy old man and the bank wants to take everything he had built. Meanwhile, his ex-apprentice, Gustafson (Keegan-Michael Key), now reigns as the greatest inventor ever. Then Jangle's smart, young granddaughter, Journey (Madalen Mills), comes to spend time with her unappreciative grandfather. There is also an eager young boy named Edison Latmer (Kieron L. Dyer) who wants to become Jangle's new apprentice. Adventure ensues. Oh, and did I mention the cute robot?
This movie will charm the younger crowd with its energetic dance numbers. Us adults may have a "What the…?" feeling at first, but it manages to hit some more emotional points as the story goes on. And what adult can't enjoy a banker exclaiming that the bank will give Jangle as much as he needs whenever he wants it? Now that's a happy ending for some of us.
As with any holiday film that gets released nowadays, we have no idea what will become a classic and what will be forgotten before next season. Jingle Jangle: A Christmas Journey possibly has the makings to become a classic. With enough story for everyone, it might lift your holiday spirit.
Be the first to know
Get local news delivered to your inbox!