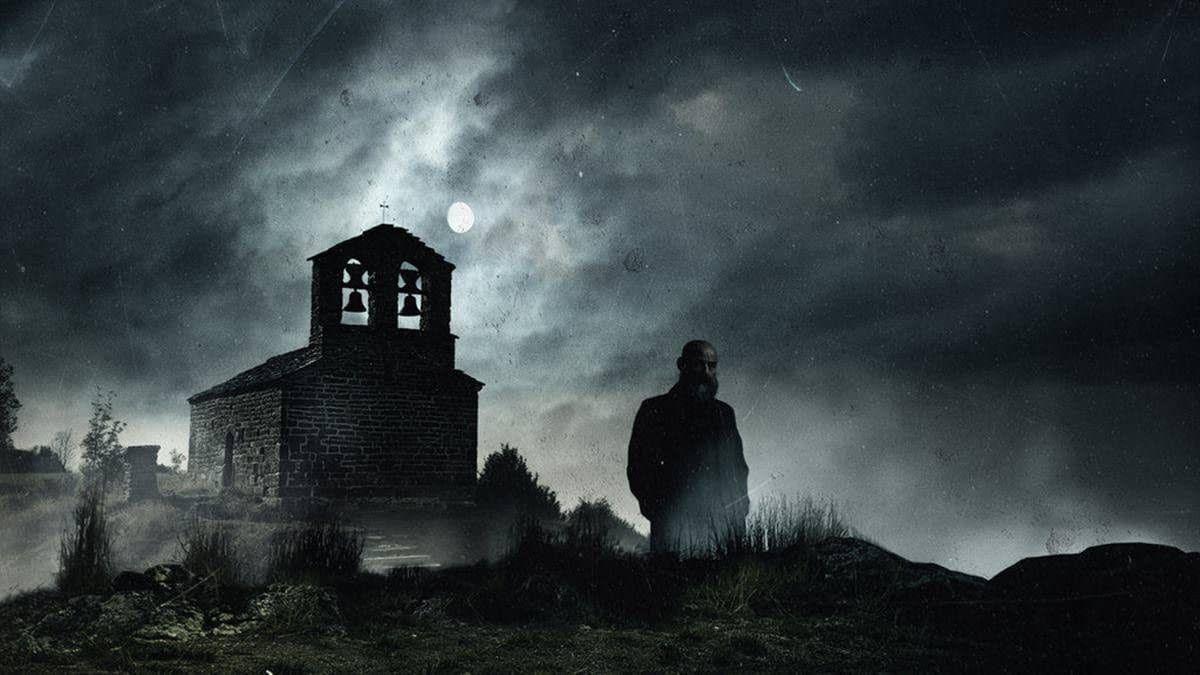 The first episode of 30 Coins starts with a bang; quite a few bangs, actually. An old man strolls through the streets of Zurich and makes his way to a Swiss bank, where he starts shooting the place up, calmly and methodically making his way toward the safe deposit box vault. Plenty of people try to stop him, but the old man takes their bullets with barely a flinch. When he finally reaches the box he is after, he ignores the bundles of cash and takes only one thing—an old silver coin. Once he delivers it to a priest in a limousine, those bullets he took catch up to him all at once. That's what you get for being in the service of the Lord.
Cut to Pedraza, a small village in Spain where attractive veterinarian Elena (Megan Montaner) is assisting in a pregnant cow's labor, but this is no normal calf that is delivered. Well, not a calf at all. Elena and the shocked farmers quickly enlist the help of Father Vergara (Eduard Fernández), an exiled priest with an arsenal of weapons who tries to excise his demons by hitting a heavy boxing bag; and Paco (Miguel Ángel Silvestre), the attractive mayor who considers it his duty to try to solve every problem the villagers might have. So begins a mystery that will shake the village to its core, leaving several people dead and others damaged for life.
Directed and co-written by Spanish sci-fi and horror master Álex de la Iglesia, 30 Coins features some good scares and a spooky atmosphere—at least through the first four episodes. Each week's installment focuses on a different subplot while weaving together a larger conspiracy that lets us get to know different members of Pedraza. Father Vergara is in possession of what may be one of the 30 coins paid to Judas Iscariot by the Romans for betraying Jesus. But who is trying to gather these coins, some sort of cult? The Catholic Church (but I repeat myself)? The Devil himself?
With high production values and plenty of gore—and did I mention attractive leads?—30 Coins looks great; the first episode's shocking creature is worth the price of admission itself. It can also tend a bit toward soap opera, with Paco and Elena giving each other the googly eyes while Paco's shrew of a wife glares on; and local super-rich guy Roque tries to lure Elena away from Pedraza altogether. But it draws out the mystery enough that viewers want to keep watching to find out what might happen if those 30 coins all end up in one place.