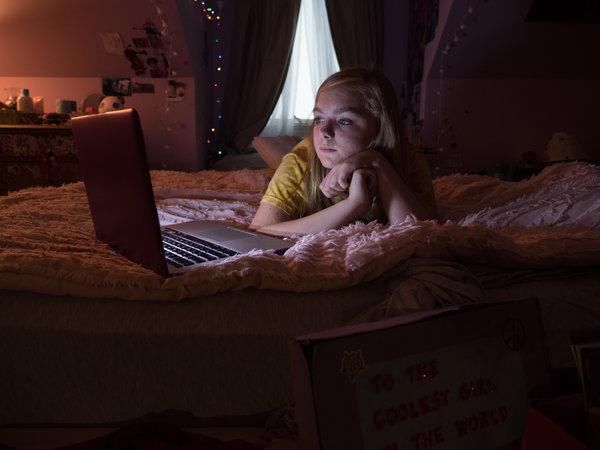 Eighth-grader Kayla Day (Elsie Fisher) is shy and quiet around other people, but in her YouTube videos, she gives great advice about how to put yourself out there with confidence. It's just too bad she can't practice what she preaches and her attempts to fit in with the cool kids—or with any kids for that matter—crash and burn.
Writer-director Bo Burnham, at the helm of his first feature, takes us into Kayla's world as she tries to get through the end of the school year with high school on the horizon. Eighth Grade is funny, sad and at times uncomfortable, exactly like poor Kayla, who really wants to come out of her shell but just can't seem to get things right. Her single dad (Josh Hamilton) tries to help but, like many 13-year-old girls, Kayla doesn't really want to know what he thinks.
With a simple narrative and no splashy film-making tricks, Burnham has crafted a remarkably poignant movie by relying on the authenticity of Fisher, Hamilton and the rest of the cast of relatively unknowns. The on-screen chemistry between them seems so real it's almost as if Burnham were filming a reality show but with better (and less obvious) scripting. I thankfully don't have a great idea of how 13-year-olds talk, but I have to think it's exactly like these kids. And Eighth Grade stealthily emphasizes how different their world is from when folks like me were growing up. For example, some high schoolers, just four years older than Kayla, talk about how she's from an entirely different generation than they are. To me, that was a much longer period of time—like the era of black-and-white vs. color television, not the age at which I got Snapchat.
Fisher, who is onscreen almost the entire time (zits and baby fat and imperfect teeth and all), carries Eighth Grade on her shoulders and knocks it out of the park. Best known as the voice of Agnes from the Despicable Me films, she finds that perfect balance of awkwardness and self-awareness; Kayla knows she's not confident and can't make small talk, and she even has a good idea of what changes she should make to get over it, but she just can't be that person she dreams of being. Yet she'll keep dusting herself off and trying again, and for that, you gotta love her.