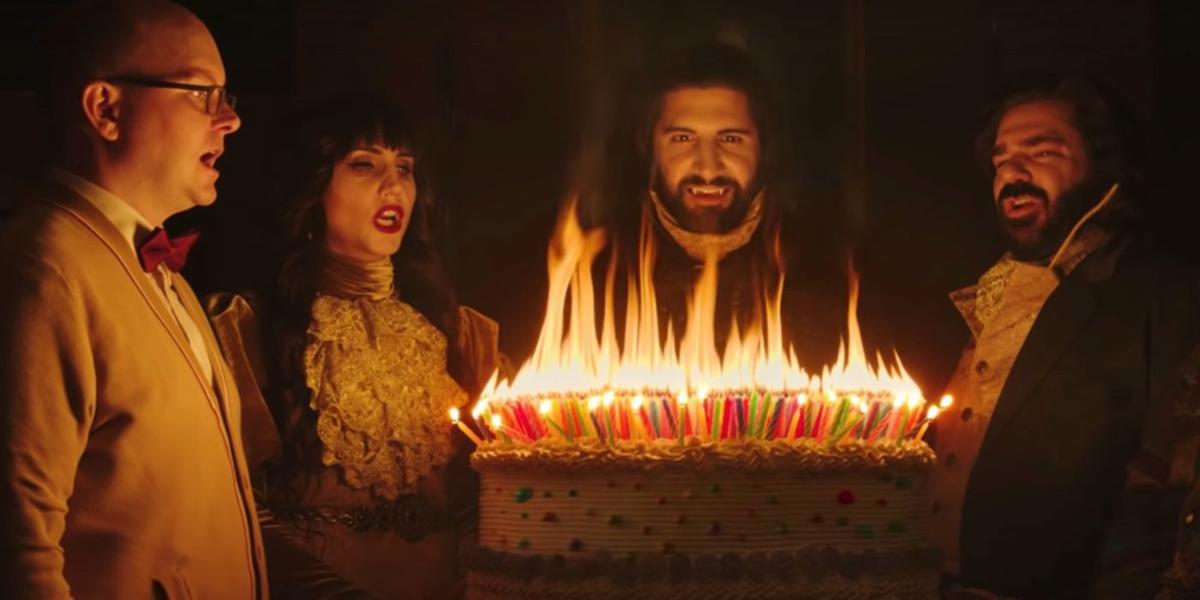 When the Emmy nominations were announced last week, the comedy series category included some all-time favorites like Schitt's Creek and The Good Place. The list also included a series that deserves Emmy love: What We Do in the Shadows. Nominated for its second season, this series about a house full of vampires knows how to make us laugh.
Originally aired weekly on FX, you can now find the entire season on Hulu. Based on the film by the same name, which was directed by Taika Waititi, the series' first season brought us a new set of vampires living on Staten Island. Nandor the Relentless (Kayvan Novak), Laszlo (Matt Berry), Nadja (Natasia Demetriou) and Colin (Mark Prosch) share a gloomy home. They have Nandor's familiar, Guillermo (Harvey Guillén), to do the housekeeping, but in season two, Guillermo has a secret. Can a natural vampire slayer still handle his job as a vampire familiar? Isn't that a conflict of interest?
The show creates laughs by taking vampire-movie tropes and playing with them. Our crew of vampires have centuries of life experience  but are so unaware and naïve about modern-day life. When they check their ancient email account on AOL, a chain email has them believing they've been cursed after they fail to forward it to 10 or more people. Then there's Colin, an energy vampire who sucks people's energy by being the annoyingly boring person at the office. He learns how much stronger his power can become when he is promoted to a supervisory position.
This season we get some fun guest appearances, including a new familiar played by Haley Joel Osment, Mark Hamill as a vengeful vampire, Craig Robinson leading a troop of vampire hunters and Lucy Punch as part of a witches' coven. In one hilarious episode, Laszlo, fleeing from Hamill's vampire, finds a new life as a bar owner in a small town. He's now Jackie Daytona, the toothpick-chewing, volleyball-coaching, all-around party animal beloved by the townsfolk.
Earning Emmy nominations for Outstanding Comedy Series, Outstanding Writing for a Comedy Series, Outstanding Casting for a Comedy Series and Outstanding Production Design (their house is a work of art), this season of What We Do in the Shadows leaves us wanting more. Sure, it's a bit bloody, but it has a funny bone too.
Be the first to know
Get local news delivered to your inbox!