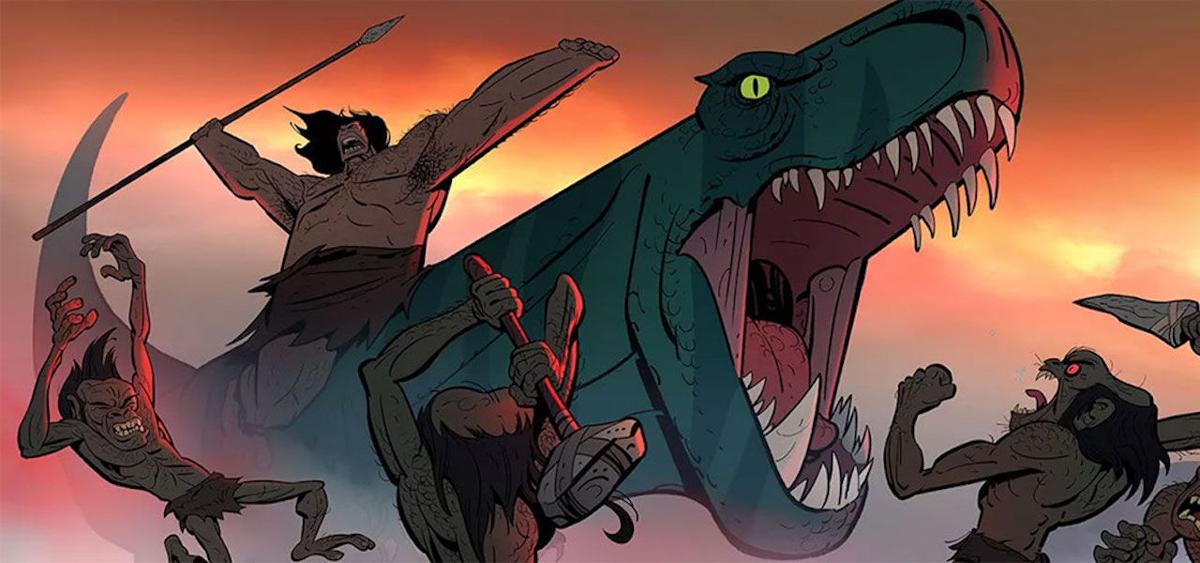 Primal tells the prehistoric tale of a caveman, Spear, and his dinosaur companion, Fang. United by tragedy, the motley duo make their way through savage landscapes hoping to find a measure of peace amidst the countless dangers of their primordial world. The highlight of the show is the relationship between the two protagonists. Watching Spear and Fang go from being adversarial to cooperative before finally becoming stalwart companions is a joyful ride. Their friendship stands in stark contrast to the harrowing tale of survival that drives most of the episodes, which are often very brutal and visceral in nature. 
Perhaps the most notable thing about Primal is that all of its rich storytelling is accomplished without dialog. Drawing viewers in with expressive characters and rich visual storytelling, Primal stands strong without the distraction of words. Grunts and roars allow the characters to vocalize, and the environmental sounds and score provide a rich audio experience for audiences. The overall effect is engrossing, being a testament to the medium and to creator Genndy Tartakovsky's skill as a storyteller.
Starting with a short run of only five episodes in 2019, Primal recently expanded with a second set of five episodes. Billed as the second half of season one, the story jumps right into the gut-wrenching cliffhanger that served as the mid-season finale. While few moments can match the charm of the show's early episodes, the ongoing adventures of Spear and Fang are still a joy to watch. The final minutes of Primal's season finale will have viewers begging for more, so it comes as a relief that additional episodes are in the works for a late 2021 release.