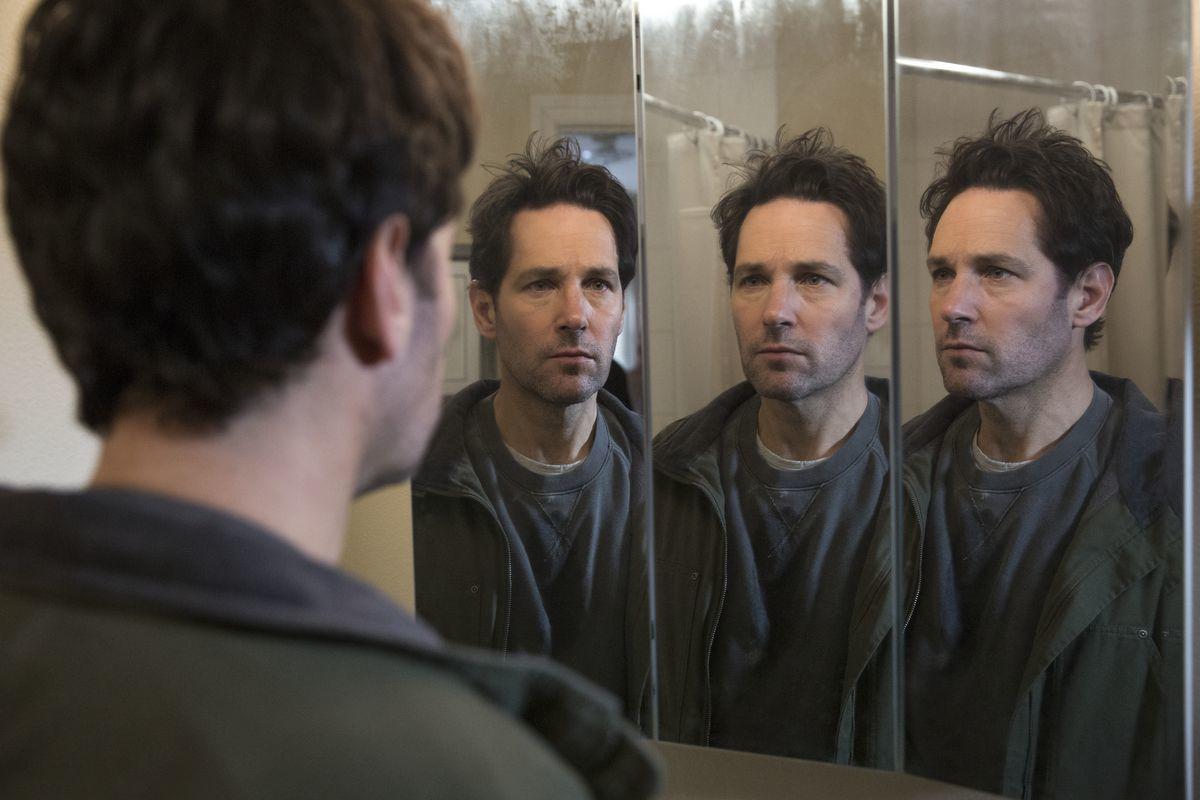 In the eight-episode comedic drama Living With Yourself, we see America's sweetheart, Paul Rudd, uncannily portray both a concave, greasy-haired version of himself and the charismatic, handsome Rudd we know and love, in what appears to be a commentary on our modern toxic obsession with positivity. 
We follow Miles, a self-oppressed ad executive yearning to renew both his marriage and creative drive. He drops his entire savings he shares with his wife Kate (unbeknownst to her) at Top Happy Spa. The shady strip mall business promises to make him a better Miles, and without much persuasion, he accepts the proposal. Instead of regenerating the original Miles, the spa creates a newer, superior clone, and attempts to discard the original. The procedure is a botched one, however, and the original Miles unearths himself from his shallow grave, only to return home to find the clone version in his place. What's worse, the clone is better at being him, and Kate (Aisling Bea) likes the clone better, too. 
Living With Yourself tells us that the high-achieving coworker you resent so much, that good-looking, charismatic friend you wish you could be, is also you. And you hate yourself, not because you aren't those things, but because you can be those things, and yet you sabotage it anyway. This better version of you isn't an inspiration; it's a jab at all your shortcomings and failures. 
But the public relations representatives of ourselves are also "exhausting," Kate admits following a short-lived affair with clone Miles. Our perfect, Instagram-filtered selves are disingenuous and impossible to sustain. Even our claims of acceptance and positivity come up shallow, most recently shown in the body positivity movement's more nuanced cousin, the "body neutrality movement," which attempts to relieve the pressure of always needing to feel great about our bodies. Clone Miles realizes his existence is incompatible with an imperfect society, which ultimately leads to his own spiral of depression. Even if Living With Yourself is not directly commenting on toxic positivity, it's saying something about our desire for perfection.
In the song "Small Red Boy"by Phoenix-based band AJJ, frontman Sean Bonnette wails this self-actualizing statement, "I am, I am, I am, I am the truth," proclaiming that the dark crevices of ourselves need nurturing and compassion. The small red boy, after all, isn't evil. It's our inner child and flawed nature, yearning for acceptance in a society that wishes it would die. The self-sabotaging, seemingly pathetic versions of ourselves shouldn't be buried alive like Miles. Instead, Living With Yourself shows us that we should embrace our bad qualities while reminding ourselves we can still be good—just not all the time.  
Be the first to know
Get local news delivered to your inbox!