Full Disclosure: Ol' Whitey is a traditional tattoo guy. My brain waves coagulated in an era when only sailors and criminals had any ink. Nowadaze seems every Tom, Dick and Harriet sports at least one tat. My kid sez, "Dad, you got old man tattoos." My retort: "What's yer point?" At 61 years of age, I'm not only HER old man, but AN old man to boot.
The exertions below got contrived as a vehicle for exploring every single tattoo shop inside the city limits, unearthing the history of tattooing in Flagstaff in the process. Turns out Flag's been a hotbed of body art since the late 1990s, no doubt due to the patronage of flatlander tourists combined with a constantly refreshed supply of NAU 18-year-olds. That plus, an ever-increasing acceptance of decorated dermis at the tail end of the 20th Century. Help Wanted ads stating "No Visible Tattoos" have gone the way of the dodo.
My original impulse was to get five letters on my left shoulder — MCLMM, about which I'll discuss later — each by a different artist, all on my December 15th birthday in 2019. That idea got the kibosh when Burly Fish Tattoo and Piercing owner Patrick Sans weighed in: "Sounds like a real recipe for infection. No control over sterility. I wouldn't touch it with a ten-foot pole." I saw the wisdom in his words and switched over to the installment plan.
Tattoo Tip: Do yer due diligence or risk a train wreck ink splotch. A little shoe leather revealed that Blue Benson at Woody's Old School Tattoos and Piercings was willing and eager to tackle the kickoff work. Highly qualified, too. In-house piercer Dan Duke vouched for the fact that Benson could draw a straight line ("Blue did most of the geometric work on my head"), and the deal was done. Benson outlined the letters, shading the "L" with red fading downward to black, declaring, "There's your Huckleberry."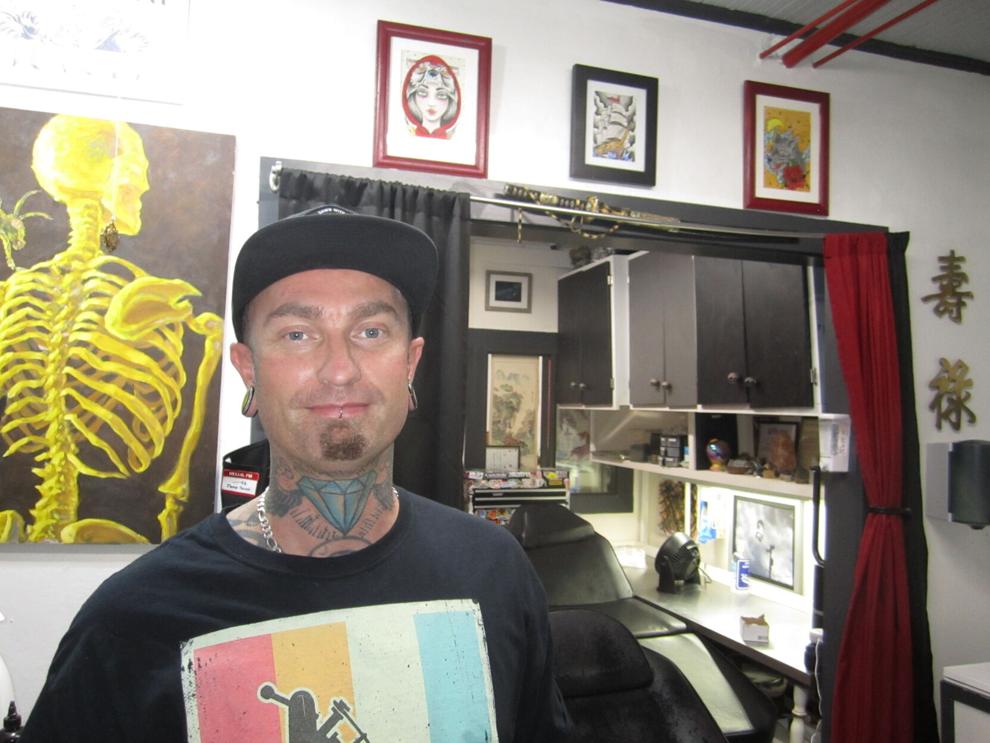 While that bit healed, I resumed my legwork. If you want the hot skinny on any town, the best place to find it is a born-and-bred local. F'rinstance Rodney Butcher, Head Honcho at Black Bar Tattoo on 7th Street, since moved around the corner on Lakin just off of Steves. He informed me that to get the genuine gouge, I needed to jaw with David Maestas at Sacred Ground Tattoo and Piercing on South San Fran, which I'll return to shortly. In the meantime, Butcher filled in the initial "M" to match Benson's hues spot on.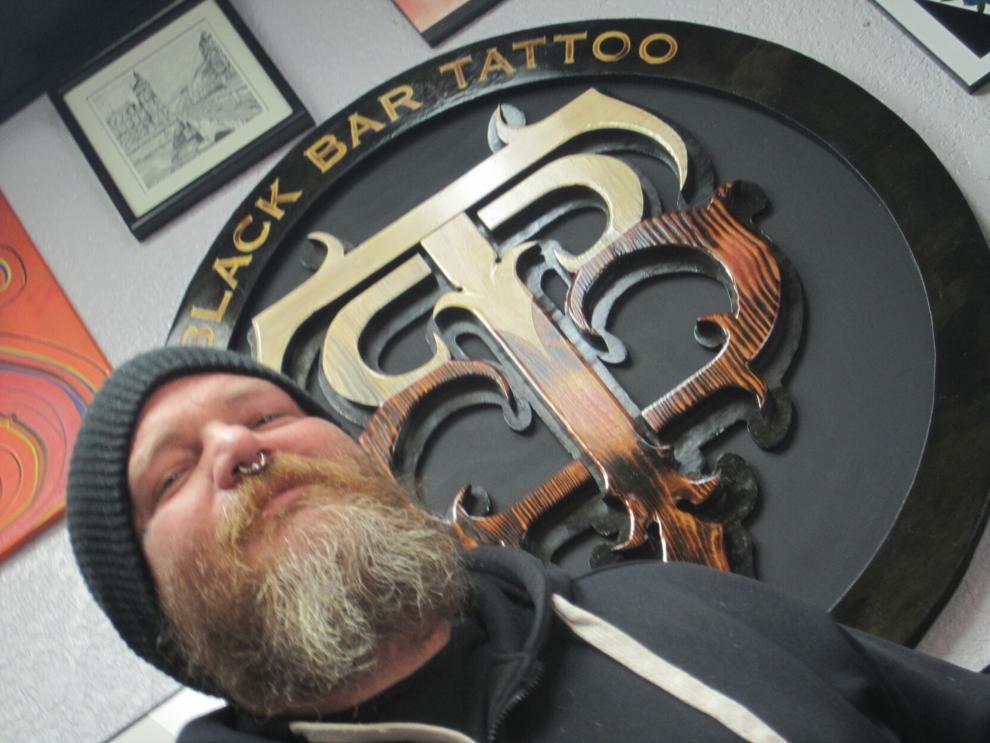 I figgered the last "M" was far enough distance from the first one so as it could be done without delay more or less hygienically. Angie Cosette at Black Bar got that job. You see, Ol' Whitey wanted some female juju to balance the testosterone mojo in the other letters. Cosette relocated down the hill to the griddle shortly thereafter, so if you want Venusian vibes injected into yer hide in Flag, go find Hailee Marie or Jara Nez at Mirror Gallery or track down Kate Penn at Turquoise Tiger.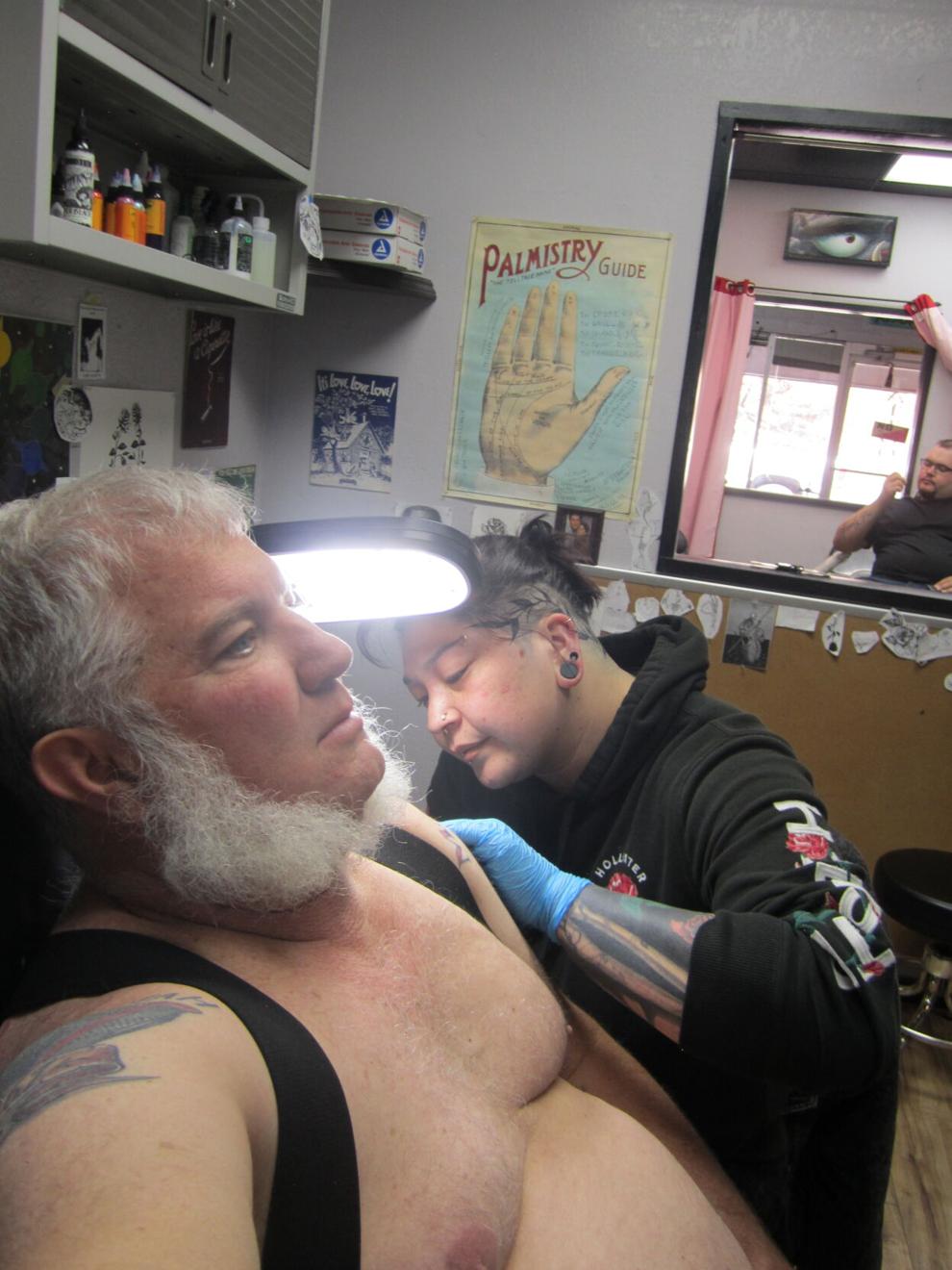 Sacred Ground, a few weeks later. Then-56-year-old David Maestas colored the "C" on my arm, all the while describing a Flagstaff adolescence ill-spent as a no-shit sawed-off-shotgun-toting juvenile delinquent. Maestas began tattooing at age fourteen with a sewing needle, wrapped in thread as an ink reservoir. When major malfeasance a few years later earned him a stint in the State Pen, he honed his craft in the Chicano single needle photorealistic style perfected in East L.A. by Freddy Negrete and Jack Rudy. True story, I swear on a stack of Bibles.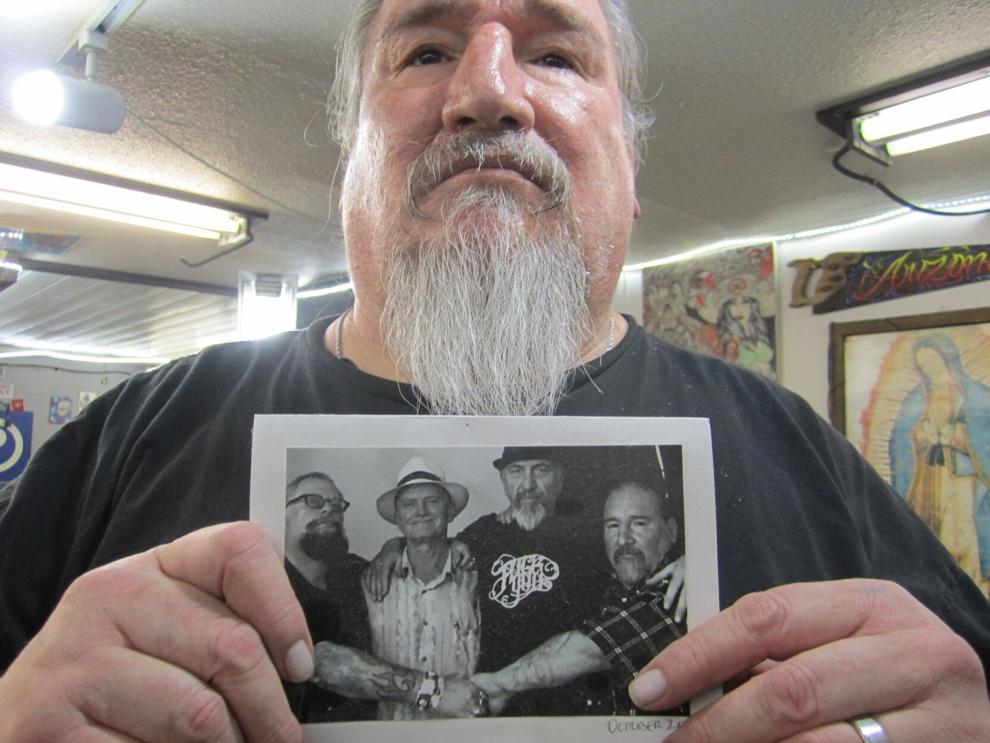 Four down, one to go. Just before the great lockdown of March 2020, Landis Bahe finished off the remaining "M" and put paid to the project. He inclines strongly toward authentic cultural artistry, including Native American themed skateboard decks. Bahe was slingin' ink at Tat Fu back then, but alas, that lashup went Tango Uniform due to the plague. He now plies his trade at Mirror Gallery.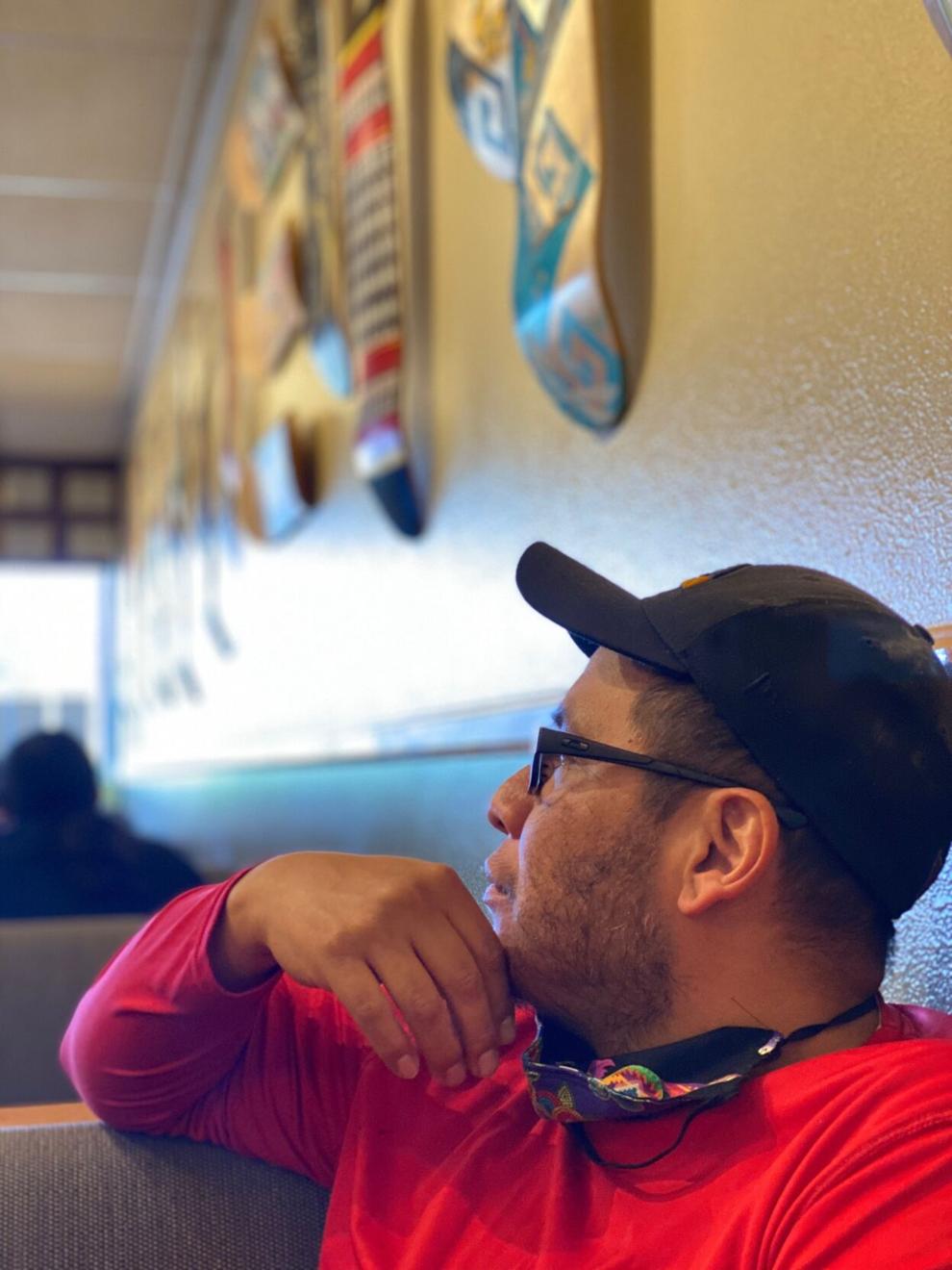 For extra credit I added a classic panther to my left forearm, from flash drawn in the style of Pinky Yun (Hong Kong Jimmy Ho's stalwart) by Ken Williams of Floating World Tattoo on 4th Street. That shop was the newest ink joint in our fair city pre-pandemic, but several more have sprung up since. A dyed-in-the-wool Luddite, Ken skipped town a few months back, embarking on a holy crusade of itinerant bootleg inkwork. Here in Flag, protege Jerimiah Lanza soldiers on with Fourth Street Tattoo at the old location.
Before we conclude, let's take roll call, March 2023, East to West, North to South: Black Bar, Underground Inked, Fourth Street, Sacred Ground, Woody's, Turquoise Tiger, Flagstaff Tattoo Company, Burly Fish, Mirror Gallery, The Wilbury, and Avail. Count 'em on both hands and add one little piggy. Then pay yer money and take yer choice. Old School or Art School. Why wait?
So, as promised: the meaning of MCLMM. No, it's not Roman numerals. But me bein' a gentleman and all, you'll have to noodle it fer yerself. It's a Pulp Fiction reference. Not a race car in the red. Not the Guns of Navarone. Not Superfly TNT. If them hints ain't done the trick, try "Brain Detail" on YouTube. 'Nuff said.