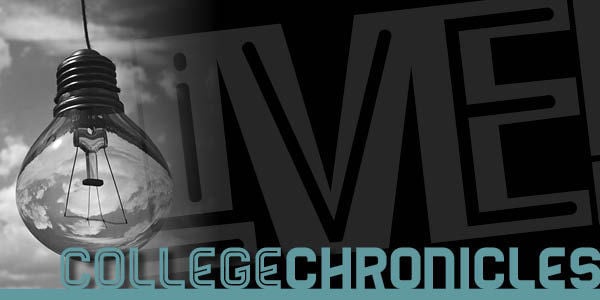 It's the terror of knowing what the world is about
Watching some good friends screaming,
Pray tomorrow gets me higher
Pressure on people, people on streets
You have free articles remaining.
If your brain didn't go there immediately after reading the headline, then we have a problem.
But in all seriousness, if you have a college student in your life, I bet you a nickel they are bugging out this time of year. It's finals season, the time of year when almost every student has a surplus of exams and papers to complete in one week. Most students are running on little to no sleep, and a surplus of caffeine and junk food, which we all know is a recipe for a hard crash.
Although I personally will not be joining my classmates in this pain, I do have some recommendations on how to get through it.
Don't procrastinate. I know— easier said than done. I am a procrastinator myself, so I get it. But really, don't do it. Having time management and really planning out how you want to tackle something will leave you with more time to pay attention to details and ensure you are putting your best work forward.
Feed your body. Stop drinking energy drinks and coffee. Stop eating chips and carbs. That doesn't help. Drink some water. If plain water is too boring for you, infuse it with some blueberries, cucumbers, lemon or lime. Water is the key to everything, so stop depleting your body of it. Eat food that will help your brain. Eat some fish, blueberries, nuts, dark chocolate and protein, or indulge in my favorite: a smoothie made with protein, spinach, dark chocolate almond milk and peanut butter. I promise it's tasty.
Sleep. Sleeplessness will not help you. Your brain gets tired, your eyes get fatigued and you end up writing gibberish. Take power naps throughout the day when needed and try to get sleep. If you think you don't have time to sleep, revisit the first tip.
Turn off your phone. I know. How dare I recommend such a disgrace. Phones are so incredibly distracting. There you are writing your biomedical research paper, a notification pops up from Twitter about a Flag Live! tweet and you're gone into the black hole for the next hour. Turn it off. Tell whoever may worry about you that you are getting your homework done and will chat with them in a little bit. I promise we can survive without our phones. It's a challenge for sure, but it is possible.
Breathe. There is only so much we can do in 24 hours. Set realistic expectations and goals for yourself and give yourself a pat on the back.
This last week of school will be rough and you will be tired. Flagstaff community, you will encounter grumpy young adults and you will see us at the bars once the week concludes. The good news for everyone is the holidays are here and food is near.
Bailey Helton is the editor-in-chief at The Lumberjack, Northern Arizona University's student newspaper. College Chronicles aims to connect Flag Live! readers to various aspects of campus life.