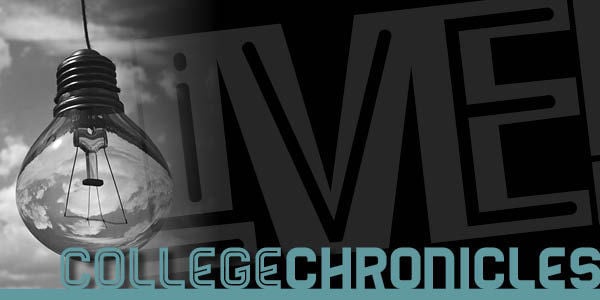 Last Thursday, Dec. 5, The Lumberjack ran an op-ed on how the bonds made in Greek Life are not the same as the bonds made in families. In my opinion, this is a valid opinion and went well with our special issue, which coincided with the graduation issue we publish at the end of every semester. Instead of focusing solely on graduation we wanted to focus on roots: familial roots, ground roots and routes.
Within its first 24 hours online, the piece reached more than 1,000 people on Facebook and Twitter, and I had four angry emails in my inbox. What I want to share is not how people reacted or what was said in the emails, but rather the thought process of finding a solution.
I'll be the first to admit, being a college student who runs and makes the decisions for the school's newspaper can be overwhelming. At times it is really stressful, and it's so easy to spend an excessive amount of time second guessing yourself. If there's one thing I have learned during my time at Northern Arizona University as a manger of a media platform, it's that you can make every situation a learning experience.
Here are two things that I learned from this situation: People are going to be upset no matter what, and to spend more time editing. I will admit, this story did not get the attention it needed. However, even with this story not having the proper number of sources in the first version, I stand by our decision to publish it. The story was an opinion piece about what family meant to the writer and how Greek Life is not the same. It is because of the offense and comments shared throughout Greek Life on this piece that this story became something it wasn't. That's what brought me to learn how people are going to be upset no matter what. Even after we rewrote the story and had sources to back up what the writer said, people were still upset.
The decision to issue a rewrite was one made by many members on The Lumberjack. We truly wanted to show that we heard, and we were listening to the feedback but, at the same time, we wanted our writer to feel supported and validated in their opinions. I made the decision to rewrite the article, instead of retracting it, which is what a lot of people wanted me to do, after speaking with my entire staff at The Lumberjack. I had more than 15 different editors read the piece and give me their honest opinion about what was missing. After a long two-hour conversation, the opinion editors and I were able to give the writer enough notes to turn her 600-word story into a 1,100-word story. This time it had sources and her argument was more thought out. Once the story was rewritten, it went through 26 different edits from different editors, one in Greek Life. Even after all our efforts, people were still upset.
My point in writing this is for two reasons. The first being, if you are someone who was upset by our piece, I apologize. I hope that now you know that we weren't out to attack Greek Life and that we truly did spend time finding a solution. The second reason, The Lumberjack stands by its writers. We support the freedom of being able to share an opinion—even if it's an unpopular one.
Bailey Helton is the editor-in-chief at The Lumberjack, Northern Arizona University's student newspaper. College Chronicles aims to connect Flag Live! readers to various aspects of campus life.
Be the first to know
Get local news delivered to your inbox!