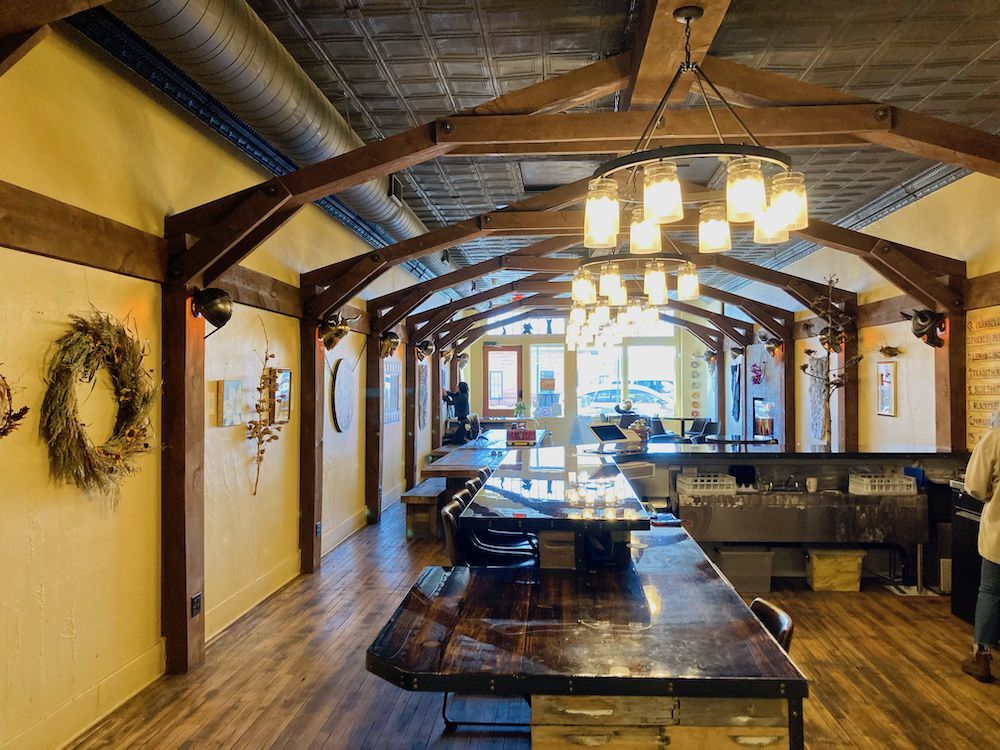 ONGOING
COLLABORATIONS WITH NATURE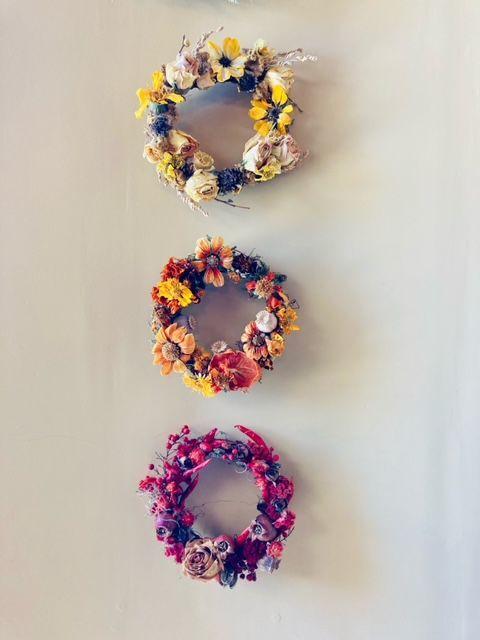 Now through the end of May, mead enthusiasts at Drinking Horn Meadery's Mead Hall, 108 E. Route 66, can also give their eyes a treat with the space's newest art installation. PLANT • CENTRIC: Grown / Gathered / Stitched / Glued features the work of Kate Watters, a writer, musician, textile and paper collage artist, botanist, florist and farmer. "The artwork fits so perfectly, people are already talking about it in the Hall," marketing manager Nick Irvine notes just a few days following the exhibit's installation. Like the mead imbibed by customers each day, the colorful flowers grown and shaped into art by Watters are brought to life with the help of pollinators. "In our fractured world, growing and arranging flowers, making medicine, feeding the pollinators and creating flower-inspired art are the ways I put the pieces back together and attempt to make sense of it all," Watters writes in her artist statement. "I feel compelled to co-create with the Earth so as to touch, witness and deeply appreciate the beauty and ephemeral nature of the world. The detail and diversity that exists in a moment from a place in one season is profound when I am awake to the wonder of it." Drinking Horn is open seven days a week from 11 a.m.-10 p.m. by reservation. 
THURS-SUN | 5.6-9
Just in case you haven't already seen the tent, the circus is in town. Guided by a cast of talented and experienced artists, Cirque Legacy has temporarily taken up residence in the Flagstaff Mall parking lot, 4650 US-89, to awe and delight audiences of all ages. Cirque Legacy was born out of the multi-generational tradition of circus, and aims to reach out to younger generations to share the modern world of the art through dazzling illusions, daring escapes and unbelievable feats. Opening night was April 23, but there's still time to catch a performance through Sunday. Tickets are $5 for children ages 5-12 with an adult ticket, $15 for general admission or $35 for VIP seating.
SUNDAY | 5.9
Could it be, is live music returning to some of our favorite haunts? With several dates already set for bands at the Orpheum starting next weekend, things seem to be looking up. If you can't wait another week though, have no fear—Flagstaff Brewing Company, 16 E. Route 66, will be hosting an afternoon of live music this Sunday on the patio beginning at 2 p.m. Solo performances by Andrew Ibrado, Dave Hernandez and Justin Young are on the docket, plus a guest appearance by Brad Bays. As always, the show is free, so settle in with your drink of choice and enjoy the tunes paired with Flag's signature breezy spring weather.